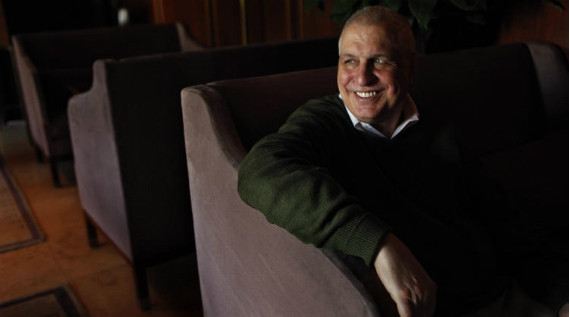 Tenacious in its attention grabbing fervor, the elation of Oscar night has been lingering in the air for much of the past week. Reflecting on CITIZENFOUR's big win, Mark Olsen of the LA Times called attention to Neil Patrick Harris's slight, yet pointed joke of 'treason' following Laura Poitras's acceptance speech, while Tom Roston dissected the acceptance speech itself over at the POV Blog.  At Indiewire, Nigel M. Smith listed 8 things he learned from the Oscar red-carpet, and Anne Thompson wrote up and extensive diagnosis of the evening's events. Following the Oscar win, the CITIZENFOUR team – Laura Poitras, Glenn Greenwald and Edward Snowden – took part in a rather tense Reddit hosted Ask Me Anything session, which ended up garnering the attention of journalist like Will Oremus of Slate, Colin Gorenstein of Salon, and Thomas Halleck of International Business times, all of whom wrote pieces on the participatory event. In contrast, The Nation's Ali Gharib simply wrote an elegant piece on the necessity of CITIZENFOUR's Oscar win.
Tomorrow, another Oscar nominated film comes back into focus with Liz Garbus and Jonathan Stack's THE FARM: ANGOLA, USA screening at the IFC Center as part of our ongoing Winter '15 season of Stranger Than Fiction. In addition to garnering the attention of the Academy back in 1998, THE FARM also won 3 Primetime Emmy Awards, Best Documentary Film of 1998 from the National Society of Film Critics, the New York Film Critics Circle and the LA Critics Association, as well as the Grand Jury Prize at the Sundance Film Festival. Following tomorrow's screening, directors Liz Garbus and Jonathan Stack will be on hand for a Q&A.
Also lingering in our collective mind from last week is the loss of director Bruce Sinofsky, as well as the safety of doc subject and former Maldivian president, Mohamed Nasheed. In the wake of Sinofsky's passing the late filmmaker received a set of loving tributes from the likes of Bruce Weber of the New York Times, NPR's Elizabeth Blair and Ryan Lattanzio at Indiewire. Respectively, Nasheed, who was the star of Jon Shenk's THE ISLAND PRESIDENT back in 2011 and was subsequently forced from power by the military in 2012, has been unjustly arrested and detained in jail by the authoritarian regime of Yameen Gayoom. The Maldivian Democratic Party has started a Change.org petition demanding the expeditious release of Nasheed and asking you to help their cause by signing the appeal and encouraging others to do the same by using the tag #FreeNasheedNOW on social media. At Indiewire, Anthony Kaufman wrote a piece about the documentary community's vested interest in the case.
Looking respectfully toward the future, Hot Docs, one of my favorite festivals in existence, announced their first wave of films, including a pair of world premieres in Robert Cohen's BEING CANADIAN and Violeta Ayala's THE BOLIVIAN CASE. Meanwhile, the Film Society at Lincoln Center also announced their line-up for the 44th edition of the New Directors/New Films series, which includes doc titles such as Simone Rapisarda Casanova's hybrid Locarno award winner THE CREATION OF MEANING and Stevan Riley's Sundance preemed LISTEN TO ME MARLON. Rajendra Roy, Chief Curator of Film at MoMA, and The Film Society's Director of Programming, Dennis Lim, discussed the programming choices behind the series in an article by Brian Brooks posted on the Lincoln Center's website. And, let's not forget that later this week True/False Fest begins! Aarik Danielsen of the Columbia Daily Tribune spoke with filmmaker and critic Robert Greene about what to expect from the 2015 program.
Documentary lovers should rejoice at this week's news that Albert and David Maysles's doc classic GREY GARDENS has been cleaned up and is being rereleased in theaters next month. Found in the most recent issue of The New Yorker, Richard Brody wrote an excellent piece on the film's participatory form and its formative contextualization of modern day documentary filmmaking. Jen Carlson also contributed a piece on the film's impending rerelease to Gothamist.
Two films released over the weekend, Liv Corfixen's MY LIFE DIRECTED BY NICOLAS WINDING REFN and Kirby Dick's THE HUNTING GROUND, received quite a bit of attention. In addition to being interviewed by Josh Oakley at CutPrintFilm, Corfixen saw her film reviewed by Scott Tobias at The Dissolve, Shannon Plumb at The Talkhouse, Variety's Peter Debruge and IONCINEMA's Nicholas Bell. Perhaps more culturally incisive, Dick's film also received praise from The Dissolve's Tobias, as well as Manohla Dargis in The New York Times, and David Edelstein, writing for Vulture. After having been invited to screen at The White House, THE HUNTING GROUND's producer, Amy Ziering, as well as activists Annie Clark and Andrea Pino, the founders of End Rape On Campus, spoke with Jessica Goldstein of Think Progress about the film and its political potential.
Other films that garnered critical attention this week included Robert Greene's ACTRESS, in an article at Nonfics by Christopher Campbell, Jill Bauer and Ronna Gradus's HOT GIRLS WANTED, in a piece by Rene Rodriguez found in the Miami Herald, Matthew Bauckman and Jaret Belliveau's KUNG FU ELLIOT, in a review by Chris Klimek at The Dissolve, and Rose Wilder's APPROACHING THE ELEPHANT, in a rumination of the film by Stephanie Barber at The Talkhouse. And prior to the prime-time premiere of FREEWAY: CRACK IN THE SYSTEM on Al Jazeera America, director Marc Levin wrote about his film at The Daily Beast. In addition to the copious reviews and articles, producer Sierra Pettengill's conversation with director Adam Curtis found at The Talkhouse is not to be missed.
Possibly the most exciting news of the week came by complete surprise. It seems that Errol Morris, who has been a regular contributor to the NYTimes Op-Docs program, has produced a series of sports centered shorts for ESPN titled IT'S NOT CRAZY, IT'S SPORTS. The series, to air throughout the week and subsequently be hosted on the ESPN-owned site Grantland, has been thoroughly previewed by Steven Zeitchik of the LA Times. Flavorwire's Jason Bailey also covered the story.
A new undercover short by Banksy titled WELCOME TO GAZA found an audience online this week, garnering attention from The Daily Beast's Marlow Stern, as well as Mashable's Jenni Ryall. The first of what appears to be a continuing series by Shannon Strucci on personal cinephilia titled SO YOU WANT TO BE A FILM NERD also made its way online this week, as did a short by Colin Sonner and Brady Welch titled KABOOM!, included as the latest entry into Op-Docs. On the topic of Op-Docs, Heather McIntosh expanded upon her plans to include Op-Docs as part of her teaching curriculum over at the Documentary Site. This week also saw the free online stream of the UK GOLD soundtrack, which features an original score by Thom York, Massive Attack's Robert Del Naja and Elbow's Guy Garvey.
As is usual, let's end this week's memo by looking forward. This week I posted my (newly expanded) top 100 docs in development in my monthly What's Up Doc? piece on IONCINEMA. Enticingly, a new film titled UNCLE ANDY: THE ANDY WARHOL FAMILY FILM is being developed by the artist's great-niece, fashion photographer Abby Warhola, and her partner, filmmaker and artist Jesse Best. They've launched a Kickstarted campaign just days ago to raise funds for the production, and Best spoke with Brian Boucher of ArtNet News to raise awareness about this project's personal prospects. With just seven days to go, Robert Weide and Don Argott's on Kickstarter for KURT VONNEGUT: UNSTUCK IN TIME is inching toward its goal of $250,000. Weide was briefly interviewed by the Chicago Tribune's Mary Schmich about his plans for the film. And finally, writing for Nonfics, Christopher Campbell composed a lengthy list of 35 docs that were promised fictional remakes, but have yet to surface.
I will be attending True/False Fest this coming weekend, so I will be forgoing the Monday Memo until the following week, but in the meantime if you have any tips or recommendations for the Memo, please contact me via email here, or on Twitter, @Rectangular_Eye. I look forward to hearing from you!