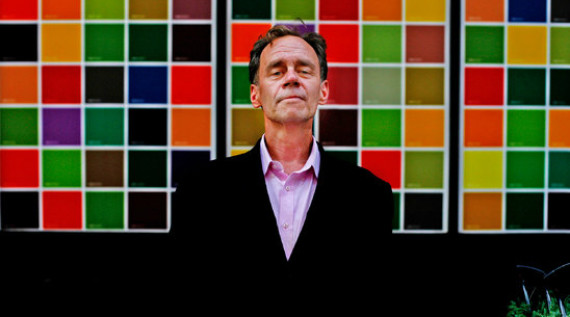 With NBC news anchor Brian Williams losing the world's trust over a pack of lies and the tragic death of 60 MINUTES correspondent Bob Simon in an automobile accident, this week has been rough for journalism, but the passing of beloved New York Times cultural commentator David Carr late Thursday evening may be the toughest to take for many in the documentary filmmaking community. His family at The Times have put together a loving tribute with various articles from co-workers like A.O. Scott and many links to video moments with Carr, while Andrew Rossi, the director of PAGE ONE: INSIDE THE NEW YORK TIMES, a film in which Carr came to the fore as the heart and soul of the newspaper, wrote his own memorial to the man who he inevitably became friends with following the film.
In the wake of the unfortunate news, Variety's James Rainey wrote his own appreciative piece on Carr's unlikely career in journalism and Realscreen's Barry Walsh collected responses to the news from the documentary community. Just hours before Carr collapsed in the offices of The Times, he hosted a discussion with the team behind CITIZENFOUR – Laura Poitras, Glenn Greenwald and Edward Snowden – as part of the TimesTalks series hosted at The New School's John L Tishman Auditorium in New York.
Looking up, Stranger Than Fiction continues tomorrow at the IFC Center with BEST OF EGG: THE ARTS SHOW (2000-'03), curating the cream of the crop from a show considered by many to be one of the best arts programs ever broadcast in America. The screening begins at 8pm with a post-screening Q&A featuring producers Jeff Folmsbee, Mark Mannucci and others to follow.
On the festival front, True/False Fest has announced both their complete film line-up and schedule, bringing in a slew of docs from Sundance, a speckling of international one offs, their Neither/Nor series featuring chimeric Polish cinema of the 70s, and a spotlight on director Adam Curtis. I for one am quite excited, as I'll be making my first pilgrimage to the Columbia born doc haven come next month.
In a detailed statement by Brian Brooks, the Film Society of Lincoln Center announced their 2nd Art of the Real opening night shorts, as well as an Agnès Varda retrospective to take place in April. Ana Souza wrote a piece on the announcement for Indiewire.
The Full Frame Documentary Festival issued a report that later this year they will be honoring director Marshall Curry as with their 2015 Tribute, while director Jennifer Baichwal will serve this year as the Thematic Program Curator. Rosie Narasaki had the story for Indiewire, as did Manori Ravindran for Realscreen. Full Frame's own director, Deirdre Haj, wrote an honest plea for why filmmakers need the IFP Festival Forum (soon to be a stand alone organization called the Film Festival Alliance).
Last Friday marked the beginning of MoMa's second edition of their Documentary Fortnight International Festival of Nonfiction Film and Media. Basil Tsiokos gave an overview of the festival at What (not) To Doc, while Daniel Walber wrote a piece highlighting the must see films of the fest at Nonfics. Found over at Indiewire, Anthony Kaufman wrote an incisive piece on what he thinks are the most exciting non-fiction films so far this year and how True/False and MoMa are making an impact to highlight them.
This past weekend also saw the conclusion of this year's Berlinale. Sight & Sound's Nick James posted both a round-up that included intel on Patricio Guzmán's THE PEARL BUTTON, as well as a rundown of the awards passed out on Saturday. In addition, David Hudson wrote a roundup that included Jem Cohen's COUNTING for Fandor, while at MUBI, a roundup by Adam Cook included IEC LONG by Portuguese filmmakers João Pedro Rodrigues and João Rui Guerra da Mata, and Daniel Kasman wrote about Guzmán's award winner and a short by Kevin B. Lee titled TRANSFORMERS: THE PREMAKE, which can be viewed in its entirety here. Jorn Rossing Jensen of Cineuropa has also reported that Tonje Hessen Schei's documentary DRONE has been named Most Valuable Documentary of the Year by Cinema for Peace.
Reviews from the festival have also been filtering in throughout the week, including a pair from Cineuropa – one from Camillo De Marco on Francesco Clerici's HAND GESTURES, the other from Martin Kudláč on Ivan Ostrochovský's KOZA. Also at Cineuropa, Giorgia Del Don interviewed Samir on his latest film IRAQI ODYSSEY, a little talked about film I caught at TIFF and absolutely loved. Patrick Frater of Variety reviewed NUCLEAR NATION II by Funahashi Atsushi, Jessica Kiang reviewed THE PEARL BUTTON for Indiewire's The Playlist and Kevin Ritchie covered Mor Loushy's CENSORED VOICES for Realscreen.
And while Montréal's 2014 Rencontres Internationales du Documentaire de Montréal concluded back in November, Patrick Smith and Viviane Saglier have just finally posted their ruminations on the non-fiction offerings over at Sight & Sound as a web exclusive.
Much discussion on the topic of distribution has been spurred by a pair of Indiewire articles from Paula Bernstein, the first on Vimeo's increasing interest in high-profile titles like GOING CLEAR (Deadline's David Bloom reported on Vimeo's recent pick up), while the second debates whether or not theatrical distribution is still essential for all films. In addition, The Independent's Courtney Sheehan spoke with Cinema Guild's Ryan Krivoshey on how the company is evolving with the shift in cinephile's viewing habits.
In development news, Robert Weide is seeking final funding via Kickstarter for his long gestating doc KURT VONNEGUT: UNSTUCK IN TIME. Variety's Cynthia Littleton reported on the Vonnegut bio-doc news, as did Jonathan Diaz for Flavorwire. This week also saw the Indian Doc Foundation and Chicken & Egg name their grantees. Manori Ravindran covered the story for Realscreen.
A few non-fiction shorts found their way onto the net, including the first in a new online series produced by This American Life titled VIDEOS 4 YOU, Bianca Giaever's I LOVE YOU, timed perfectly for the Valentine's weekend. Zoë Leverant wrote a piece on the new series over at Flavorwire. Criterion released a new video essay by :: kogonada titled MIRRORS OF BERGMAN. And in preparation for the DWA Awards, Dreamworks released an hour long doc about the making of HOW TO TRAIN YOUR DRAGON 2.
I'll leave you this week with a Dissolve piece by Nathan Rabin, in which he gives an update on the case behind Andrew Jarecki's doc classic CAPTURING THE FRIEDMANS.
Until next week, if you have any tips or recommendations for the Memo, please contact me via email here, or on Twitter, @Rectangular_Eye. I look forward to hearing from you!