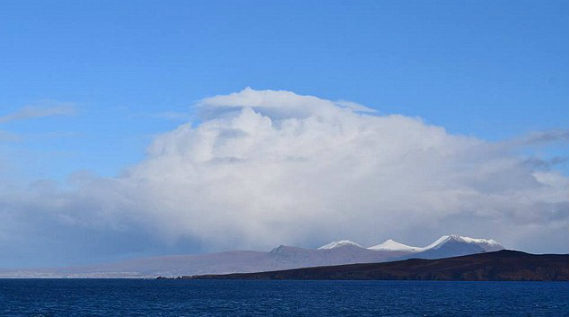 It's been an incredibly difficult week to keep up with documentary news, as my normal means of news gathering have been swamped with story after story of Trump's growing list of executive actions, and understandably so. It's times like these that make us reconsider the importance of the arts and the industries that grease their wheels. I mean, why read about award shows and film festivals while journalists are being charged with felonies for covering the protests during the inauguration, Stephen Bannon has publicly stated that media should "keep its mouth shut" and the president himself has issued a an order on immigration that severely restricts immigration from seven Muslim countries and more? Because cinema, and more specifically, documentaries, epitomize the human condition, inspire empathy, and more often than not advocate for social change in times of political unrest – now more than ever.
In response to Trump's immigration restrictions, Field of Vision currently has a callout for footage from inside airports pertaining to the Muslim Ban. Anyone with footage can reach out to contact@fieldofvision.org or share it anoymously in their secure drop. Reporting from Sundance, IndieWire's Anthony Kaufman, Realscreen's Valentina Valentini and Vulture's Jada Yuan each parsed how the festival's documentary selections worked in relief to the Trump administration thus far. Even this week's episode of Pure Nonfiction, featuring Mohamed Nasheed, the former president of the Maldives, who was profiled in the 2011 documentary THE ISLAND PRESIDENT, deals directly with the political impact of documentary films and the current political climate we've found ourselves in.
Right here at home, we announced last Friday that Stranger Than Fiction will be returning to the IFC Center for our 2017 Winter Season, which begins Tuesday, February 7th with the NYC premiere of Andreas Dalsgaard and Obaidah Zytoon's THE WAR SHOW, about "a Syrian radio DJ who documents the experiences of herself and her friends as their dreams of hope and liberation in the wake of the 2011 Arab Spring give way to the grim realities of repression, forced emigration and extremism." Alaa Hassan, the film's producer, will be on hand for a live post-screening Q&A. Tickets to our opening night event, as well as season passes, can be purchased here.
The Academy of Motion Picture Arts and Sciences revealed their 2017 Oscar nominations this past week. Not only are FIRE AT SEA, I AM NOT YOUR NEGRO, LIFE, ANIMATED, O.J.: MADE IN AMERICA and 13TH the five nominees up for Best Documentary this year, but JOE'S VIOLIN, produced by our very own Raphaela Neihausen, was nominated for Best Documentary Short. Steven Zeitchik and Mark Olsen of The Los Angeles Times noted this as a momentous occasion: "For the first time in what is believed to be any category in the history of the awards, four of five nominated films were made by a black director." Meanwhile at Nonfics, Christopher Campbell pointed out that Ezra Edelman's O.J. doc has a substantial chance at becoming the longest film to ever win an Oscar.
Over the weekend, Edelman and his fellow producer Caroline Waterlow won the Award for Outstanding Producers of a Documentary Theatrical Motion Picture at the Producers Guild of America Awards for their film O.J.: MADE IN AMERICA, reports Variety's Dave McNary.
Saturday night, the Sundance Film Festival awards ceremony saw the U.S. Documentary Grand Jury Prize go to Dan Sickles and Antonio Santini's DINA, the U.S. Documentary Directing Award go to Peter Nicks for THE FORCE, and the U.S. Documentary Audience Award go to Jeff Orlowski's CHASING CORAL. Steen Johannessen and Firas Fayyad's LAST MEN IN ALEPPO won the Documentary World Cinema Grand Jury Prize, Pascale Lamche's WINNIE took home the World Cinema Documentary Directing Award, and the World Cinema Documentary Audience Award went to Joe Piscatella's JOSHUA: TEENAGER VS. SUPERPOWER. Tons of wonderful Sundance reviews came in from all over, but trying to list them all here would be an exercise in futility.
Theatrically, just a single film seemed to have found any traction: Zhao Liang's visually stunning BEHEMOTH. The film garnered critical acclaim from Ignatiy Vishnevetsky at A.V. Club, David Rooney of Film Journal International, Ben Kenigsberg of The New York Times, Glenn Kenny of RogerEbert.com and Jared Mobarak of The Film Stage. Otherwise, at Nonfics, Daniel Walber reported on the highlights of this year's Neighboring Scenes showcase, which is currently running at the Film Society of Lincoln Center. In the latest episode of The Close-Up podcast, Raoul Peck discussed I AM NOT YOUR NEGRO before a live audience, also at the Film Society of Lincoln Center.
On the small screen, Irene Taylor Brodsky's BEWARE THE SLENDERMAN creeped its way into primetime via HBO. The film received an extensive history from Zac Thompson over at Vice, while Lenika Cruz of The Atlantic, Benjamin Lee of The Guardian, and Alex McCown-Levy of A.V. Club each gave it praise.
Before heading south for a week away, I wanted to mention Laura Hazard Owen's Nieman Lab piece on Frontline's experimental new doc release TRUMP'S ROAD TO THE WHITE HOUSE, "an interactive, annotated script that audiences can use to navigate the film, and new software that lets users highlight portions of the film and share them on social media or via email." And lastly, Erik Spink published a piece titled "7 Things You Should Know Before Making Your First Doc" over at No Film School. Until next time, if you have any tips or recommendations for the Memo, please contact me via email here, or on Twitter, @Rectangular_Eye.