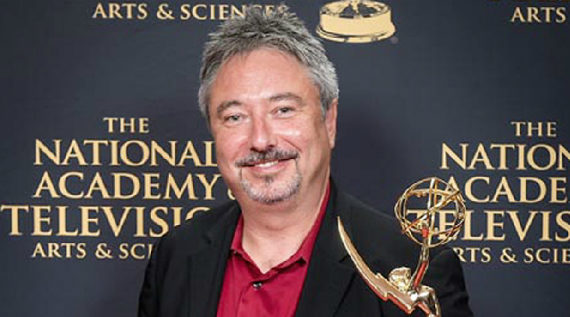 News broke mid-week that filmmaker Bill Siegel, Oscar nominated co-director of THE WEATHER UNDERGROUND and director of Emmy-winner THE TRIALS OF MUHAMMAD ALI, died at the age of 55 due to a heart attack that prior Saturday. Many of his colleagues wrote remembrances at the Kartemquin Films page, and Tom White collected a number of pieces on Siegel and his work at the IDA blog. Meanwhile, THE WEATHER UNDERGROUND co-director Sam Green shared the following on Instagram, "Bill was a lover of life and people and the world and probably got more pleasure from being alive than anyone I've ever known. Bill made a number of strong films, carried on deep and lifelong friendships, and also had two kids whom he loved and was thrilled by. The world will miss him badly."
His friend and collaborator Dave Zirin also warmly remembered Siegel in The Nation, "Bill's gift is so absolute that I'm pained not only by the loss of a friend and comrade but by the films we are not going to get to see. Bill's next project was going to be 'a new documentary that traced the history of the United States Information Agency and the creation of the US government's internationally broadcast radio station Voice of America, which is regarded by some as a form of propaganda.' I think Bill was going to use this topic to denounce so much of the bullshit that passes for news in 2018 and link the flooding of "fake news" with government propaganda that serves only the wealthy and powerful. The best possible tribute to Bill Siegel would be for us to pick up the baton and continue that work."
Shortly after the news of Siegel's death began to surface, the Library of Congress announced its annual selection of 25 National Film Registry inductees. As Christopher Campbell noted at Nonfics, "In one of the lightest years for documentary additions, five nonfiction films have been named to the National Film Registry. The Library of Congress selects 25 American titles for preservation annually, labeling the works as 'culturally, historically, or aesthetically significant.' Sometimes with the nonfiction selections, it's a package deal of home movies or travelogues so technically the number can be higher. But for 2018, they've really only chosen two documentaries plus some historical film records, a staged display of affection, and an animated satire that I'm arguably stretching to include among these highlights." The two aforementioned features include the Peter Davis's Academy Award winning Vietnam doc HEARTS AND MINDS and the iconic music-festival classic MONTEREY POP by D. A. Pennebaker and an A-list of contributors.
The big theatrical release of the week, and at 8.5 hours, I do mean big, Wang Bing's DEAD SOULS, about Mao's prison camps, has reached theaters in extremely limited release via Grasshopper Films. Bilge Ebiri named it a NYT Critics' Pick, while at Joshua Brunsting of Criterion Cast was one of many to make a bold comparison, "Rooted heavily in the anthropological works of directors like Claude Lanzmann, Bing's latest effort takes the groundwork of a film like SHOAH, and turns that type of clear focus to the atrocities of the governing body of China during Mao's reign, specifically the use of labor camps like Jiabiangou." Writing at RogerEbert.com, Simon Abrams made another striking comparison, "Wang's movies are open-ended cinematic collages, much like the films of American documentarian Frederick Wiseman. They capture a certain quality and therefore speak for (and often quite well about) the issues faced by their economically disadvantaged subjects." Most admirably, Arjun Sajip spoke with the filmmaker himself for an extensive feature in Sight & Sound: "It's often interesting to track the artistic development of these auteurs; Wang's development is harder to trace. Has his methodology or approach to filmmaking changed over the last two decades?"
While on the most recent episode of Pure Nonfiction our own Thom Powers shared a number of highlights from the DOC NYC world premiere of AMAZING GRACE, IndieWire's Anne Thompson uncovered not only the story behind why it took so long for the film to finally reach audiences, but why exactly the film does not have a credited director.
This past week saw an unusual amount of great director interviews, including Morgan Neville's appearance on The Close-up podcast, Christopher Llewellyn Reed's conversation with DIVIDE AND CONQUER director Alexis Bloom at Hammer to Nail, Christopher Campbell's interview at Nonfics with Alex Winter about his favorite documentaries, and Jim Farber's talk with Levan Tsikurishvili about AVICII: TRUE STORIES for The Guardian. Chief among this week's interviews was Mekado Murphy's conversation in The New York Times with Peter Jackson about the restoration and manipulation processes of creating his new World War I doc THEY SHALL NOT GROW OLD (be sure to watch the astonishing clips).
Two lists worth mentioning turned up this past week in the form of 6 docs picked by foreign correspondents of The Washington Post and a 'Best Docs of 2018' list from Alonso Duralde of The Wrap.
I'd be remiss not to share one last thing before I sign off until the new year: Sara Wylie's lengthy feature in the latest issue of Cléo Journal on the documentaries of Holly Dale and Janis Cole, which boldly begins, "Documentary filmmaking has long been celebrated as a distinctly Canadian art form, yet the works of radical women documentarians like Holly Dale and Janis Cole remain overlooked. Their feature documentaries P4W: PRISON FOR WOMEN (1981) and HOOKERS ON DAVIE (1984) were both landmark films: P4W was one of the earliest on-screen representations of incarcerated Canadian women and featured a groundbreaking positive representation of a queer relationship, while Hookers on Davie offered a rare empathetic and nonjudgmental portrayal of women, including trans women, working as sex workers in Vancouver's West End."
Until 2019, Happy Holidays!