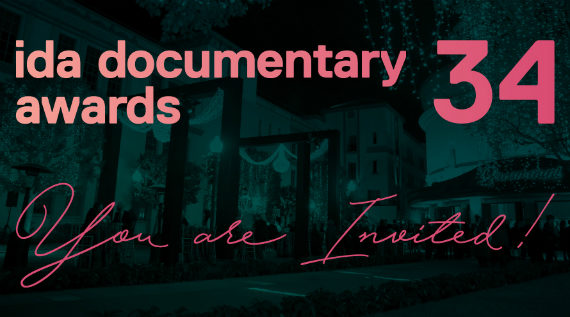 It should come as no surprise to anyone following the award season happenings that on Saturday night Bing Liu's MINDING THE GAP was named Best Documentary at the 34th Annual IDA Documentary Awards at the Paramount Theatre in Los Angeles. Other honorees included Floyd Russ's ZION (available via Netflix), which won Best Short, Chapman Way and Maclain Way's WILD, WILD COUNTRY, which took home Best Limited Series, and Steve Loveridge's MATANGI / MAYA / M.I.A., which won best Music Documentary.
Looking toward the Oscars, Addie Morfoot outlined in Variety how campaign budgets and the influx of participation from streaming services has drastically changed the documentary Oscar race. She begins, "There's no denying the race for documentary Oscar has changed dramatically in the past decade and even more so in the past five years. The reason for the shift? Money…Netflix, Amazon and Hulu all have deep pockets and aren't afraid to make that known during Oscar season. (This year Netflix and Hulu boast docs like SHIRKERS, MINDING THE GAP and CRIME + PUNISHMENT)". In contrast, Christopher Campbell imagined at Nonfics what this year's Golden Globe doc nominees might have been if the category existed.
While awards season continues to heat up as trudge deeper into the winter season, early December is always host to many best of lists critics of all sorts. In The New Yorker, Richard Brody listed his favorite films of the year without order, including INFINITE FOOTBALL, THE REST I MAKE UP, NOTES ON APPEARENCE, THE OTHER SIDE OF EVERYTHING, POW WOW, as well as other more well known docs among his favorites. Meanwhile in The New York Times, Manohla Dargis and A.O. Scott ranked theirs, with a quartet of docs taking Scott's #1 slot. And at Vox, Alissa Wilkinson dropped a list of her top 11 favorite docs, with a few sadly hard to see picks like Sam Green's scantily performed live production of A THOUSAND THOUGHTS and the minimally screened AMAZING GRACE taking prominence.
In a shocking bit of post-Filmstruck news, Variety's Todd Spangler reported, "Fandor, the independent-film streaming service, has laid off nearly all of its employees and has sold its assets, Variety has learned. Reached for comment, Fandor CEO/chairman Chris Kelly sent a statement in which he said Fandor has a deal in place that will let a 'new entity' continue to operate the service. He declined to identify the buyer…Fandor fired the entire staff and the company hired back a few employees on an hourly basis to keep the company functioning as it hopes to avoid a total shutdown."
On Thursday, Firelight Media revealed the group of twelve filmmakers selected to the 2018-2020 Firelight Documentary Lab, "an 18-month fellowship program to support filmmakers working on their first or second feature length documentary film. The Lab provides filmmakers with customized mentorship from prominent leaders in the documentary world, funding, professional development workshops and networking opportunities."
With Sundance just a month away, IndieWire's Chris O'Falt attempted to outline just about no filmmakers have every "come out of no where" to premiere at Sundance. "Of all the Sundance myths that developed over the last 35 years, the biggest fallacy is that of being magically discovered and launching one's career on a snow-covered January evening in Park City. If anything, when that does happen, it's across the street at Slamdance."
Two new releases gleaned a handful of coverage this past weekend, with Ben Kenigsberg selecting DIVIDE AND CONQUER: THE STORY OF ROGER AILES as a NYT Critics' Pick, while at RogerEbert.com, Glenn Kenny decided, "This is one action-packed doc, so to speak, replete with eyebrow-raising factual tidbits". And at IndieWire, Anne Thompson described how both DIVIDE AND CONQUER and RBG were forced to evolve over the course of their productions. The other release was Bert Marcus's Netflix doc THE AMERICAN MEME, which Naomi Fry covered for The New Yorker, as did Amy Zimmerman for The Daily Beast.
Other notable doc coverage included Anthony Kaufman's five point defense of Errol Morris's still undistributed AMERICAN DHARMA at Filmmaker Magazine, Dave McNary's conversation with Peter Jackson about his transition from blockbusters to docs at Variety, Lydia Ogwang's take on Khalik Allah's BLACK MOTHER in Cinema Scope, Katie Goh's warm review of DYKES, CAMERAS, ACTION! at Little White Lies, and Brad Gulllickson's piece on I AM PAUL WALKER at Nonfics.
I leave you this week with filmmaker and journalism professor June Cross's rousing rebuttal in Columbia Journalism Review of Washington Post film critic Ann Hornaday's controversial essay "Documentaries Aren't Journalism, And There's Nothing Wrong with That", as well as Adrian Curry's list of his favorite movie posters of 2018 found over at MUBI's Notebook. Until next time, if you have any tips or recommendations for the Memo, please contact me via email here, or on Twitter, @Rectangular_Eye.