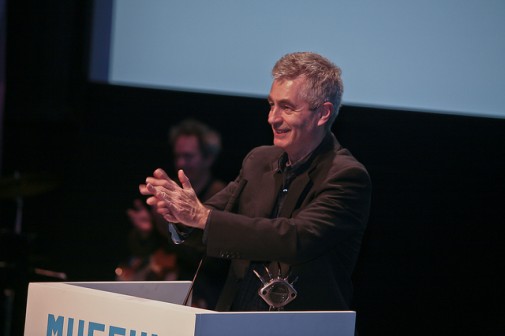 Steve James is having a pretty good week. Despite being overlooked by the Academy, the accolades continue to pile up for his critically lauded film, THE INTERRUPTERS. First James cleaned up at Wednesday's Cinema Eye Honors (CEH), becoming the first filmmaker to win the awards for both best direction and best nonfiction feature. Then on Thursday, the Directors Guild of America (DGA) named him a nominee for its award for Outstanding Directorial Achievement in Documentary.
After taking the stage to accept his CEH award for best direction, James made sure to thank his subjects, two of whom were in attendance. "On this film, it was just an incredibly inspiring experience spending a year plus on the streets with the interrupters themselves," James said. "Their courage and honesty and belief in this film, and the work that they do is one of the most inspiring experiences I've ever had in my life."
The CEH crowd also honored Judith Hetherington, mother of late photojournalist and filmmaker Tim Hetherington, with a standing ovation after she accepted the award for best short film for Hetherington's DIARY. "He's a huge loss, and to honor his life, his friends and family and all those that he touched are committed to helping other students, fellow artists and those in the Third World so that they can benefit from his legacy," she said.
In other categories, Gian-Piero Ringel and Wim Wenders took home the award for Outstanding Acheivement in Production for PINA (Wenders pulled double duty as the film's director). The editing award went to Gregers Sall and Chris King for their work on SENNA. Accepting the award on their behalf, SENNA director Asif Kapadia said the film had drawn on an astounding 15,000 hours of raw footage.
Photojournalist Danfung Dennis scored the cinematography award for his debut feature, HELL AND BACK AGAIN. Errol Morris's TABLOID picked up two awards—one for best original music score, which went to composer John Kusiak, and another to Rob Feng and Jeremy Landman for Outstanding Achievement in Graphic Design and Animation. Clio Bernard's hybrid doc, THE ARBOR, was named the best debut feature, while Cindy Meehl and her crew took home the audience award for BUCK. The spotlight award, intended to highlight a film that went largely overlooked during the year, went to Tatiana Huezo Sanchez for her film, THE TINIEST PLACE.
After taking the stage to receive the Legacy Award for canon film TITICUT FOLLIES, Frederick Wiseman reflected on his decades-long career. "I'm continuing to slog away on making these documentaries, and it's very nice indeed to have the recognition of this award for the first film that I did." Joe Berlinger and Bruce Sinofsky were joined by an ecstatic Jason Baldwin, a recently freed member of the West Memphis Three, who helped the filmmakers accept the new Hell Yeah Prize for their work on The Paradise Lost Trilogy. Sinofsky, after accepting the award, recalled a moment that occurred the day after Baldwin was freed, when Baldwin asked if he could say grace at breakfast. "That was one of the high moments in my life," he said.
Sinofsky and Berlinger also joined James in picking up a DGA nomination for outstanding directorial achievement for PARADISE LOST 3: PURGATORY. The other DGA award nominees are Martin Scorsese for GEORGE HARRISON: LIVING IN THE MATERIAL WORLD; James Marsh for PROJECT NIM; and Richard Press for BILL CUNNINGHAM NEW YORK.
The impending kickoff of the Sundance Film Festival, set to begin January 19, was marred for one documentarian by news that David Siegel, a real estate developer and subject of Sundance-selected doc THE QUEEN OF VERSAILLE, had filed suit against the Sundance Institute and director Laura Greenfield, as well as her husband. Siegel in his suit alleged that Sundance and Greenfield had defamed him by describing his real estate business as collapsed in the film's promotional materials.
Sundance highlighted three docs screening at the festival that are linked by their examination of the decline of the American dream—DETROPIA, an examination of the decline of the Motor City by Heidi Ewing and Rachel Grady; FINDING NORTH, by Lori Silverbush and Kristi Jacobson, which looks at the problem of hunger in America; and THE HOUSE I LIVE IN, about the toll taken on society by illicit drugs, by Eugene Jarecki. All three films were among the 16 U.S. documentaries in competition at Sundance that were to premiere at the festival. They are to be complemented by 12 other films in World Cinema Documentary Competition category. The world category also included Fredrik Gertten's BIG BOYS GONE BANANAS!*, a film documenting Gertten's own court battles with giant fruit corporation Dole, which took umbrage at their unflattering profile in Gertten's earlier work, BANANAS!*, and filed suit against the filmmaker.
Across the pond, news broke that British satellite broadcaster BSkyB, which is partially owned by Rupert Murdoch's conservative media behemoth News Corp., was dropping Current UK from its lineup, potentially spelling an end for the channel in the British Isles. Current Media CEO Joel Hyatt took BSkyB to task for its decision, claiming that "Sky is once again discriminating in favor of the networks it owns and the points of view News Corporation agrees with."
A little closer to STF's home, the Tribeca Film Institute named eleven works in progress to its Tribeca All Access program, five of which were documentaries. Among those making the cut was director Rahmin Bahrani, who has previously won plaudits for his narrative feature work, but who will participate in the All Access program for his work on an as-yet untitled doc about gold.
The folks at Creative Capital on January 12 named a slew of filmmakers as recipients of grants dedicated to Film/Video and Visual Arts, doling out funds to a total of 56 artists, among them POV series producer Yance Ford.
In honor of Martin Luther King, Jr. Day, Basil Tsiokos has curated a number of documentaries inspired by the civil rights leader that are screening online at Hulu.com.
Documentary Channel blogger Christopher Campbell breaks down this week's theatrical releases, led by Frederick Wiseman's CRAZY HORSE, a portrait of the eponymously named Parisian cabaret, which is opening January 18 at NYC's Film Forum. STF Artistic Director Thom Powers described the film thusly: "In CRAZY HORSE, Wiseman pulls back the curtain on Le Crazy Horse de Paris, a landmark that has prided itself as "the best nude dancing show in the world" since 1951. Le Crazy Horse sets itself apart from the average strip club by adhering to exacting standards in choreography, lights and physiques. The erotic revue is composed of songs and sequences that blend traits of old-fashioned burlesque, Bob Fosse and Cirque du Soleil — designed not only for the enjoyment of men, but also couples."
STF is also hosting a pre-season screening of Wiseman's TITICUT FOLLIES at the IFC on January 17. While the 8 p.m. screening is already sold out, due to overwhelming demand STF has added a second screening that will be introduced by Wiseman. You can get info and tickets here. Also, STF Winter Season passes, which will get you into TITICUT FOLLIES (while seats still last) as well as eight other films, along with free popcorn and a free Docurama DVD, all for $100 ($80 for IFC members). To buy a pass go here.
As always, we welcome your tips and recommendations. They can be sent to .(JavaScript must be enabled to view this email address). Have a great week!