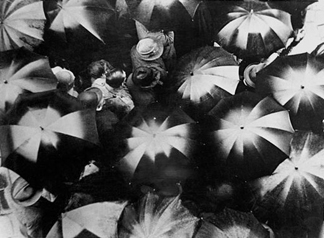 * * *
Critics, like explorers, make their names by charting new territory. The documentary landscape offers plenty to uncover. After decades of being a commercial stigma, the d-word has turned into a hook for brands like Docurama and festivals such as Silverdocs and Hot Docs. The festival cottage industry flourishes not only in big cities but also in the smaller markets of Durham, NC (Full Frame), Columbia, MO (True/False), and Missoula, MT (Big Sky). An even more dramatic shift has taken place in viewing habits through Tivo, Netflix, Amazon and iTunes. Despite these changing trends, publicists and critics still tend to lump documentaries together with art house cinema. My programming experience indicates that nonfiction has wider and more varied demographics. Titles such as Business of Being Born, I.O.U.S.A., or Young @ Heart connect to general audiences who have little affinity for the fiction from Sundance or Cannes. Earlier this month, I spoke on a documentary panel at the Chicago Humanities Festival where the sold-out audience was representative of viewers I've met elsewhere. They increasingly turn to documentaries to interpret the world in a way that's more rewarding than television news and easier to digest than books. My co-panelist Gordon Quinn of Kartemquin Films cited another appeal with a quote from John Dewey, "The real purveyors of the news are artists, for artists are the ones who infuse fact with perception, emotion, and appreciation."
The Cinema Eye Honors serve as a growth index for documentary output. Its website lists over 100 feature-length documentaries eligible for the 2008 award based on theatrical release or prominent festival play. I'd wager that few critics have seen half those titles. Even more nonfiction films make their way to audiences through television, DVD and other means. The lack of critical awareness was inadvertently expressed in November 2007 by a Village Voice reviewer who wrote, "I have seen more than 25 documentaries this year, and after a while they all start to run together, both structurally and thematically." One wondered what she was watching in a year that included Crazy Love; Ghosts of Cite Soleil; Into Great Silence; Lake of Fire; Manda Bala (Send a Bullet); Manufactured Landscapes; The Monastery: Mr Vig and the Nun; No End in Sight; Sicko and Zoo – to name ten prominent titles that have little in common structurally or thematically.
Unfortunately, the Voice reviewer's limited scope reflects more the norm than the exception. Turning to The New York Times as the paper of record, one will find stellar film writing from its two lead critics A.O. Scott and Manohla Dargis. But documentaries are divided between them (and more often assigned to others) in a way that discourages developing the same expertise they bring to fiction. I made an informal count of nonfiction reviews by Scott and Dargis in 2008, drawing information from nytimes.com as of Nov 20. My tally showed that Scott covered 9 documentaries and Dargis 14 out of their combined total of 193 reviews (see addendum for titles*). For all the other documentaries theatrically released this year, 16 more were covered by Stephen Holden and over 50 by freelance capsule reviews usually no longer than 250 words. Among those relegated to the freelance bin were Blindsight and Glass: A Portrait of Philip in Twelve Parts, two works notable enough to be Oscar short-listed. I programmed both for the Toronto International Film Festival and saw audiences engage them with vigorous discussion. But when a critic is confined to less space than the TIFF catalogue description, there's no room to explore nuance or complexity.
If you want to measure the gap between how the Times treats nonfiction books versus films, count the words. In the pages of the Times Book Review, nonfiction books are assessed each week in pieces running 1500 words or longer. A recent book review on the oral history of George Plimpton topped 3600 words. In the film section, documentary reviews rarely exceed 900 words, even when it comes to a title previously lauded at festivals such as Man on Wire or Pray the Devil Back to Hell. Under such space constraints, what's lost is the chance to place the film into the context of similar works or the director's past career. In the case of Pray the Devil Back to Hell, readers might benefit to know how it compares to other docs such as Liberia: An Uncivil War or Iron Ladies of Liberia, all set in the same country. In the case of Man on Wire, it would be illuminating to learn more about the past work of its director James Marsh. But in reviews of both these works, the Times and most every other publication left out any such consideration. Scott's review of Man on Wire spares one sentence to acknowledge the director's long career.
Compare that to the 2200-word article on Marsh's career that was written for the Sunday Times in 1999 for Wisconsin Death Trip. In that piece, the freelance critic Greil Marcus could devote several paragraphs to Marsh's earlier television documentaries such as The Burger and the King and Highway 61 Revisited. The rareness of that opportunity was highlighted this past summer when the Times published a Sunday article about Hurricane Katrina films with only 1300 words, cramming in references to nine directors and leaving little room for analysis.
***
On my visit to Chicago, I got a reminder of what the documentary field is missing when I had dinner with Jonathan Rosenbaum, who served for years as the film critic of the Chicago Reader. His indispensable essays are published in several collections including Placing Movies and Movies as Politics as well as his website jonathanrosenbaum.com. He's not a documentary specialist, but when he does approach the medium, he brings a rare sense of scholarship. His last collection Essential Cinema contains essays on Joris Ivens and Errol Morris that offer a model in thoughtful criticism. For a taste, I've excerpted three passages from his article on Ivens:
What do we know about Joris Ivens? Although he's generally considered to be one of only a handful of great documentary filmmakers, history and politics have conspired to make most of his work unavailable and unknown in this country. I suppose some would argue that this was partly his fault – because he had the bad taste to become a communist filmmaker and to work for much of his life in communist countries as opposed to the "free world."
Further along, Rosenbaum lays down enough history about Ivens to inform anyone who might be encountering the director for the first time:
Born in 1898 to a Dutch family heavily involved in still photography, [Ivens] fought in World War I, became a student radical in Germany, managed his father's camera shops in Amsterdam, and made his first professional films, The Bridge and Rain, around the age of thirty. Judging by the international reputation of these two films and of Philips Radio (1931), his first sound film, he comes from that heroic period in filmmaking when radical leftism, avant-gardism, abstraction, and formalism were wholly compatible and even complementary traits.
Rosenbaum expands on this history before coming around to the main film under review, A Tale of the Wind, the director's final work made at age 90, in which Ivens attempts to capture the image of the wind in China. After putting the film in the context of the director's career, Rosenbaum makes other eclectic connections:
Both poetic essay and meditative fiction, A Tale of the Wind has certain affinities with movies as different as Jean Cocteau's The Testament of Orpheus, Chris Marker's Sans Soleil, and Souleymane Cisse's Brightness, but it is too proud to owe its vision to any source beyond Ivens's own far-reaching experience and research.  Part of the film's inspired thesis appears to be that cinema and history, fantasy and documentary, have a lot to teach each other.
Mind you, I'm only quoting brief passages from an essay that takes four and a half pages in Essential Cinema. During his days as a weekly reviewer for the Chicago Reader, Rosenbaum had a luxury of space not known to most newspaper film critics.
I asked Rosenbaum about his outlook on the current state of film criticism during this time of steady cutbacks and layoffs. He resisted pessimism and reiterated comments he made two months ago at the New York Film Festival on a panel called "Film Criticism in Crisis?" While old forums may be in decline, Rosenbaum points out, new forums are springing up on websites such as Moving Image Source, Greencine and the Australian site Rouge that he described as "better than anything that ever appeared in print in the Sixties."
That answers the complaint of any aspiring Documentary Critic who can't crack an existing outlet: start your own! I suspect that's where serious documentary criticism will emerge, if it happens at all. The established ranks of reviewers earned their place through a dedication to fiction film. The New Documentary Critics are more likely come out of nowhere. The job might be well-suited for disaffected grad students who would rather write for the public than for academia. The remuneration will be small to nil. But you'll do better to live frugally off freelance wages than go into debt on school loans. If you tap the readership of documentary enthusiasts, it might very well lead to paid gigs and invitations to travel.
A few words of advice to the aspiring Documentary Critic: 1) ignore the way most periodicals divide their reviews by formats of theatrical, television and DVD. These boundaries prevent meaningful connections. Good documentaries show up in many places besides theaters, including HBO, POV, Independent Lens, Sundance Channel, and straight to DVD via the festival circuit. All these works should fall under the same purview. 2) Don't obsess over pegging a review to a release date. That timing had more relevance when a film played only one week in a theater or one night on TV. Now audiences are more likely to access at their own will on DVD or download. As with books, a review has just as much relevance published weeks or months after its debut. 3) Keep in mind what Rosenbaum said at the New York Film Festival, "I think it's important, when you're writing about a film, to think about how it connects to the rest of your life, to other arts, things that are happening to you. I think that film criticism tends to be way too much cut off, when it seems to me if it's an important art form, it's important because it addresses the way we live."
– Thom Powers, STFdocs.com
Pictured: Joris Ivens Rain (1929)
*Addendum: Here are the year's documentary reviews by the lead critics at The New York Times, as of Nov 20, 2008:
A.O. Scott reviewed: American Teen; Chicago 10; Full Battle Rattle; Gonzo: The Life and Work of Hunter S. Thompson; Man on Wire; My Winnipeg; Profit Motive and the Whispering Wind; Taxi to the Dark Side; Where in the World is Osama Bin Laden?
Manohla Dargis reviewed: Body of War; Cool School; Encounters at the End of the World; Harvard Beats Yale 29-29; Operation Filmmaker; Order of Myths; Patti Smith: Dream of Life; Pray the Devil Back to Hell; Roman Polanski: Wanted and Desired; Standard Operation Procedure; Surfwise; Trouble the Water; We Are Wizards; Zidane