Miss GULAG (2007)
Through the prism of a beauty pageant staged by female inmates of a Siberian prison camp emerges a complex narrative of the lives of the first generation of women to come of age in Post-Soviet Russia.  Miss GULAG explores the individual destinies of three women: Yulia, Tatiana, and Natasha, all bound together by long prison sentences and circumstances that have made them the vigilantes of their own destinies.
For these women, undoubtedly, life is harsh under the constant surveillance of UF-91/9, but it is no less so on the outside. This is a story of survival told from both sides of the fence.
"A smashing debut by a young documentarian who discovers a unique way to investigate contemporary Russian society." — The Hollywood Reporter
Directed by Maria Yatskova, Produced by Irina Vodar & Raphaela Neihausen
Sugar Pictures
From 1997 – 2005, Thom Powers and Meema Spadola ran a production company together, producing films for HBO/Cinemax, PBS, Sundance Channel and other outlets.  Below are highlights from this collaboration.
Breasts: A Documentary (1997)
Spadola and Powers' first project BREASTS became Cinemax's highest-rated documentary.  This hour-long documentary consists of interviews with twenty-two women – ages 6 to 84-years-old – discussing how breasts play a crucial role in the experiences of puberty, motherhood, sex, health, and aging. Interspersed throughout the documentary are segments of breast-related archival footage including a racy 1920s animated cartoon, a 1950s beauty pageant, and a 1970s bra commercial.
The participants, most of whom appear topless, represent a wide range of age, size, race and background. They include an 11-year-old on the verge of puberty; a breast-feeding mother; a 24-year-old with a breast reduction; a stripper with implants; two women with mastectomies; the self-proclaimed leader of the "Strong Breast Revolution"; a beautiful transsexual; a 49-year-old who is concerned about the safety of her silicone implants; a 420-pound comedienne; and two mother-daughter pairs. Their candid thoughts are humorous, moving, and often surprising.
"A hilarious and equally poignant tribute to the cultural shape we're in." — The Hollywood Reporter
Directed by Meema Spadola, Produced by Thom Powers & Spadola
PRIVATE DICKS: Men Exposed (1999)
Men spend a lot of time thinking about their penises, and even thinking with their penises. But rarely do we hear men talking honestly about their penises—until now. Surveying young and old, gay and straight, large and small, virgin and porn star, from all walks of life, PRIVATE DICKS: Men Exposed explores the naked truth about how men feel about their penises. The men, many of whom appear nude, offer personal revelations that are honest, humorous and often poignant as they frankly discuss puberty, power, impotence, circumcision, sexuality, myths and perceptions, growing old, and, of course, size. Interspersed with clips from vintage sex education films and humorous cartoons, PRIVATE DICKS: Men Exposed provides a rare opportunity for both interviewees and audience to begin an honest conversation about masculinity, power, vulnerability, sex and love-all seen through the lens of a man's relationship to his penis.
"It's often funny, poignant and mostly revealing, providing valuable insight into how men shape their identity from the size and shape of their private parts." — The Hollywood Reporter
Produced & Directed by Thom Powers & Meema Spadola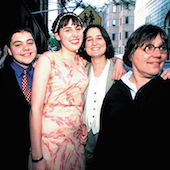 OUR HOUSE: A VERY REAL DOCUMENTARY ABOUT KIDS OF GAY & LESBIAN PARENTS (2000)
"I've spent my entire life explaining my family to people who just don't get it." – Ry, age 17
Today, there are millions of children in the United States being raised by gay and lesbian parents. These families are at the heart of debates in courtrooms, schools and places of worship around the country as Americans struggle to define family values.
OUR HOUSE—broadcast on PBS in 2000– is a groundbreaking documentary that explores what it's like to grow up with gay or lesbian parents. Traveling to urban, rural and suburban communities in Arizona, Arkansas, New Jersey and New York, OUR HOUSE director Meema Spadola (the daughter of a lesbian mom) profiles the sons and daughters of five families – African American, Latino and white; Mormon, Christian, and Jewish – who illustrate some of the diversity of America's gay and lesbian families.
"What Spadola mostly shows is how much these kids are real kids, romantic and smart and fun and bratty, and how much they are forced to think about what other kids don't have to and how they hate having to deal with the world's ideas about their parents." —San Francisco Examiner
Produced & Directed by Meema Spadola
Guns and Mothers (2003)
This one-hour documentary explores the contentious debate over gun control, as seen through the eyes of two mothers on opposite sides of the issue. Frances Davis from Brooklyn, lost all three of her sons to gun violence and is a fierce advocate of gun control. Maria Heil from rural Pennsylvanian, mother of four, serves as spokeswoman for the Second Amendment Sisters (a group formed in response to the Million Mom March in 2000). This film explores the grassroots beliefs of both movements, following both women over the course of a year, starting on Mothers' Day.
When GUNS & MOTHERS screened on Independent Lens, it was called a "Pick of the Week" by the New York Times, Time Out and Entertainment Weekly.
"Heart-wrenching… An admirably respectful analysis of both sides of a divisive issue."—Time Out
Produced & Directed by Thom Powers
Loving & Cheating (2005)
Traditional marriage vows ask couples to "forsake all others." Marrying partners look each other deep in the eye and say "yes" But does monogamy work? LOVING & CHEATING explores the gray areas of commitment and infidelity and with ardor and provocation touches issues everyone can identify with, but rarely anyone wants to talk about.
A former male stripper and his wife discuss the effects of their mutual affairs; a young engaged couple confront their differing views on cheating; a Baptist minister and his wife reflect on the success of their 50 year marriage; a middle-aged couple who call themselves "poly-amorous" explain how they opened their marriage. The widely read advice columnist Dan Savage weighs in with his audacious opinions, along with other therapists and other "sexperts." Interwoven throughout the film are surprising and hilarious archival clips from newsreels, sexploitation films and home movies.
"Subtly revealing and sophisticated." — Los Angeles Times
Produced & Directed by Thom Powers
Red Hook Justice (2005)
RED HOOK JUSTICE is a one-hour documentary that explores a bold new approach to justice reform through the lens of an experimental criminal court in Brooklyn. We follow the ups and downs of several defendants and staffers involved in this legal revolution that has become a model for courts nationwide. Instead of jail time, offenders are often sentenced to job training, drug counseling and community service.
"If Steve Bochco is shopping around for a new drama now that NYPD Blue is gone, he should catch Red Hook Justice. The documentary showcases compelling New York stories and a camera-ready ensemble cast." — New York Daily News
Directed by Meema Spadola, Produced by Thom Powers & Spadola
Joe Sacco is a breed unto his own, a comics journalist who has traveled to real-life war zones in the Middle East and Bosnia, hung out with "ordinary people" and created extraordinary work based on his experiences. His first book, Palestine, is based on interviews he conducted with refugee camp residents, relief workers, and soldiers in the Occupied Territories. Safe Area Gorazde, published in 2000 by Fantagraphics Books, chronicles the experiences of civilians amidst the Balkan conflict. Why choose the comic strip medium for such gut-wrenching material? In this profile, first broadcast in fall 2002, Sacco fills us in.
Directed by Thom Powers