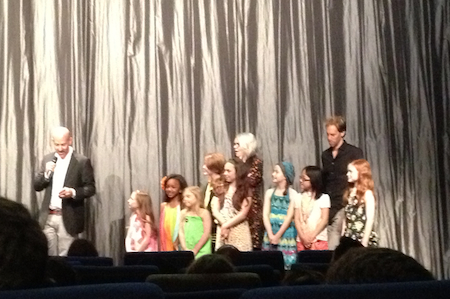 written by Nikki Erlick
After the screening of his documentary ANNIE: It's the Hard-Knock Life, From Script to Stage, director Joshua Seftel apologized to the audience members for undoubtedly getting the titular song stuck in their heads. The film, shown in a crowded theater last Monday night as part of STF, brought the catchy tune from the stage to the screen, exploring the evolution of the iconic musical number from the current Broadway production of Annie.
The screening was held on Broadway's night off to accommodate the evening's special guests – the child actresses featured in the documentary. The young girls, who landed the coveted roles of "the orphans" in an open casting call that attracted 5,000 hopefuls, giggled and cheered at the sight of their younger selves on the big screen. Indeed, the film made a point of relaying just how young these professional actors are, such as showing the "orphan" Emily Rosenfeld with her stuffed animals and writing in her script, "You mista spot." The film followed the girls from the ecstatic moment they learned they got the part to the nervous energy of opening night, as well as featuring the various crewmembers that brought the musical to life.
The documentary also explored the relationship between the contemporary production and the original Annie, which opened in 1977 and claimed the Tony Award for Best Musical. In the film, choreographer Andy Blankenbuehler commented on the weighty expectations surrounding the specific musical number. "People know 'Hard-Knock Life.' Everybody loves the song," he said. In the post-screening discussion, scenic designer David Korins and costume designer Susan Hilferty echoed these sentiments of the pressure of both the blockbuster original production and the multigenerational fan base with preconceived images of what the show should look like. The film closed with a beautifully edited juxtaposition of the early, unpolished stages of production and the exhilarating opening night performance.
Seftel and his documentary subjects spoke after the screening with STF's Thom Powers about the unique and in-depth "making of" narrative that emerged from months of filming. Seftel thanked the members of the Annie team for allowing him into their lives, telling them, "Without you, documentary filmmakers can't succeed."
ANNIE: It's The Hard-Knock Life, From Script to Stage will air on June 28 on PBS.