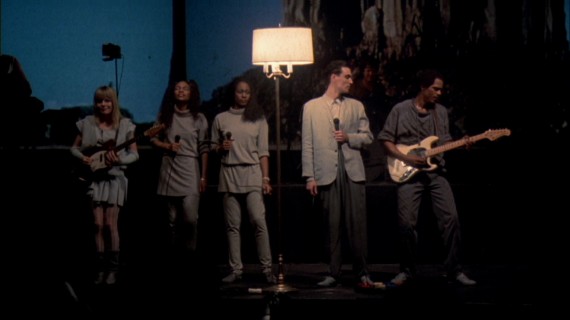 Writing by Megan Scanlon. Megan works at the American University of Beirut. She has written for the DOC NYC blog and the Journal of Community Engagement and Scholarship. Megan is a volunteer at the Bronx Documentary Center where she contributes to documentary programming. Follow her on instagram and twitter    @meganscanlon5
"Some things sure can sweep me off my feet."
-Burning Down the House
Stranger Than Fiction kicked off its six-week Jonathan Demme retrospective on Tuesday night, welcoming a full house of Talking Heads fans ready to experience Stop Making Sense on the big screen.  The last time the Heads ever performed for an audience, Stop Making Sense Was filmed over the course of four Hollywood nights.  Demme's 1984 classic is a living, breathing testament to the power of music, the brilliance of David Byrne and the Talking Heads, and how the next best thing to a live concert is a beautifully shot film of a live concert.
Stop Making Sense begins the moment Talking Heads frontman David Byrne walks onto a stark, seemingly abandoned stage with boom box in hand. The atmosphere is otherworldly; the unyielding coolness of the lighting, detached and inescapable, is warmed by Byrne's presence, one that creates a climate of electricity and delicious anticipation.  He sets down the boom box and says to the audience, "Hi, I've got a tape I want to play." He bends down to push play, and sets in motion a pregnant pause: before the beats on his radio begin to call and answer, before the music ripples out of his guitar, the suspension of sound that gives birth to Psycho Killer is a prelude to the journey that somehow has already begun.
A testament to Byrne and Demme's crafting and editing precision in creating a larger than life experience, on the difficulty of not being able to look away from Byrne, Demme said, "One of the great ongoing conceits of filmmakers is the long takes. I think you're always looking for an opportunity but with this film and all films we aspire to, we want each song to feel different somehow in the editing."
Bobbling his head like a curious animal surveying the land, the irregularity of Byrne's paroxysmal rhythm finds equilibrium in the style of his movements. A cadence entirely his own, Demme's implied hero of the film travels comfortably in his skin, alert, aware, and accepting  that every path he takes will be surrounded by obstacles, just as smoke surrounds fire.  Byrne's lyrics about wartime and alienation are juxtaposed in the joyous way the band performs. Tension and catharsis animate each song, and the perceptible physical progression in the way Byrne introduces a new musician and new stage decor in every song is magnified by the imperceptible evolution of connecting to the music, of bearing witness to a dissolving interface where "us and them" become extraneous. The dazzling performance of the multi-gender, multi-racial band demonstrates real community, and the extraordinary talent and generosity of each individual creates a big and beautiful synergy. Within this space there is room to navigate the concerns of the times and to explore how we relate to ourselves and to each other. On finding a groove during a performance, Stop Making Sensecrystallizes  what Byrne says in his book, How Music Works:  "It was a living, breathing model of a more ideal society, an ephemeral utopia that everyone, even the audience, felt was being manifested in front of them, if only for a brief period."
STF host Thom Powers talked with a Demme after the screening, followed by a Q&A with an adoring audience.  One audience member thanked Demme for the impact the film had on his youth, and said, "For anyone going to college at this time your films changed the trajectory of our professional lives."  Powers added, "By the way, he took that to heart, this is James Soloman, he made the film The Witness this year." Demme's gracious and heartfelt thanks were part in parcel of his relationship with the fans, and the joy he finds in his work. On any expectations for the film, he said, "We had no aspirations beyond making it and look, 32 years later we're here still, it's amazing. Watching this film tonight I have to say I was awestruck, more than anything I don't think I've ever appreciated everyone's onstage work so much.  As time goes by it becomes more and more clear how brilliant that band was, what a great moment in time."
Videography by Joseph Schroeder, who has managed the production of highly acclaimed educational and informational programming for networks such as PBS, A&E and National Geographic for over a decade. Currently the Vice President of Production and Operations of The Independent Production Fund. Follow him on Twitter and see more of his work on his website.
Related Film