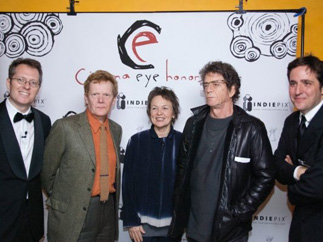 3) HANOI CINEMATHEQUE (March) – On a belated honeymoon trip to Vietnam and Cambodia, Raphaela and I set aside one night for film. Gerry Herman, an American expat who runs the excellent Hanoi Cinematheque, invited us to curate a night of STF in his space. We screened THE REAL SHAOLIN, about martial arts students in China, and enjoyed a spirited Q&A afterward.
4) CINEMA EYE HONORS (March) – The second edition of this documentary awards ceremony took place in the splendid event space of the New York Times building. The night was dominated by multiple-award winner WALTZ WITH BASHIR and the amusing acceptance speeches of artist David Polonsky. For 2010, the ceremony will move earlier on the calendar to January 15. (Photo: at Cinema Eye with Philippe Petit, Laurie Anderson, Lou Reed and AJ Schnack).
5) FULL FRAME'S PRESENTATION OF GARRETT SCOTT GRANT (April) – Each year, the Garrett Scott grant aims to nurture the careers of first time filmmakers by sending them to the Full Frame festival for mentoring sessions. After three years of sitting on the selection committee with Ian Olds and Rachael Rakes, I was gratified this year to see some of our past recipients distinguish themselves with completed works, including Mai Iskander's GARBAGE DREAMS that made the Oscar shortlist; and Robin Hessman's MY PERESTROIKA which was accepted into Sundance. The 2009 recipients were Elinyisia Mosha and Cameron Yates. Applications are now being accepted for the 2010 grants.
6) "FALLEN CHAMP" AT STF (April) – Barbara Kopple made this documentary subtitled "The Untold Story of Mike Tyson" for broadcast television in 1993. Among other achievements, her team uncovered the remarkable footage of the teenage Tyson training with Cus D'Amato. When that footage was being re-purposed for a new documentary called TYSON, it seemed fitting to take a fresh look at Kopple's version. I was disappointed by critics who generally failed to reflect on the relationship between the two films. At least, the STF audience had the chance to compare.

7) CANNES FILM FESTIVAL (May) – Docs are rarely at the forefront in Cannes. But they increasingly have a place in sidebar initiatives such as the Doc Brunch and the American Pavilion. For me, Cannes is indispensable as a meeting ground to find films that I'll be showing in the fall. Out of the official line-up, I was dazzled by HENRI-GEORGE CLOUZOT'S INFERNO and in the market screenings, I discovered TURTLE: THE INCREDIBLE JOURNEY. Both wound up in the line-up at the Toronto International Film Festival. Taking meetings along the Croissette, I first learned about VIDEOCRACY from the Swedish Film Board; and about COLONY from the Irish Film Board. Those two went on become highlights of both TIFF and STF's fall season.

8) TRAVERSE CITY FILM FESTIVAL (Aug) – Celebrating its fifth year, this festival co-founded by Michael Moore is one of the hidden gems of the film calendar. Nestled on a bay off Lake Michigan, Traverse City makes an idyllic locale. The centerpiece facility is the gorgeous State Theater that Moore has restored into a year-round old-fashioned movie palace, complete with red velvet curtains, an organ and stars twinkling on the ceiling. At a 20th anniversary screening of ROGER & ME, Moore noted that the city of Flint looks pretty good in his first film compared to its further dissolution today.
9) TORONTO INTERNATIONAL FILM FESTIVAL (Sept) – In my job overseeing the documentaries at TIFF, it's a treat to watch the first reactions to films that will keep audiences talking for a long time. Already several of these titles have entered theatrical play, including THE MOST DANGEROUS MAN IN AMERICA; CAPITALISM: A LOVE STORY; COLLAPSE; and LA DANSE. In the coming winter season, STF patrons can enjoy two more (SNOWBLIND and THE ART OF THE STEAL) and in the spring we're hoping to bring CLEANFLIX and possibly others. You can read Raphaela's Top 10 TIFF memories here.
10) "HOW TO FOLD A FLAG" AT STF (Nov) – Speaking of TIFF, the festival supplied numerous great titles for the fall season of STF, starting with AHEAD OF TIME on Opening Night and continuing with VIDEOCRACY, COLONY, COPYRIGHT CRIMINALS, and BASSIDJI. The culmination was the closing night screening of HOW TO FOLD A FLAG with the directors Michael Tucker and Petra Epperlein joined by one of the former soldiers in the film Jon Powers.