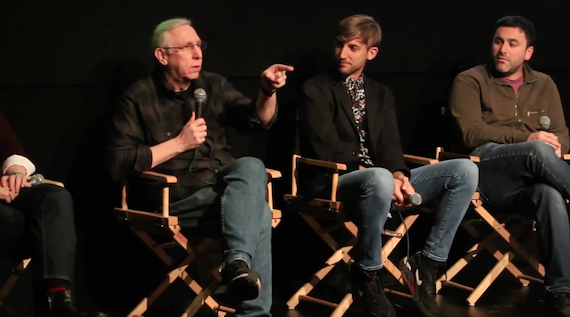 Words and videography by Joseph Schroeder, who has managed the production of highly acclaimed educational and informational programming for networks such as PBS, A&E and National Geographic for over a decade. Currently the Vice President of Production and Operations of The Independent Production Fund. Follow him on Twitter and see more of his work on his website.
If you heard the name Rick Crom, it might not ring any bells.  And that 'd probably be just fine with him.  In the fifth week of its 2018 Winter Season, Stranger Than Fiction featured Oh, Rick!,the new film featuring the titular actor, singer, composer, lyricist, and comedian.  The film focuses on the nearly 20 years that Rick spent as the emcee of the renowned Comedy Cellar in New York's East Village, a club that has launched the careers of many of today's prominent comedians. 
Though not a household name by any means, Rick's comedic evolution closely mirrors that of the genre itself.  Inspired by variety acts such as Steve Martin, Martin Mull, Tom Lear, and The Smothers Brothers, Rick joined the group Chicago City Limits and quickly became known as the comedian with the golden voice.  When the group made the decision to move to New York in 1979, Rick found his particular combination of music and comedy set him apart from his peers. Early in the film, it's remarked by his fellow comics that "Rick Crom is the father of musical improv.  Well, the illegitimate father."
Shortly after arriving in New York, he brought these unique talents to an ideal partnership with Bill Grunfest as a co-emcee at the famed Comedy Cellar.  Founded only two years prior, Rick and Bill truly put the venue on the map.  Bill handled most of the typical emcee duties, while Rick found himself behind the piano just outside the stage spotlight.  Their natural rapport, "a real old time relationship," as Judy Gold remarks in the film – made both audiences and fellow comedians flock to the Cellar.  Jeff Ross remembers fondly that Rick "would sing a whole song to cleanse the palate" after each act, enabling each new comic to start with a fresh audience – something unheard of in those early days.  
As Rick became the mainstay of the Cellar through the 1980s, however, comedy was beginning a revolution of its own.  In the stand-up circuit, comics like George Carlin and Richard Pryor were moving the focus to straight talk only, and variety acts like Rick's were quickly losing popularity.  Rick himself explains in the film that "I thought more was more, not that it was hiding behind things."  It was around this time that Rick sought out other outlets for his creativity, landing a role in The Goodbye Girlon Broadway when the show came calling for not only a comedian, but a comedian who could sing. 
As the 90s wore on, Rick found more success moving down that path, writing more musicals, reviews, and parodies, and he found that Broadway would come calling again, first with a two year stint in Footlooseand four years as a major cast member in Urinetownshortly thereafter.  It was then he knew he had to leave the Cellar behind.  In the film, Rick says he thought to himself around this time, "Holy shit, I'm not gonna make it.  And by making it, what I meant was Letterman, Carson, sitcom.  That was the trajectory." 
After the broadway years, Rick and comedy's evolutions aligned once again, when television sketch shows like Chappelle's Showgained tremendous popularity.  Many younger comics still revered Rick as a mentor and friend, and chose to bring him on their shows repeatedly.  Throughout the 2000s, he appeared on episodes of Chappelle's Show,Louie, andInside Amy Schumer, and it was clear Rick was still a tremendous influence on the younger stars.  As Tom Papa remarks in the film, "The guy gives a shit.  He really, really cares."  Because of this, it only made sense that he would return to the Cellar – not as its emcee – but as one of its first instructors of stand-up.  And Rick found the students gave him new purpose. "Suddenly I was useful again.  I could help them grow in a positive way."
In the Cellar's comedy class, directors Dustin Sussman and Aaron Rosenbloom immediately took to Rick because of this quality.  Speaking in the Q&A as to how the film got started, Sussman explained, "Here is a man who has never asked for anything, never called in any favors, and I just wanted to do something nice for him."  During the project, Sussman and Rosenbloom also took an active role in staging a reunion performance at the Cellar for Rick and Bill Grundfest.  What began as a modest afternoon show ended up including prominent comics such as Ray Romano and Jon Stewart, as well as members from their old crew like Mark Cohen.  As the night closed, Rick emotionally shares, "This was probably my best night in show business.  You get what you get and sometimes that's better than what you wanted or deserved."  
It's clear that Rick Crom deserves this spotlight that eluded him for so many years, as he adds 'compassionate instructor' to his list of varied talents.  Oh, Rick!is currently being featured in festivals around the country and is seeking further distribution.
Related Film