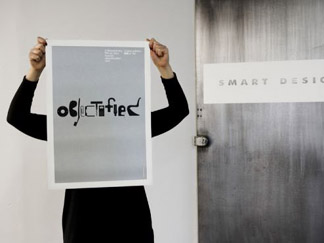 * Following the old distribution model, Hustwit would have given his film to a distributor, probably for a small advance and an even smaller chance of royalties. Rejecting this option, he chose to rent theaters around the country on his own (known as "four-walling") usually for just one or two shows, rather than for a week-long run. He would appear at the show and often find a local group to host an after-party. He often partnered with graphic designer organizations like AIGA to encourage their members to buy tickets.

* By making these screenings more of an "event" than an average film, he could charge higher ticket prices in the range of $20. Today many people in distribution will tell you that theatrical is a break-even business, at best. Hustwit rejects this thinking. He broke down the economics of an average screening in the southwest: rent a theater for $800, spend $1000 on travel; and $200 on entertainment. Total costs: $2000. In this case, he sold out 350 seats priced between $15-20; and made an additional $600 from poster sales. Total gross: around $5600. In cities where the theater rental was more, he'd price tickets higher; seek more seat inventory; or offer two shows. Traditionally, advertising is a high expenditure for distributors. In this example, Hustwit spent no money on ads. All the marketing was based on email blasts and partnerships with local organizations. For HELVETICA, Hustwit personally appeared at over 100 screenings; for OBJECTIFIED, he had a less demanding itinerary of 50 stops.

* A key to his success was having a built-in audience from the design community. Hustwit emphasized that his model works "if there's demand for your film. If you have to create demand, it's a different story." He was able to recognize early on that demand existed from traffic to his HELVETICA blog.

* Most tickets were sold through Hustwit's own website that enabled him to capture emails of each purchaser. Today he has a list of 50,000 past customers. Upon going into production of OBJECTIFIED, he turned to that list for support. He offered a special $500 package that gave buyers a Thank You credit, tickets, posters and other perks – for which he had 60 takers (raising $30,000).

* In my favorite anecdote, Hustwit recalled during the production of HELVETICA he arrived in Zurich for a shoot on a rainy night to discover that his credit card was maxed out and he couldn't check into his hotel. He opened his laptop and sent an email blast to his list with a fresh offer for t-shirts and posters. A half hour later, enough merchandise had sold to replenish his bank account and he was able to get his room.
I know many filmmakers are resistant to entering the field of self-distribution because they fear it will take them away from filmmaking. Hustwit sees it differently. "to me it's all filmmaking," he said, "Either I'm trying to chase people down to be in my film or I'm trying to get them to watch the film. It's all filmmaking."
For more on self-distribution, see my blog post Festivals Explore a New Future; the case study of Ten9Eight: Shoot for the Moon; and Jon Reiss' manifesto Think Outside the Box Office.