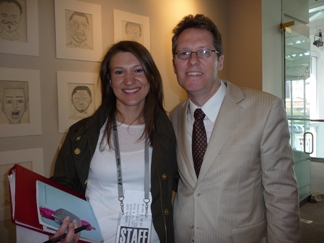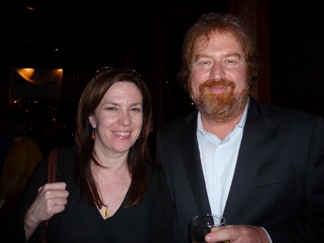 On Saturday night, the Final Four basketball game featuring local favorites UNC didn't prevent the spacious Fletcher Hall from selling out for "The September Issue." The screening featured a Q&A with Vogue magazine's Grace Coddington and Andre Leon Talley who appear in the film alongside their infamous boss Anna Wintour. Afterwards, A&E Indie Films threw a party where the film's director RJ Cutler and executive producer Molly Thompson smiled for our camera.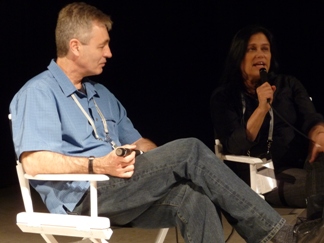 Full Frame strikes a fine balance of representing documentary past, present and future. In treating documentary past, the fest programmed two sidebars of retrospective material. Steve James, best known as the director of HOOP DREAMS, curated a selection of films on "This Sporting Life" that showcased both fiction films such as SLAP SHOT and non-fiction titles such as
FALLEN CHAMP: THE UNTOLD STORY OF MIKE TYSON
. James is pictured here with director Barbara Kopple discussing FALLEN CHAMP.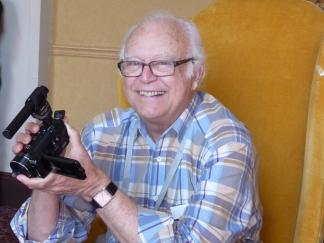 Another sidebar, curated by filmmaker Sam Pollard, paid tribute to St. Clair Bourne, who passed away in late 2007. Among the titles programmed by Pollard was
A TIME FOR BURNING
which was an inspiration to Bourne. Presenting the film was its director Bill Jersey (pictured), who can been frequently seen in the audience at STF.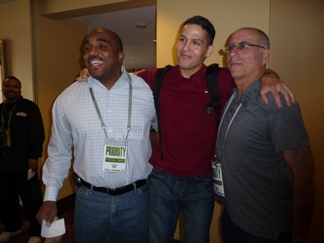 Another example of looking to the past was a free screening of HOOP DREAMS, now celebrating its 15th anniversary. One of the film's main characters William Gates poses here with co-director Peter Gilbert, as they lift Arturo Cabanas, the director of the short
MAN UP
.
Moving to the present, the fest opened with the world premiere of
SONS OF CUBA
about young Cubans training to be boxers. Pictured here are the film's director Andrew Lang (right) and editor Simon Rose. Other Full Frame world premieres included THE VISITORS, about people visiting inmates in US prisons; SWEET CRUDE, about the oil economy in Nigeria; SALONICA, about a decimated Jewish community in Greece; and OWNING THE WEATHER, about attempts at weather control.
Staying in the present, here's director Gary Hustwit who screened
OBJECTIFIED
, the follow up to HELVETICA. Gary told me that he's about to embark on a tour of 50 cities (including the IFC Center in New York) over the next 90 days for the film's theatrical launch. On Saturday night in Durham, he hosted an after-party where he dramatically laid down his credit card to cover the 50 or so revelers. Two hours later, he received the bill for a meager $192. At those prices, every film should sponsor a party in Durham.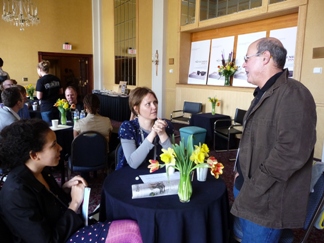 Hanging out in the hospitality suite, pictured right to left, are FOOD, INC director Robert Kenner; REPORTER producer Mikeala Beardsley; and writer Robyn Hillman-Harrigan who covered Kenner's film for
The Brooklyn Socialite blog
.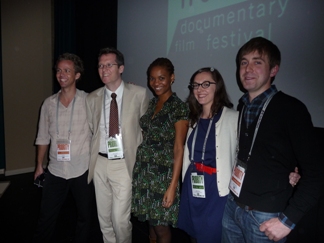 Looking ahead to documentary future, I was pleased to host the third installment of the Garrett Scott Documentary Development Grant with my fellow jurors Ian Olds (director of THE FIXER, soon to premiere at Tribeca) and Rachael Rakes (programmer for a new film series in Brooklyn). The three of us started the grant in honor of our dear friend Garrett, who made two terrific films CUL DE SAC: A SUBURBAN WAR STORY and OCCUPATION: DREAMLAND before his untimely death in 2006. Each year, we pick 2 or 3 emerging directors working on their first film and bring them to Full Frame to meet with mentors. This year's mentors included Robert Kenner, Gary Hustwit, Laura Poitras, Nancy Abraham, Robert West and others. Full Frame devoted a slot to screen 10-minute work samples by the grant recipients Cameron Yates (THE CANAL STREET MADAM) and Elyinisia Mosha (whose project is untitled). Pictured from L to R: Olds, Powers, Mosha, Rakes, Yates.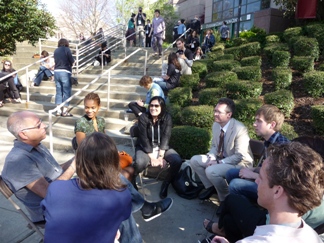 The weekend in Durham was blessed with beautiful weather in the low 70s that made it possible to conduct one of our Garrett Scott mentoring meetings outdoors with Barbara Kopple and Peter Gilbert.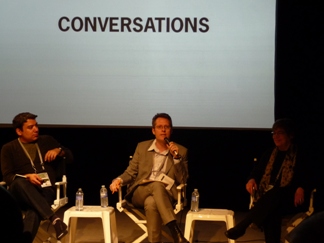 On the future of film criticism, I hosted a panel with Indiewire editor Eugene Hernandez and Variety critic Ronnie Scheib that developed the ideas from my essay
WANTED: DOCUMENTARY CRITICS
. You'll find an excellent summary of the discussion on the Durham blog
Indy Week
.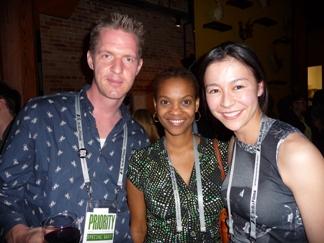 At the A&E Indie Films party, three filmmakers who have worked in Africa. L to R: Andrew Berends, who appeared on Full Frame's panel "Working in Conflict" discussing his experiences in Nigeria and Iraq; Elyinisia Mosha, who screened clips from her untitled work-in-progress at the Garrett Scott grant presentation; and Chai Vasarhelyi who screened I BRING WHAT I LOVE: YOUSSOU NDOUR.