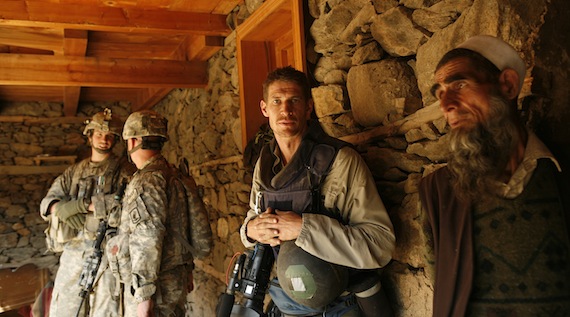 Tomorrow the Sundance Film Festival kicks off with over 40 feature documentaries. Here are nine that I've seen in various stages of completion and predict will make waves in Park City and beyond.
BLACKFISH (US competition) – What caused an Orca whale to kill its trainer at Sea World? Director Gabriela Cowperthwaite conducts an impressive investigation, demonstrating this wasn't an isolated incident. If you own stock in an aquatic amusement park, sell now.
THE CRASH REEL (Doc Premieres) – Snow boarding champion Kevin Pearce was favored for Olympic greatness until he had a horrific crash during a practice run in Park City. Two-time Oscar nominee Lucy Walker (Waste Land) follows Pearce in recovery to explore the world of extreme sports and its growing pressures and dangers.
GIDEON'S ARMY (US competition) – Set in Mississippi and Alabama, public defenders battle daunting obstacles to win justice for their clients. First time director (and former lawyer) Dawn Porter invests us deeply in her characters, culminating with a suspenseful courtroom drama.
LINSANITY (Doc Premieres) – Even before Jeremy Lin became an overnight superstar on the New York Knicks, filmmaker Evan Jackson Leong was already tracking his story. The film illuminates the long road that led to Lin's breakthrough and reminds us why he's been so admired as a player and a person.
TWENTY FEET FROM STARDOM (US competition) Back-up singers finally get the spotlight in this moving doc that turns attention on Darlene Love, Merry Clayton, Lisa Fischer and others. Director Morgan Neville, a veteran maker of music docs, reveals the voices behind classic songs and elicits terrific interviews. This Opening Night premiere is bound to be emotional following the December death of producer Gil Friesen who was a driving force behind A&M records and this film.
WE STEAL SECRETS: THE STORY OF WIKILEAKS (Doc Premieres) Oscar-winner Alex Gibney (Taxi to the Dark Side) is in top form telling the rise and fall of WikiLeaks founder Julian Assange and the concurrent story of prolific leaker Bradley Manning. The film has already been profiled in the New York Times and is slated for release from Focus Features. Gibney deftly uses insider footage of Assange and talks to disillusioned comrades to sharpen our understanding of this controversial figure. The film is a cautionary tale about flawed leaders, but also a reminder of what made WikiLeaks such an inspiring cause.
WHICH WAY IS THE FRONT LINE FROM HERE? THE LIFE AND TIME OF TIM HETHERINGTON (Doc Premieres) As an exemplary war photographer, Tim Hetherington crossed between the worlds of art, journalism and film until his 2011 death during combat in Libya. Now his collaborator on the Oscar nominated Restrepo, Sebastian Junger, directs this portrait using an extensive archive of footage. It's a gift to re-encounter Hetherington and regain his perspective on the world.
WHO IS DAYANI CRISTAL? (World competition) In the context of Sundance, this title might lead you to expect another mystery in the vein of The Imposter. Better to adjust your expectations. Instead the film's strength is how it deepens our empathy for Latin American migrant workers. Mexican actor Gael Garcia Bernal (who also stars in the Oscar-nominated Chilean film No) retraces the path of a migrant worker who wound up as a John Doe corpse. As the U.S. grapples with new legislation for illegal immigrants, this film makes for timely viewing.
THE WORLD ACCORDING TO DICK CHENEY (Doc Premieres) As the most influential Vice President in history, Dick Cheney played a powerful role in shaping post-9/11 America in ways that historians are still sorting out. Directors R.J. Cutler (The September Issue) and Greg Finton (editor of Waiting for "Superman") supply a useful primer on Cheney's career, tracing his early rise in the Nixon administration to his Machiavellian exercise of control in Bush's White House. As fresh debates rage over how the U.S. practiced torture, it's useful to confront this leading proponent of those policies. Follow the film with a read of Jane Mayer's The Dark Side.