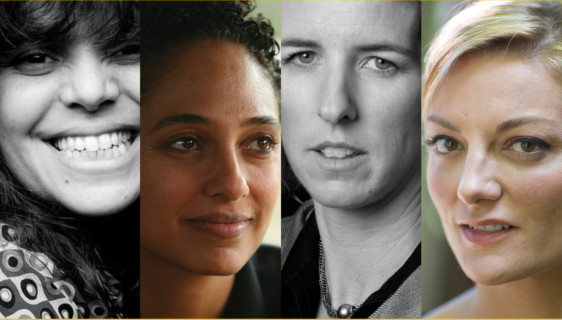 On Monday, Jan 20 during the Sundance Film Festival, I'll be introducing the panel "Spotlight on Women Directors" moderated by Anne Thompson (free and open to the public at 2:00 pm at Sundance Channel House 268 Main Street). The event is an offshoot of this month's theme on SundanceNOW Doc Club focusing on women. For perspective on the breadth of recent work, below is an alphabet of women in documentaries – both behind and in front of the camera – from the past year.
A = AFTER TILLER dir by Martha Shane & Lana Wilson
B = BLACKFISH dir by Gabriela Cowperthwaite
C = CHICKEN & EGG PICTURES funding women doc makers
D = DON'T STOP BELIEVIN: EVERYMAN'S JOURNEY dir by Ramona Diaz
E = Editor turned director Alison Ellwood's 30 for 30 film NO LIMITS
F = FREE ANGELA AND ALL POLITICAL PRISONERS dir by Shola Lynch
G = GIDEON'S ARMY dir by Dawn Porter
H = Head Honchos Sheila Nevins (HBO Docs); Molly Thompson (A&E IndieFilms); Cara Mertes (Ford Foundation JustFilms; Tabitha Jackson (Sundance Documentary Fund): et al.
I = IDFA, world's largest doc fest, run by Ally Derks
J = Jehane Noujaim, Oscar-nominated for THE SQUARE
K = Kathleen Hanna featured in THE PUNK SINGER dir by Sini Anderson
L = Lucy Walker, dir of THE CRASH REEL
M = Marion Doughtery featured in CASTING BY
N = NO PLACE ON EARTH dir by Janet Tobias
O = Obomsawin, Alanis, now in her 80s; her latest HI-HO MISTAHEY played TIFF13
P = PERVERT'S GUIDE TO IDEOLOGY dir by Sophie Fiennes
Q = Quest to have a baby in FIRST COMES LOVE dir by Nina Davenport
R = RUNNING FROM CRAZY dir by Barbara Kopple
S = STORIES WE TELL dir by Sarah Polley
T = TWENTY FEET FROM STARDOM featuring great singers Darlene Love, Lisa Fischer, Merry Clayton, Judith Hill, et al.
U = Uganda portrayed in CALL ME KUCHU dir by Katherince Fairfax Wright & Malika Zouhali-Worrall
V = VALENTINE ROAD dir by Marta Cunningham
W = Women Make Movies led by Debra Zimmerman
X = X-rated content of KINK dir by Christina Voros
Y = Yummy dishes of OMA & BELLA dir by Alexa Karolinski
Z = ZIPPER: CONEY ISLAND'S LAST WILD RIDE dir by Amy Nicholson