This post was written by STF blogger Jeff Halpin.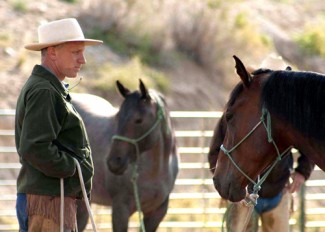 Following the film, Meehl, producer Julie Goldman, and editor Toby Schimin joined Stranger than Fiction's Artistic Director Thom Powers for a Q&A.  When asked how she came across Brannaman, Meehl explained, "I went to one of his clinics and I was so amazed that in just a few minutes he could transform an animal." Meehl, an English rider, laughed as she recalled, "Buck calls himself the lawyer for the horse."  After attending one of his clinics, she realized there was much more than horse/human relationships being explored. "When I would leave the clinic, there was so much more than just the horse lesson being taught. You start to realize that, once you reflect weeks and months later that he was talking about life and that he was talking about people; your job, your children and I found there was so much to it that America could use meeting this guy, that everyone should meet him."
A photographer and fashion designer now happily ensconced in the world of feature film,  Meehl was deliberate in her search to find collaborators once she decided to embark on the project.  "I had a couple of teams that didn't pan out, they didn't quite share my vision, I kept searching, knowing what this film should be, how it should look." Knowing she was a director without a team, a friend set up a lunch where she was introduced to producers Andrea Meditch and Goldman.
"They immediately got it, they loved the project, they got behind it, they just let me go and were extremely supportive, bringing in great people from the cameramen to Toby Schimin, a very brilliant editor. They didn't think it needed to be a zillion dollars and they saw that it was a feature film," Meehl said.  Once underway, Brannaman's gregarious personality and seemingly endless well of aphorisms and horse-sense propels the film easily. "A feel can have one thousand different dimensions" he tells a rapt audience at the round corral, later telling a different audience, "everything you do with a horse is a dance."
Related Film