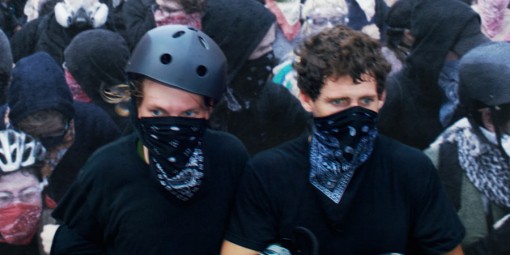 The The National Academy of Television Arts & Sciences unleashed its list of nominations for its news and documentary awards this week. Those films nominated for best documentary were HOW TO DIE IN OREGON by Peter Richardson; ARMADILLO by Janus Metz; BETTER THIS WORLD by Kelly Duane de la Vega and Katie Galloway; ENEMIES OF THE PEOPLE by Rob Lemkin and Thet Sambath; and LAST TRAIN HOME by Lixin Fan. The PBS series POV made out pretty well, snagging a record 16 nominations, while Independent Lens picked up five nominations of its own.
Documentary filmmaker and father of public access television George Stoney passed away this week at the age of 96. Stoney's approach to filmmaking was rooted in social justice and giving a voice to the dispossessed, and had an effect on generations of students he taught at New York University over some 40 years. After news of Stoney's death broke, he was remembered by the International Documentary Association, as well as "script doctor" Howard Weinberg, among many others. Back in 2008, Stranger Than Fiction hosted a tribute to Stoney's then-60 years of filmmaking.
Journalists this week haven't just been spilling ink about Bart Layton's film THE IMPOSTER, they've tipped the barrel over. At The Atlantic, Ian Buckwalter examined Layton's use of reenactments in the film, and they're commentary on the nature of truth (or maybe competing truths). At the Documentary Channel blog, Christopher Campbell posted a great interview with Layton that touched on the challenges a director faces in presenting the viewpoint of an unreliable subject, and expanded some of his thoughts into essay form for a piece posted on Movies.com. Anthony Kaufman's Docutopia blog this week also focused on THE IMPOSTER. All of the attention seems to be paying off for the film at the box office—Indiewire on July 15 reported that it had cleared $20,643 after being released in only one theater. Distributor Indomina plans to expand its release in the upcoming weeks.
Ron Dicker at the Huffington Post had an interesting piece detailing the entrance of ad agencies into feature documentary production, highlighting the film BOOKER'S PLACE: A MISSISSIPPI STORY. The film, directed by Raymond De Felitta, screened at the Tribeca Film Festival, but was produced by Eyepatch Productions, described in Tribeca press materials as the "independent in-house production company" of ad agency Ogilvy & Mather. The piece also reported that ad agency Mother New York had a hand in producing ANIMALNewYork's online short BOXING LESSONS, which as of this writing was closing in on 800,000 views on its Vimeo account. The trend seems to be further blurring the line between advertising and content, raising a host of ethical questions about intent and disclosure.
Money was burning a big hole in the pockets of some grants-making institutions this week. The MacArthur Foundation on Wednesday named the 13 recipients of its documentary grants, who were awarded a total of more than $1.6 million dollars in funding. Among those winning awards were Marco Williams for his project THE UNDOCUMENTED about the consequences of U.S. immigration policy, and Shalini Kantayya's SOLARIZE THIS, a film investigating the prospects of creating a "green" economy.
And the Sundance Institute on Monday named the 27 documentary projects that would receive grants from its Documentary Film Program and Fund. The fund distributed awards for films in need of pre-production, production or audience engagement funds.
Cinema Guild this week picked up North American distribution rights for Ra'anan Alexandrowicz's THE LAW IN THESE PARTS, about Israeli justice policies in the Occupied Territories. The film's release was set for Nov. 12. Anthony Kaufman, this time writing for ReelPolitik penned a piece about the film that referenced an earlier Docutopia post about that film and 5 BROKEN CAMERAS.
In other distro news, director provocateur Mads Bruegger's film THE AMBASSADOR was picked up by Drafthouse Films for distribution in at least three cities in late August and on VOD earlier that month.
The Film Society of Lincoln Center on Thursday posted a September 2011 interview that Chris Darke conducted with director and doc essayist Adam Curtis that touched on a number of topics, including his BBC series THE POWER OF NIGHTMARES and ALL WATCHED OVER BY MACHINES OF LOVING GRACE.
The Associated Press, among a number of other media outlets, this week reported that Spike Lee was working on a documentary about Michael Jackson's 1987 album 1987 in time for the 25th anniversary of its release. Lee told media that he had gained "access to the vaults of Michael Jackson," including to dozens of unreleased demos for the album. Rolling Stone reported that the film was in the last stages of post, but had yet to receive a release date.
Realscreen reported that Cindy Witten, the director general of the National Film Board's English program, was stepping down after a four and a half year tenure in the role. Witten was widely credited with overseeing the creation of the NFB's digital studio, which was responsible for such well-regarded interactive docs as WELCOME TO PINE POINT and BEAR 71. Witten said she planned to become a consultant for start-ups and other digital companies.
Silver Spring, Maryland-based Docs in Progress is still working on hitting its $10,000 fundraising goal on Indiegogo. The organization hosts a number of educationa programs, screenings and other resources for filmmakers. Those interested in helping out their campaign can check it out here.
Kartemquin Films this week unveiled its Spring Showcase compilation video, a look at the four films currently in-progress at the production house.
And the Harmony Institute produced an interesting blog post on whether filmmakers could see greater returns on projects by investing for the "long tail" model of documentary distro. The Institute reported that, while theatrical releases of documentaries have been steadily climbing, their box office returns have remained solidly flat.
VentureBeat back on July 6 posted an interview with Brad Crawford, the director of the film 100 YEN, about his use of Indiegogo to get his film off the ground. (Clearly the market for video game docs exceeds stories about indie games and Donkey Kong.)
Christopher Campbell has this week's theatrical releases, which include THE IMPOSTER, of course, as well as BALLPLAYER: PELOTERO and SHUT UP AND PLAY THE HITS, about the critically lauded indie band LCD Soundsystem..
As always, tips can be emailed .(JavaScript must be enabled to view this email address), or tweeted to @GuerrillaFace. Thanks, and have a great week!