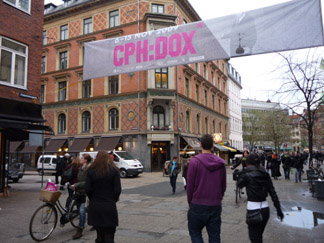 For some festival programmers, this will be a new concept. David Ansen, the newly appointed programmer for the Los Angeles Film Festival, gave an interview to Indiewire expressing a faith in the status quo that might shift as he gets deeper into the job. "Not a lot of films were being picked up out of Toronto this year," Ansen said, "This might make [for an advantageous] change for LAFF. Why not go to LA and let the right people see a movie here?"
Ahem. As a Toronto partisan, I will let the track record of acquisitions between TIFF vs. LAFF speak for itself. The bigger question is who are the "right people" that a festival needs to attract? The old sales agent game – celebrated in John Pierson's book "Spike, Mike, Slacker & Dykes" – was to foment festival bidding wars. But that never had widespread application. It worked for a few titles each year while the majority of films left festivals without buyers. Even the supposed success stories – hyped by press releases reprinted as trade "journalism" – often had disappointing epilogues for the filmmakers.
One problem is that most distributors rely on a formulaic release plan that depends almost exclusively on positive reviews and opening numbers in Manhattan. By that formula, you're pretty much sunk if you catch Manohla Dargis on a bad day or under-perform on a competitive weekend. Maybe you have a film that speaks to a specialized audience who will ignore critics' pet peeves. Maybe your film speaks more to Midwesterners than Manhattanites. It's rare to find a distributor who will take the time to cultivate those individualized audiences. If the distributor misses on one film, they'll move on to the next. Sometimes they're more interested in cheaply accumulating a large library for bulk sales.
This year, two very different documentaries surpassed $1 million in box office through versions of hybrid distribution: VALENTINO: THE LAST EMPEROR and YOO HOO MRS GOLDBERG. (Director Aviva Kempner told me, "The box office on MRS GOLDBERG should be higher – except most of the tickets are at senior citizen prices.") Would the average distributor have performed as well? Questionable.
Gary Hustwit exemplifies the directors who aren't even bothering to ask that question. When he launched OBJECTIFIED at festivals this year, he already had a self-distribution plan in place. He was bolstered by the mailing list from his previous film HELVETICA. In 2010, we can expect others to follow this model. No one says the road will be easy, but it makes for an exciting time.