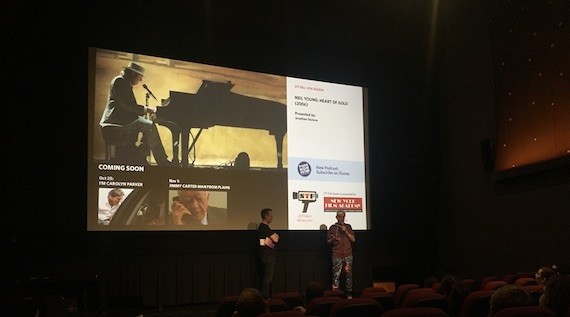 Writing by Megan Scanlon. Megan works at the American University of Beirut. She has written for the DOC NYC blog and the Journal of Community Engagement and Scholarship. Megan is a volunteer at the Bronx Documentary Center where she contributes to documentary programming. Follow her on instagram and twitter    @meganscanlon5
It's been a real treat over at Stranger Than Fiction to experience and bear witness to the expansive scope and range of Jonathan Demme films. The current retrospective of the director continues to surprise and educate audiences on various experiences of the human condition. His characters' vulnerabilities are channeled into expansive expressions of strength in the way that the they stand firmly behind their words and their purpose. By tapping into the stirrings of those tender and compelling forces within his characters, Demme links the audience to the things that make us most human.
Week four of the retrospective was warmly greeted with a screening of HEART OF GOLD, a performance film of Neil Young shot over two nights at Nashville's holy grail, the Ryman Auditorium. HEART OF GOLD was the debut of Young's album Prairie Wind along with old classics, the former written after Young was diagnosed with a brain aneurysm. Demme spoke before the film, explaining that the songs reflect the headspace Young was in having received the diagnosis and before his procedure. Reflecting Demme's vision of a Grand Ol' Opry time warp, songs roam through roads of mortality, love, and loss, diffusing the atmosphere like a warm golden lullabye.
Musicians are in full costume, dressed by the renowned designer Manuel, displaying an understated but unmistakable elegance and poise. Suits are tailored but not too crisp, dresses move with the silhouette of the body, and they could be anywhere in between the Canadian Wilderness and the Great Smoky Mountains, as the songs they sing speak to transitions and the comings and goings between stages of life. Lyrics span themes of impermanence, awareness, and a kind of searching; not for men who have gone before, but a search for what they sought. In the film, on the Prairie Wind songs and Young's near death experience, a band member said, "I think of as his life flashing before his eyes like he wanted to say all these things." So when Young sings "One of these days, I'm going to write a long letter, to all the good friends that I've known," it feels like HEART OF GOLD is that letter.