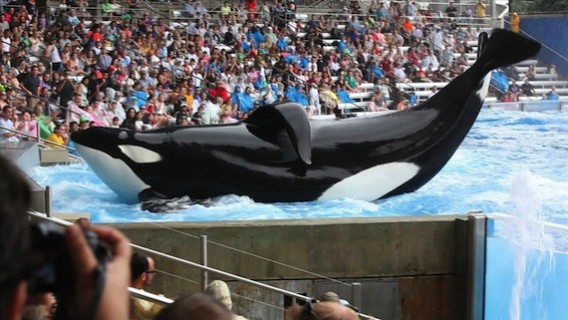 [Note: this post has been updated with a new date & place for Sundance panel on Jan 22]
Home movies normally aren't intended for wide audiences. But that changes if you happen to record an Orca whale attacking its trainer. In the documentary Blackfish, premiering at the Sundance Film Festival, director Gabriela Cowperthwaite mounts a devastating investigation into the practices of aquatic amusement parks by drawing upon numerous pieces of riveting footage shot with different intentions. Today, documentary makers increasingly employ "found footage" from multiple sources – amateur video, surveillance cameras, training tapes and more. The increased usage raises a number of questions: How do filmmakers track down non-traditional sources? What rights are needed to use found footage? How are archives coping with the exponential growth of material?

I'll be exploring these questions on a free panel open to the public during the Sundance Film Festival:
"Found Footage: A Conversation"
NEW DATE: Monday, January 22 from 10:30am-11:30 am
NEW LOCATION: Sundance Channel House 268 Main Street, Park City, UT
Panelists: Gabriela Cowperthwaite (director, Blackfish); Evan Jackson Leong (director, Linsanity); David France (director, Oscar nominated How to Survive a Plague): Katie Trainor (Film collections manager, Museum of Modern Art); moderator Thom Powers
Seats available on a first come basis
Even if you won't be in Park City, you can still take a deep dive into the topic from your own home. This month on SundanceNOW's Doc Club, I've curated eight films with "found footage" ranging from a dictator's archives in The Autobiography of Nicolae Ceausescu to the broadcast of a classic college football game in Harvard Beats Yale 29-29. The selection heavily represents the work of Alan Berliner with four films –  Family Album, Intimate Stranger, Nobody's Business and The Sweetest Sound – that each make inventive use of the director's personal collection of "orphan films." Berliner will appear in person at Stranger Than Fiction on Tuesday, January 15 with his latest film First Cousin Once Removed.
You can still lock in a low-priced subscription to SundanceNOW's Doc Club for only $19.99 a year (the price is due to rise in February). As a subscriber, you get access to the past year's worth of Doc Club including other "found footage" gems such as Angela Davis in Black Power Mixtape; Spalding Gray in And Everything is Going Fine; and a crystal meth addict driving a tank through suburbia in Cul de Sac: A Suburban War Story.