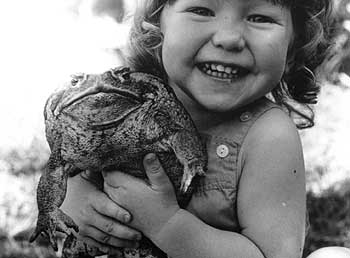 PLEASE DESCRIBE THE TRADITION OF DOC MAKING IN AUSTRALIA.
Julia Overton: There is a healthy tradition of documentary making in Australia with around 400 filmmakers producing work at the moment. The established documentary makers of today would in the main acknowledge that their work started as a response to the cultural influences of community activism, feminism and filmmaker co-ops in the '70s and '80s.

NAME THREE OF AUSTRALIA'S MOST NOTABLE DOCUMENTARY MAKERS AND DESCRIBE WHAT MAKES THEIR WORK SIGNIFICANT.
Overton: It is a challenge to reduce to three but here goes. All of these filmmakers are multiple award winners internationally and locally. Mark Lewis is a director and writer who is perhaps most well known for his film CANE TOADS: AN UNNATURAL HISTORY (47 mins, 1987, pictured) and for his body of work on animals including THE WONDERFUL WORLD OF DOGS (1990) and THE NATURAL HISTORY OF THE CHICKEN (2000). Lewis has brought a deadpan sensibility and a quirky visual style to the nature documentary, unique in the filmmaking world . By doing so he frequently reveals surprising insights about one of the world's strangest animals – human beings. Often illustrated through narrative vignettes by ordinary people with unusual fascinations or problems with a particular animal, Lewis imbues his films with a combination of hard fact, tongue-in-cheek irony and his own brand of gentle humour. Unlike many other producers of nature films, his films do not attempt to document the animals in question or their behaviors but rather the complex relationships between people and society and the animals they interact with. Mark is currently in production on a 3D feature film version of CANE TOADS.
Robin Anderson and Bob Connolly whose work includes the astounding HIGHLAND TRILOGY OF FIRST CONTACT, (55 mins, 1983) JOE LEAHY'S NEIGHBOURS (90 mins, 1989) and BLACK HARVEST (90 mins, 1992) and the equally revelatory story about a bunch of suburban Australians involved in local government RATS IN THE RANKS (97 mins, 1996). Bob and Robin shot their own material in the pre-digital era and had an intuitive sense of the cinematic and a real sense of discipline and rigour in their approach to storytelling.
Tom Zubrycki is a film maker who has earned an international reputation for his substantial and widely respected body of documentaries. He works mainly in an observational style and his films are narrative based and strongly character driven. He allows the participants in his films to tell their individual stories and gives compassionate insights into ordinary lives touched by extraordinary events. His films range from The DIPLOMAT (75 mins , 2000), a film about Jose Ramos Horta and his campaign to achieve independence for East Timor to MOLLY & MOBARAK (2003) with themes of displacement, identity and the search for home, a recurrent them through his work. Tom Zubrycki is also acknowledged as a generous mentor of newer and emerging talent.
HOW DO AUSTRALIA'S DOCS REACH AUDIENCES?
Overton: By far and away the largest way of reaching audiences is through public broadcast television closely followed by educational distribution. Around 400 hours of first release Australian documentaries are broadcast each year. Many of these documentaries reach audiences abroad via broadcast, with the majority being made in partnership with producers and production companies in France, UK, Ireland, Canada and the USA, usually via the public broadcasters of those countries and in partnership with other producers and production companies.
Internationally Australian films are screened at a number of festivals, particularly those with a documentary focus such as IDFA and Hot Docs. Theatrical documentaries gain exposure at festivals such as TIFF – for example Scott Hicks film GLASS: A PORTRAIT OF PHILIP IN TWELVE PARTS and Lawrence Johnston's film NIGHT. There are two theatrical documentaries that have recently had great success. BRA BOYS (2007), an examination of the adolescent male surfing subculture by one of its own, Sonny Abberton, has become the highest grossing documentary at the Australian documentary box office. FORBIDDEN LIE$ (2008), Anna Broinowski's compelling and stylish examination of the con artist Norma Khouri, has had very successful theatrical and festival exposure. Both these films have also had great success via DVD sales.
Documentaries that have made an impact would include THE FIRST AUSTRALIAN, a series from Rachel Perkins, Beck Cole and Darren Dale about Indigenous Australians told by Indigenous Australians. This extraordinary series chronicles the birth of a country and the collision of two worlds. It is an epic story that comes alive through the struggles of individuals, bringing previously untold stories and unseen archival material to the screen. This series eschews the notion of dramatized recreation and unashamedly references the work of Ken Burns. Other documentaries making an impact include Cathy Henkel's THE BURNING SEASON, (2008) the story of environmental activist Dorjee Sun and his quest for a solution to climate change and THE INTERVENTION (2008) Julie Nimmo's film tracing the impact of the emergency intervention which the Federal Government started in the Northern Territory in 2007 in response to a report about widespread child abuse. It brings a human face to communities that have been portrayed in the media as shadowy breeding grounds for criminal activity.
WHERE ARE DOCUMENTARIES HEADED IN AUSTRALIA?
Overton: The documentary sector is doing well, though, as a good report card would say, could always do better! Survival is always an issue and people need to be multi-skilled. There is encouragement from the funding bodies for filmmakers to "cluster" and find income streams which make them more able to be independent of these funding bodies. There are also changes within the funding bodies with the merging of three federal funding bodies into one big agency. This is a work-in-progress and it is too early to tell what the outcomes will be. There is the constant tension between the need to support and nurture newer talent whilst at the same time supporting more established filmmakers. The need to establish international partnerships is becoming more necessary. As far as the recent financial down turn is concerned there are two schools of thought – one says that documentary will thrive and prosper as it is cheaper to make than drama – and the other says that documentary will suffer as people will want "feel good" stories. As usual there is lively debate.
New voices include Robert Nugent with his film MOVING THE MINE (2007), winner of IDFA First Appearance, who has a passionate concern with the junction between the first and third world. Sasha Ettinger Epstein's THE OASIS (2008) is a story of the effects of homelessness and how community support can change the situation. Its broadcast was part of a night of event television that coincided with the release of a report on homelessness. Angie Abdulla's WANJA THE WARRIOR DOG is a short film selected for screening at IDFA in the Silver Cub section, telling the story of the effect a dog has on an impoverished Indigenous community. The concerns of new documentary voices are in the main concerned with the disempowered and marginal.