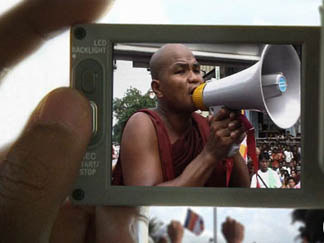 Tine Fischer & Tine Mosegaard: Thanks to a fantastic and exclusively Scandinavian history of public artistic support schemes, Denmark has an old and large tradition of documentary film making that has been – and is – in constant development. Supernovas in this ongoing development have been – and still are – filmmakers Jørgen Leth and Anne Wivel with the new generation coming from the Danish Film School. Pernille Rose Gørnkjær (THE MONASTERY); Phie Ambo (FAMILY and MECHANICAL LOVE); Eva Mulvad (ENEMIES OF HAPPINESS); Asger Leth (GHOSTS OF CITE SOLEIL); Max Kestner (THE WORLD IN DENMARK); and Mikael Noer (VESTERBRO). are all names within this generation.
If there is one filmmaker and one film we would like to point out though, it would have to be Lars von Trier and THE IDIOTS. A filmmaker working with cinema, not genres, a filmmaker who thinks through his films – and a film that radically pushes and breaks with boundaries between fiction and documentary.
DESCRIBE HOW DANISH DOCUMENTARIES ARE REACHING AUDIENCES.
Fischer & Mosegaard: Make a film that travels the world, winning prizes at every notable film festival in every notable territory – and it will make merely 1000 admissions in the Danish cinemas. Make a film with a strong local story and local music and it might end up selling 250,000 admissions – as Anders Østergaard's GASOLIN recently did, breaking all ideas and concepts of how documentaries can perform theatrically in Denmark. Danish documentaries have enjoyed tremendous interest and success internationally over the past 5 years, while the traditional distribution system in Denmark leaves little hope for these same works. But new underground and independent initiatives as CPH:DOX, Mandagsdokumentaren (Monday Documentaries) and DOX-ON-WHEELS keep hopes high against all odds. Funded by CPH:DOX as an independent distribution arm, DOX-ON-WHEELS tailors individual distribution and marketing strategies for each and every film it handles and has established a large network of 40+ cinemas around the country that has screened films as THE MONASTERY, LEONARD COHEN: I AM YOUR MAN, and EVERYTHING IS RELATIVE.
WHERE ARE DOCUMENTARIES HEADED IN DENMARK?

Fischer & Mosegaard: No question the artistic support scheme mentioned before has contributed enormously to documentary making in Denmark. One of the central players in keeping the support system attuned to the current demands and trends of the market is Prami Larsen who heads the Film Work Shop under the Danish Film Institute. Prami has helped launch different calls as NetWise – an initiative that encourages using the internet as part of the production/financing and distribution plan for a film. Young filmmaker Mikael Noer and production company CopenhagenBombay have been forerunners within this call and represent new voices on the documentary scene. Also important to mention is the new support scheme New Danish Screen, headed by ex documentary producer at Cosmo Doc Jakob Høgel. New Danish Screen supports a faster production mode and also works to bridge the divide between fiction film and documentary film by encouraging filmmakers to cross borders and move into new aesthetic territories – having fiction film makers develop the documentary genre and vice versa.
The overall support scheme, however, also has it backsides – one of them being that distribution never has been or is a matter of life and death. Living a reasonably comfortable living, documentary producers haven't been forced into developing new strategies and financing/production modes and/or employing guerilla methods – as it has been happening in North America recently.
CPH:DOX has helped bring the international documentary community to Denmark, creating new networks and opportunities and to keep this happening and to empower filmmakers here, CPH:DOX has launched a new industry forum DOX:FORUM and hope through this to keep the industry going and growing.