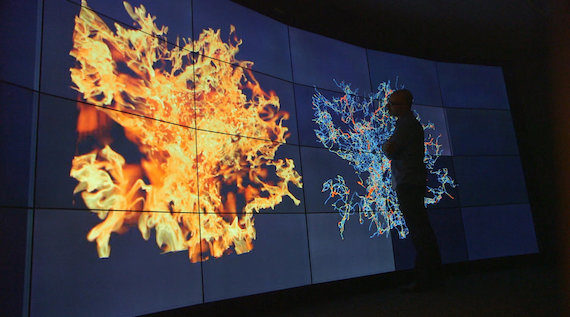 Words by Maggie Glass, a New York-based film editor and writer.
The theater at IFC Center was packed and vibrant for the screening of INTO THE NIGHT: PORTRAITS OF LIFE AND DEATH, a new documentary by Helen Whitney. Whitney distills an admittedly vast subject into interviews with people who all approach death in remarkably different ways. Some, like mortician Caitlin Doughty, have spent their careers learning about death as a way to face their fears. Others use religion, ritual, music, or literature to help them understand their own mortalities. Astrophysicist Adam Frank, who lost his brother at a young age, finds a comforting certainty in the world of mathematics and logic. And others, like cryonics proponent Max More, view death as a potentially optional fate in the future. In the Q&A after the film, Whitney discussed her fascination with the responses she got during filming. "It's riveting," she said. "These are rare conversations."
With such a sensitive and raw topic, an audience member wondered, what drew Whitney towards it in the first place? "You can't come to this point [in life] without thinking about it," she said. She said she was drawn to the idea that we use stories to sustain us as we navigate concepts like death, which is so overwhelming and unknowable. As a filmmaker, Whitney was able to delve deep into these stories — with the camera as her shield: "Camouflage permits you to ask all the questions," she laughed. As she came to know them deeper, her interview subjects opened up about the most intimate moments of their lives. Pastor Vernal Harris openly sobbed as he recalled the loss of his two young sons to sickle cell anemia. Phyllis Tickle spoke frankly about the near-death experience that left her profoundly changed as a person; it was an experience she could barely even discuss with her husband.
After the screening, Whitney described how the process of making the film itself was an investigation into these tough questions about life and death. Her longtime friend and collaborator, Ted Winterburn, became extremely sick during filmmaking, which unexpectedly brought the process that much closer to home. "Denial is powerful," she said. Despite working on a film that explored these very issues, she said, "we couldn't talk about it. We found it very difficult to talk about his sickness." Winterburn eventually passed away and Whitney dedicated the film to his memory.
Now in the aftermath of reviewing countless hours of footage and experiencing her own painful loss during the process, an audience member asked Whitney what she ultimately learned about life and death. She reflected on the opening scene of the film, which depicts a dying woman's dream of boats anchored in a dark harbor. While the boats are technically isolated, they are linked by their tiny lights illuminating the sky. The film posits that death is a process that we all go through alone — but also, strangely, together. Working on the project, Whitney said, didn't make her less afraid or anxious about death. "However," she said, "it did make me feel less alone."
Related Film