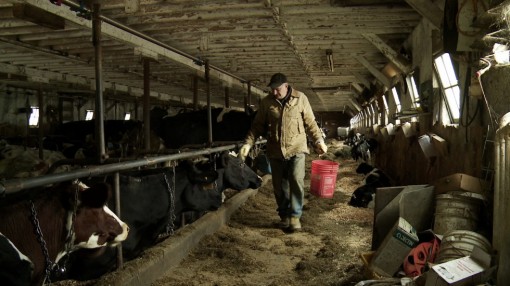 This weekend, the Camden International Film Festival was held Sept. 27-30 in the town of Camden, Maine. One of a handful of smaller, regional festivals devoted to non-fiction work, CIFF also plays host the Points North Documentary Forum, a series of panels and workshops dedicated to professional improvement and creative inspiration. At the POV blog, Morlene Chin spoke with CIFF founder Ben Fowlie and Points North Forum director Sean Flynn. Realscreen's Adam Benzine examined the efforts put into developing programs for the Points North forum, while Basil Tsiokos of the What Not to Doc blog gave us an overview of the festival's film program.
The UK's Grierson Trust on Thursday, Sept. 25 released the list of nominees for its British Documentary Awards. The full list of nominees can be viewed here, and includes Danfung Dennis' HELL AND BACK AGAIN; James Marsh's PROJECT NIM; and Carol Morley's DREAMS OF A LIFE in various categories. The winners are set to be named at a London ceremony held on Nov. 6.
This week also marked the end of the non-profit Arts Engine, the force behind the Media that Matters festival and the DocuClub work-in-progress workshopping program. In a press release sent out Sept. 25, the organization said it had fallen victim to tough economic times, and could no longer afford to continue operations. However, the organization did manage to pass off many of its programs and services, with Women Make Movies assuming its fiscal sponsorship services, Reel Lives taking on the Media That Matters festival and DocuClub founder Susan Kaplan picking up responsibility for that workshop.
This week Stranger Than Fiction is hosting ESCAPE FIRE: THE FIGHT TO RESCUE AMERICAN HEALTHCARE, a film by Matthew Heineman and Susan Fromke that examines the flaws of the U.S. health care system, on Tuesday, Oct. 2 at 8 p.m. at the IFC Center in Manhattan. More information can be found here, along with a link to purchase tickets. Also, season passes for STF's fall season are still available, which will get you free entrance to all of this season's films, along with free popcorn and a free DVD from Docurama.
Steve Pond at TheWrap.com noted that submissions for the best doc category for the Oscars had closed, and that changes to the awards' rule process could result in a substantially different looking field of nominees when compared to previous years. Pond added that the changes could result in a move away from socially oriented docs, shining light on films with popular appeal.
Realscreen this week likely sparked a number of debates after polling a judging panel and issuing a list of 15 documentary directors, or directing teams, that they considered to represent the future of non-fiction filmmaking practices in its Doc Hot Shots 2012 feature.
Brian Newman, in advance of his participation on a CIFF panel about short docs on the web, made a controversial pronouncement, writing a short piece on his blog imploring filmmakers to stop making feature-length docs and instead focus on digital distro-ready shorts. (I humbly suggest he check out California is a place if he has not already done so.)
Over at Filmmaker Magazine Nick Dawson interviewed directors Natalia Almada (EL VELADOR) and Theo Rigby (SIN PAIS) as part of the celebrations surrounding POV's 25th anniversary.
And on POV's blog, Tom Roston considered the effect of the film THE INNOCENCE OF MUSLIMS and the potential for docs that tap into widespread anger to have a positive effect on the world.
Roston, writing for the New York Times, also took a look at DECODING DEEPAK, a biopic of New Agey self-help figure Deepak Chopra that was made by his son, Gotham Chopra. Roston drew parallels between the film and others in which children aim their cameras at their fathers, such as MY ARCHITECT by Nathaniel Kahn.
Christopher Campbell of the Documentary Channel blog penned a nice preview of the films that the channel will showcase this month, among them REGENERATION by Phillip Montgomery and PATRIOCRACY by Brian Malone. If you don't get the channel, you can request that your cable service provider add it to their lineup.
With submissions to the Tribeca Film Institute now open, the forces behind the nonprofit's blog thought it a good time to host a Q&A with feature programming director Tamir Muhammad and director of documentary programming Ryan Harrington.
The Cinema Eye Honors awards on Sept. 27 named the 10 finalists for its outstanding short film award at the opening day of CIFF. The list will eventually be culled to five nominees in October, with the awards ceremony set to take place in January.
Someone at the Huffington Post rounded up a list of the 10 best art-related docs available on Netflix's streaming service. Among those making the cut were THE ART OF THE STEAL by Don Argott; EAMES: THE ARCHITECT AND THE PAINTER by Jason Cohen and Bill Jersey; and BEAUTIFUL LOSERS by Aaron Rose and Joshua Leonard.
Writing for the PBS Mediashift blog, Amanda Lin Costa examined the potential for transmedia to substantially change the practice of documentary filmmaking, and spoke with parties who participated in POV's recent hackathon.
Speaking of transmedia, the PaleyDocFest2012 kicks off today at the Paley Center for Media. The event runs until Oct. 24, and features a number of screenings and discussions, including an Oct. 16 interactive screening of Jonathan Goodman Levitt's film FOLLOW THE LEADER.
The International Documentary Film Festival Amsterdam (IDFA) on Sept. 25 announced that it would continue with its music documentary competition for a second year. Most of the events for the program are set to take place Nov. 17-18. Both Alexandra Zeevalkink of DocGeeks and Kevin Ritchie of Realscreen both wrote short pieces about IDFA's music program.
Basil Tsiokos put on his programmer hat for Hulu in order to highlight some films in celebration of Hispanic Heritage Month, which runs from Sept. 15 – Oct. 15. All of the films can be viewed on Hulu.com for free.
Kevin Ritchie of Realscreen this week reported that those running the Australian International Documentary Conference were turning it into a full-fledged film program, to be known as DocWeek. The event will take place in Adelaide from Feb. 25 – March 3, 2013, and will feature a retrospective of the work of Chris Hegedus and D.A. Pennebaker.
I missed this one last week, but at Indiewire Claire Easton attended an IFP panel that included filmmakers Joe Berlinger (PARADISE LOST), Doug Block (THE KIDS GROW UP) and Alison Klayman (AI WEIWEI: NEVER SORRY), and mined it for some tips on how to handle conflict arising during the documentary production process.
Bob Fisher, writing for the International Documentary Association wrote a nice piece about the Academy of Motion Picture Arts and Sciences' efforts to preserve and archive both narrative and documentary films.
At Techdirt, Timothy Geigner considered the doc ROOM 237 by Rodney Ascher as an interesting test case of fair use law, since the film draws substantial amounts of footage from the Stanley Kubrick classic THE SHINING without paying licensing fees for it. (The film investigates claims that THE SHINING harbors a number of hidden messages in it.)
As always, Christopher Campbell has a rundown of this week's theatrical releases, which include THE WAITING ROOM by Peter Nicks and a host of other films.
That's it for this week, but be sure to send your tips and recommendations via e-mail [email]rchadha5@gmail.com[/email], or via Twitter to @GuerrillaFace. Thanks, and have a great week!