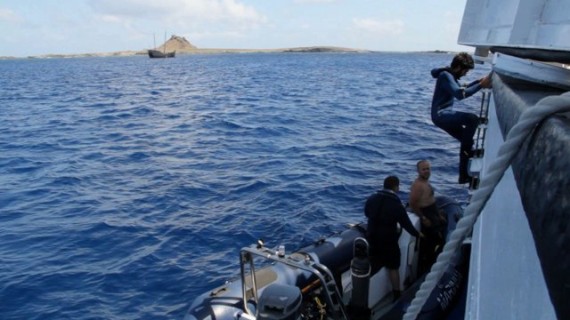 Filmmaker Andre Valentim Almeida took home the Doc Alliance Selection Award at this year's Cannes International Film Festival for his film A CAMPANHA DO CREOULA; writing for Screen Daily, Wendy Mitchell had the details. Also, the Doc Alliance site had an interview with Almeida. In other Cannes news, Jay Weissberg of Variety reviewed Wim Wenders' new doc THE SALT OF THE EARTH. At the Thompson on Hollywood blog at Indiewire, Tom Christie reviewed THE GO-GO BOYS from director Hilla Medalia. Over at Nonfics.com, Daniel Walber reviewed THE FLOOD, a Cannes award winner from 1947 made by filmmaker Jerzy Bossak. Writing for Sight and Sound Magazine, Isabel Stevens reviewed the Frederick Wiseman film NATIONAL GALLERY. Jordan Cronk of Reverse Shot also reviewed the new Wiseman film.
This week saw the launch of the new VOD platform Docurama from Cinedigm. Paula Bernstein of Indiewire reported on the development, as did Sahil Patel of Video Ink.
The first West Coast edition of the POV Hackathon took place last week. The POV blog had a report from Michael S. Scherotter on the making of one of the prototypes yielded by the Hackathon.
This week Stranger Than Fiction is hosting a screening of the film THE BEACHES OF AGNES, an autobiographical essay from director Agnes Varda. The screening takes place on Tuesday, May 27 at 8:00 p.m. at the IFC Center in Manhattan. For more information or to purchase tickets please go here.
DOC NYC is still accepting both feature and short submissions for its 2014 edition. For more information please go here.
At Realscreen, staff reported that the Sheffield Doc/Fest would be hosting another panel with festival programmers and other staff on how the festival is organized. The festival's website also posted Roger Graef's Documentary Manifesto.
Chicken & Egg Pictures put out a call for applicants for its 2014 grant process. For details please go to their website here.
At Way Too Indie, C.J. Prince interviewed filmmaker Doug Block about his film 112 WEDDINGS.
At the POV blog, guest bloggers Alexandra Pearson and Megan Ryan shared 10 tips for making a broadcast premiere of a doc film a success.
Rachel Kramer Bussel of Thought Catalog spoke with Nickolas Rossi, director of the Elliott Smith documentary HEAVEN ADORES YOU.
At the Sundance Institute website, Caryn James shared five takeaways from the Sundance Women in Film Financing Intensive.
Writing for Indiewire, Julia Selinger interviewed Matthew Cooke about his film HOW TO MAKE MONEY SELLING DRUGS.
Will Di Novi of Canada's POV Magazine wrote a piece on the enduring legacy of the Steve James doc HOOP DREAMS.
The International Documentary Association (IDA) launched a curated Kickstarter page; Lisa Hasko had the details.
Writing for Film School Rejects, Christopher Campbell wrote a piece on narrative films that would be better as docs.
Back at the POV blog, Tom Roston spoke with director Julie Cohen about her film STURGEON QUEENS on the history of New York City institution Russ and Daughters.
At the DocGeeks blog, Jacob Harbord reviewed the film BIG MEN from filmmaker Rachel Boynton.
In a piece for The Talkhouse, filmmakers Ondi Timoner, Alison Klayman and Peter Nicks remembered the late Malik Bendjelloul.
Lauren Duca of The Huffington Post rounded up 12 docs on Netflix she thought were mind-blowing.
Over at the New York Times, Nicolas Rapold reviewed A WORLD NOT OURS from director Mahdi Fleifel
At the IDA site, Margarita Landazuri provided some coverage of the docs screening at this year's San Francisco International Film Festival.
In the latest episode of the web show Bring Your Own Doc, Ondi Timoner spoke with Tribeca Film Festival programmer Ryan Harrington.
Realscreen's Manori Ravindran reported that IMAX had launched a new $50 million doc fund focused on films that use the IMAX format.
At his What (Not) to Doc blog, Basil Tsiokos had an overview of the docs screening at the Ecuentros del Otro Cine (EDOC) taking place in Ecuador.
That's it for this week. Please send any tips or recommendations for the Memo via e-mail here, or by Twitter to @GuerrillaFace. Thanks and have a great week!