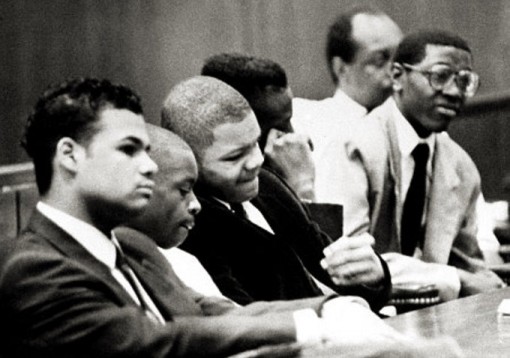 Cannes' storied Camera d'Or may have left France with BEASTS OF THE SOUTHERN WILD filmmaker Benh Zeitlin, but there was still plenty of doc-related news going down at the French Riveria. David Rooney of The Hollywood Reporter reviewed the Ken Burns doc THE CENTRAL PARK FIVE, which premiered at Cannes, finding it "relatively conventional in style and structure," but conveying "a shocking story in eloquent, even-handed and affecting terms." At the LA Times, Kenneth Turan dug into the obstacles Burns, who made the film with his daughter Sarah and David McMahon, faced in making the film.
Jordan Mintzer of The Hollywood Reporter took a look at another doc that screened at Cannes, JOURNAL DE FRANCE. an examination of filmmaker and photographer Raymond Depardon by the man himself. Mintzer describes the film as an "engaging and somewhat droll self-study." In another review for The Hollywood Reporter, David Rooney writes up LES INVISIBLES, Sebastian Lifshitz's take on the changes faced by gay men and lesbians entering middle age. Lifshitz found the film to have "a real coziness to the interviews and some gorgeous pastoral imagery to punctuate them," but that it's "repetitive at two hours and could stand to lose as much as 30 minutes."
Also, French intellectual Bernard-Henri Lévy spoke with Britain's The Guardian newspaper about his film THE OATH OF TOBRUK, which premiered at Cannes and documents the overthrow of Col. Muammar Gaddafi in Libya. Stephen Dalton of The Hollywood Reporter also reviewed the film, describing it as "a more engaging experience than it may sound on paper." And at Indiewire, Peter Belsito provided a breakdown of The Doc Corner at Cannes, which links prospective buyers with documentaries screening at the festival.
In other news, writing for the POV blog, Anne Zhou interviewed filmmaker and journalist Jigar Mehta about his 18 DAYS IN EGYPT crowdsourced/interactive documentary project, which aims to allow those living through the Egyptian Revolution to tell their own stories. Mehta explained to POV why he sees the project more as a startup than a documentary, and talked about some of the challenges inherent to a project where content is crowd-sourced.
Also at POV, Tom Roston took a look at the line that documentary filmmakers tread in giving subjects information about themselves. Filmmaker Michael Palmieri told Roston, "Documentary filmmakers are engaged, in a way, in performance in conjunction with their subjects."
And filmmaker Liz Nord (JERICHO'S ECHO: PUNK ROCK IN THE HOLY LAND) shared with POV five reasons that she would shape her next project as a multimedia experience with strong web elements. Nord noted that developing elements of her project for a myriad of media would allow her to better pitch to prospective funders who told her that they didn't fund films.
The International Documentary Association (IDA) commented on a letter that Debra Chasnoff, chair of distributor New Day Films, wrote to the Department of Homeland Security in support of filmmaker Laura Poitras. Writer Glen Greenwald in an April report had drawn attention to the harassment Poitras had faced from DHS officials when returning from reporting and research trips in Middle East countries such as Yemen and Iraq.
Film distribution consultant Peter Broderick shared on his website a case study of the distro approach used for HUNGRY FOR CHANGE, which relied heavily on free online access to the film to drive DVD sales, among other measures.
Somebody over at the UK's Sheffield/Doc Festival has been busy uploading a slew of videotaped masterclasses recorded at the festival to its YouTube page. There's now a nice selection of panel discussions, interviews and other content up, courtesy of the festival.
Canada's National Film Board (NFB) this week drew attention to three interactive web docs it recently launched: HERE AT HOME, about homelessness; THE NEXT DAY, about suicide; and THE HOLE STORY, which complements an NFB film of the same name about mining.
And writing for the IDA blog, Sarah Keenlyside examined the NFB interactive doc BEAR 71, which still continues to command attention, after premiering at the Sundance New Frontiers program earlier this year.
Speaking of Sundance, at the Institute's Artist Services blog, Zack Coffman shared some search engine optimization (SEO) tricks for indie filmmakers working in the low/no budget categories.
Director Jonathan Caouette on May 21 announced that he would be premiering his new film WALK AWAY RENEE online in North America at SundanceNOW. The film document's Caouette's migration of his mentally ill mother across the country.
John Anderson at the New York Times profiled a few female editors, among them Mary Lampson (HARLAN COUNTY U.S.A.) and Alyse Ardell Spiegel (PARADISE LOST 3: PURGATORY). The Times this week also took note of filmmaker Ashim Ahluwalia's shift from documentary to fictional narrative.
INDIE GAME: THE MOVIE announced distribution through a number of unusual channels, including online video game developer and distributor Valve. The deal is an interesting attempt by directors James Swirsky and Lisanne Pajot to tap into their natural audience of video game players, a demographic they also relied on to help crowdfund the film.
Filmmaker James Spinone was interviewed by DocGeeks about his touching short INCIDENT IN NEW BAGHDAD, which was nominated for an Oscar this year.
Christopher Campbell of the Documentary Channel blog has a rundown of this week's theatrical releases. Campbell also had a nice reflection on the early Kino Pravda newsreels produced by Dziga Vertov in the early 1920s, soon after the Bolshevik Revolution that led to the creation of the Soviet Union.
Stranger Than Fiction is closing out its Spring season on Tuesday, May 27 with a screening of DELTA BOYS by Andrew Berends. In making the film, Berends spent time with militants engaged in the oil conflict in the Niger Delta. You can find out more info about the film and purchase tickets here.
As always, please e-mail tips and recommendations for the Memo .(JavaScript must be enabled to view this email address), or tweet them to @GuerrillaFace. Thanks, and have a great week!