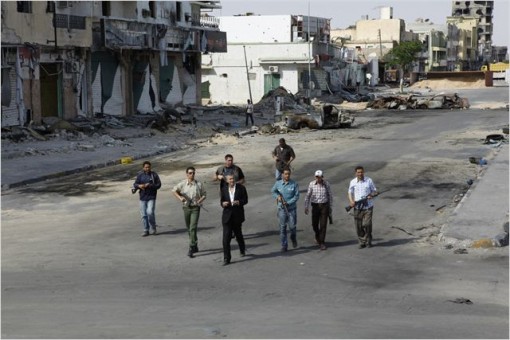 It's that time of year when the filmic-minded turn their thoughts to the French Riviera, specifically the French commune of Cannes. Indiewire's Anne Thompson noted that Cannes this year focused its attention on Hollywood docs and big names like Ken Burns in an effort to boost its star power. Elsewhere, there seemed to be critical consensus that Laurent Bouzereau's doc ROMAN POLANSKI: A MEMOIR was something of a disappointment. The Guardian's Peter Bradshaw found that it focused too much on the 1977 incident in which Polanski was alleged to have had sex with an underage girl. David Rooney at The Hollywood Reporter described the film as both "workmanlike" and "pedestrian." Perhaps that tepid critical response is good news for filmmaker Marina Zenovich, who is now working on ROMAN POLANSKI: ODD MAN OUT, which will focus on the efforts to have Polanski extradited to the U.S. to face the statutory rape charges.
Fatih Akin's POLLUTING PARADISE, about the ecological perils faced by a Turkish village, also received a mixed reception from critics after its Cannes screening. At Screen Daily, Dan Fainaru said the film could have benefitted from "a tighter cut, focusing much more on the issues at hand and a bit less on local colour, would deliver a much more meaningful punch, possibly shaking the complacency out of some official boots." Neil Young of The Hollywood Reporter found the film to be "heartfelt," but also "formally conventional small-screen fare."
Ken Burns is also using Cannes to premiere his latest film, THE CENTRAL PARK FIVE. Our own Thom Powers is set to interview Burns on Wednesday, May 23 at Cannes. Burns this week was also the subject of a short film by Sarah Klein and Tom Mason, called KEN BURNS: ON STORY, that premiered on The Atlantic's website.
Cannes is also currently serving as the setting for a doc by Alec Baldwin and filmmaker James Toback about their efforts to raise money to make another film. Confused? Toback described the project to Deadline thusly: "The film idea was generated by conversations Alec and I have had over a long period of time and we decided we'd go to Cannes and shoot a record of our quest to find money to make a movie, which in effect is not a movie we're definitely making, but rather one we will make in the future if we raise the money for it here," Toback said. "This film is about that process, documenting the progress and the potential success or failure of the two of us in a picaresque attempt to obtain the financing of a movie we have a general idea about making." Got it.
In Cannes market news, The Weinstein Company picked up U.S. rights for Bernard Henri-Levy's doc THE OATH OF TOBRUK, about the revolution in Libya. Also, the West Memphis Three narrative film DEVIL'S KNOT by Atom Egoyan secured funding. The film is set to star Colin Firth and Reese Witherspoon. Director Cass Warner Sperling was reportedly closing in on completion of her doc biopic of the late actor Dennis Hopper, appropriately titled, HOPPER: IN HIS OWN WORDS. Also, it was announced that British doc director Nick Broomfield had been tapped to direct a fictional narrative, THE CATASTROPHIST. News also broke that Robert Weide was looking to resurrect his feature doc on the late, great author Kurt Vonnegut. In a tweet, Powers also suggested that prospective buyers check out THE TOMI UNGERER STORY: FAR OUT ISN'T ENOUGH.
In news closer to our zip code, the International Documentary Association (IDA) this week announced several additions to its board of directors. Those tapped were Fonda Berosini, Executive Director of Communications for the Digital Media team at Disney/ABC Television Group; Lauren Lexton, co-founder of Authentic Entertainment; filmmaker Billy Luther; Ted Mundorff, President and CEO for Landmark Theatres; and Stephen Nemeth, head of Rhino Films.
And over at the IDA's blog, Besty McLane reviewed the recently published memoir of Richard Leacock, a seminal figure in the U.S.'s direct cinema documentary movement. McLane found the memoir, titled "The Feeling of Being There: A Filmmaker's Memoir," to be "an absorbing experience" due in large part to a DVD of screening material that accompanies the book. Also on the IDA blog, Miriam Cutler shared a lesson on sound outputting frequently asked questions and best practices for filmmakers.
Writing at the DocMovies site, Eli Brown, head of the post house Postbrooklyn, took a minute (okay, several minutes) to provide a comprehensive look back at the Hot Docs Forum, astoundingly profiling all 26 projects pitched during the workshop. Realscreen's Adam Benzine also published two posts on the Hot Docs Forum (as of press time, his third and final post on the Forum had not yet gone up.) You can catch part one here, and part two here.
POV this week gave us a list of eight "then-and-now" docs they believe transcend time, which is led by Michael Apted's UP series. (No surprise there.)
TechDirt hosted two posts on the intricacies of fair use, and some of the editorial decisions that have resulted from creators' fears of litigation, as well as efforts by artists to reclaim fair use rights. You can read part one, written by Mike Mesnick, here, and part two, written by Patricia Aufderheide and Peter Jaszi, here.
Writing for the True/False Film Fest blog, Dan Steffen took note of some of the best baseball-related docs, including Alex Gibney's CATCHING HELL about Cubs pariah Steve Bartman, and my personal favorite, DOCK ELLIS AND THE LSD NO-NO, by James Blagden.
Christopher Campbell at the Documentary Channel Blog wrote up this week's theatrical releases. One release of note is INDIE GAME: THE MOVIE by Lisanne Pajot and James Swirsky. Campbell also interviewed the filmmaking duo in a separate post, and Filmmaker Magazine used the theatrical release as a news peg to draw attention to an article written about the film during the Sundance Film Festival.
Filmmaker and blogger Jay Cheel at the Documentary Blog broke down some of the finest genre docs to come out in the past few decades, naming the Errol Morris film noir masterpiece THE THIN BLUE LINE and James Marsh's amazing heist flick MAN ON WIRE, among several others.
The Independent Filmmaker Project (IFP) on May 14 named the ten projects that had earned one of its year-long Documentary Lab fellowships. Among those awarded fellowships were a trio of Brooklyn-based filmmaking teams, including Bassim Tariq and Omar Mullick's project, THESE BIRDS WALK.
The Doc U set up by the IDA to examine the future of documentaries on PBS was instead transmuted into an impromptu celebration, coming on the heels of the news that PBS would be moving its POV and Independent Lens series to Monday nights, from Thursdays. ITVS's Beyond the Box had a recap of the event, which took place in L.A.
The minds behind DocumentaryTech previewed the release of Lightworks, a nonlinear editing system that supports a number of codecs, is designed for PCs, and is being released with both a free version and a $60 pro version (cheap!). Umbrage among editors at Apple's handling of the release of Final Cut Pro X seems to have abated of late, but it certainly seemed to teach people not to rely too strongly on any company's editing software.
This week Stranger Than Fiction is hosting a screening of the landmark direct cinema doc SALESMAN by the Maysles brothers, with Albert Maysles himself set to attend and participate in a Q&A following the film. You can find more info and pick up tickets here.
As always, please feel free to e-mail tips and recommendations for the Monday Memo .(JavaScript must be enabled to view this email address), or tweet them to @GuerrillaFace. Thanks all, and have a great week.