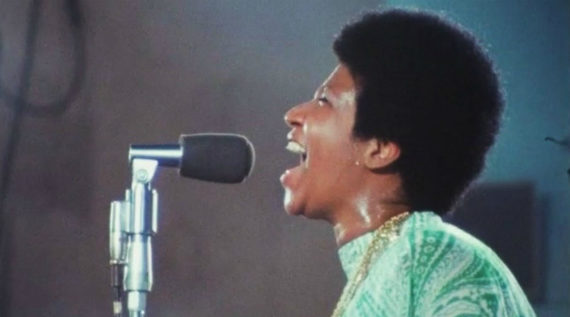 While the midterm elections, another mass shooting, and word that RBG fell and fractured three ribs were all making headline news this last week, plenty of notable documentary happenings were taking place in the background. On Saturday night in Brooklyn, the third annual Critics' Choice Documentary Awards took place, at which "WON'T YOU BE MY NEIGHBOR? took home the evening's most prestigious award for Best Documentary as well as Best Director for Morgan Neville and the award for Best Editing. FREE SOLO took home the award for Best Sports Documentary, the award for Best Innovative Documentary and was honored for Best Cinematography…the Best Political Documentary winner was RBG. QUINCY took home the award for Best Music Documentary. There was a tie for Best First Time Director between Bing Liu for MINDING THE GAP and Cristina Costantini and Darren Foster for SCIENCE FAIR."
Two days prior, the Cinema Eye Honors announced the nominees for its 12th edition, with MINDING THE GAP leading the pack with a total of 7 nominations, tying the record for most nominations in Cinema Eye history. The six films up for the top prize of Outstanding Achievement in Nonfiction Feature Filmmaking are BISBEE '17, HALE COUNTY THIS MORNING, THIS EVENING, MINDING THE GAP, OF FATHERS AND SONS, THREE IDENTICAL STRANGERS, WON'T YOU BE MY NEIGHBOR?.
Many of the nominees and award winners thus far turned up in conversation with one another for The Hollywood Reporter's annual Documentary Roundtable. Meanwhile, Anne Thompson noted at IndieWire that "Last year, the Academy documentary branch had to grapple with a record 170 documentary feature submissions for the Best Documentary Feature Oscar. This year, it's not so bad: only 166 were entered. The short list of 15 will be announced, along with eight others for the first time on a single date this year: December 17."
By far the most exciting bit of doc news to hit this past week was DOC NYC's surprise announcement that Sydney Pollack's long unreleased Aretha Franklin concert doc AMAZING GRACE will finally have its world premiere tonight at the School of Visual Arts Theatre, 46 years after the legendary recording took place. The break turned up in Variety via Chris Willman, who revealed "The Franklin estate and producer Alan Elliott have reached an agreement to release the perpetually delayed AMAZING GRACE project, Variety can exclusively reveal. Although no distribution deal is yet in place for a planned general release in 2019, the film will premiere next Monday at the DOC NYC festival, followed by week-long Oscar-qualifying runs this month in Los Angeles and in December in New York." Interestingly, he continues, "The legal wrangling created the appearance of enmity between camps, and the late singer was not always an easy read when it came to business matters. But in the midst of the imbroglio, Franklin told the Detroit Free Press that she "loved" the movie, a DVD edit of which Elliott had sent her years ago." In The New York Times, Brooks Barnes gave some background on the project's lengthy delay: "…the film recording was mishandled. Mr. Pollack, who died in 2008, failed to use clapper boards, a crucial tool in matching sound with filmed images in a predigital era. And he had 20 hours of raw footage shot by five 16-millimeter cameras to sync. Frustrated film editors at Warner Bros., which financed the shoot, ultimately gave up, having missed the 1972 release of the 'Amazing Grace' album. Mr. Pollack turned to a new directing project, THE WAY WE WERE, starring Barbra Streisand and Robert Redford. And the AMAZING GRACE negatives began to gather dust in the Warner vaults."
Before DOC NYC's big announcement, the fine folks at IndieWire shared their list of "9 Under-the-Radar Documentaries to See At This Year's Festival", while Joshua Brunsting suggested 10 films to see during DOC NYC 2018 at Criterion Cast. Reporting from the DOC NYC Visionaries Tribute Luncheon for Variety, Addie Morfoot suggests that top documentary filmmakers are committed to working for change,
Having kicked up just ahead of DOC NYC, Montreal's 21st annual RIDM Festival kicked off with the Québec premiere screening of WHAT WALAA WANTS. Despite being eyebrows deep in festival happenings as the Director of Programming at DOC NYC, Basil Tsiokos put together an overview of this year's RIDM offerings at What (not) To Doc, as T'cha Dunlevy composed his own RIDM recommendations for the Montreal Gazette. And while DocLisboa 2018 wrapped up last week, Matt Turner explored how this year's program explored film heritage and imagined territories for Little White Lies.
Several weeks after the release of Sandi Tan's incredible Netflix released SHIRKERS, she's still riding a wave of coverage, turning up this week in conversation with Nicolas Rapold on the Film Comment Podcast and with Mila Matveeva via Cherry Pick. She was even mentioned in Kathy A. McDonald's "Women Directors Reap Rewards in Documentary World" piece in Variety.
Other notable doc coverage included Michael Ewins' interview with YOURS IN SISTERHOOD director Irene Lusztig at MUBI's Notebook, a wonderful piece in Film Comment on Claude Lanzmann by Eric Hynes, Chris O'Falt in conversation with HALE COUNTY THIS MORNING, THIS EVENING director RaMell Ross at IndieWire, Ann Hornaday's take on MONROVIA, INDIANA for The Washington Post, Odie Henderson's review of CHEF FLYNN at RogerEbert.com, Christopher Campbell's take on DISTANT CONSTELLATION for Nonfics, and Naomi Keenan O'Shea's reflection on AMERICAN DHARMA at IndieWire.
I'll leave you this week with Keith Phipps' list of top docs of 2018 found over at Polygon. As always, if you have any tips or recommendations for the Memo, please contact me via email here, or on Twitter, @Rectangular_Eye.