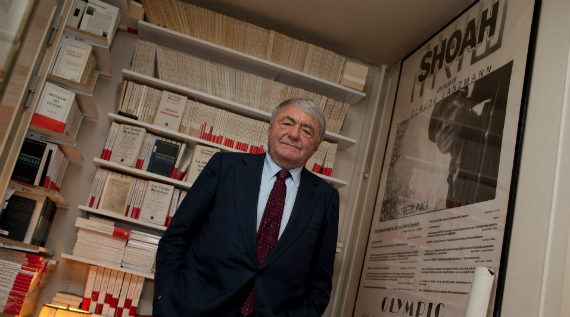 The documentary filmmaker Claude Lanzmann died last Thursday at the Saint-Antoine Hospital in Paris at the age of 92. He was best known as the director of the monumental work SHOAH, which John Pym called "a devastating and cautionary interrogation of the Holocaust through the testimony of both survivors and 'functionaries'" in his original 1985 feature analysis of the film in Sight & Sound. His full and robust life story can not be summed up here, but a handful of elegant and thoughtful obituaries and memorials were published over the past few days by Daniel Lewis of The New York Times, Richard Brody in The New Yorker, Glenn Kenny at RogerEbert.com, AV Club's Ignatiy Vishnevetsky, and Leslie Camhi of Vogue, who articulately summed up Lanzmann's legacy and personality, "The fact that he was in love with life, and obsessed with death was only the most obvious of his many contradictions. He was deeply Jewish, and profoundly secular. He worked with the past but was relentlessly engaged with the present. A sometimes violent polemicist, he could also be very funny. He was the only man Simone de Beauvoir ever lived with, during the course of their nine-year love affair and the friendship that continued until her death in 1986. But he was, I believe it is safe to say, no feminist; he was known to share the alarming machismo of his generation. He believed in liberty." In celebration of Lanzmann's work, Film Comment reposted a conversation from 2015 between film critic J. Hoberman and filmmaker Joshua Oppenheimer in which they dissect the lasting impact of SHOAH on the Film Comment Podcast.
Outside of the news of Lanzmann's death, it was a relatively quiet week in documentary happenings. The most notable of which was that the Sundance Institute announced that it had selected five projects that would participate in its 2018 Documentary Edit and Story Lab. Projects selected include #MICKEY [Betzabé García (director/producer), José Villalobos (editor), Indira Cato, Joceline Hernandez (producer)], THE HOTTEST AUGUST [Brett Story (director/producer), Nels Bangerter (editor), Danielle Varga (producer)], FORGIVENESS [Elizabeth Stopford (director/producer), Gary Forrester (editor)], CRIP CAMP [James LeBrecht and Nicole Newnham (co-directors/producers), Andy Gersh (editor), Sara Bolder (producer)], and AFTER A REVOLUTION [Giovanni Buccomino (director), James Scott (editor), Naziha Arebi, Al Morrow (producers)].
"This summer has been especially rewarding for documentaries," wrote Rebecca Rubin in a new piece in Variety on the success of a trio of summer doc releases. She continues, "THREE IDENTICAL STRANGERS comes on the heels of a pair of sleeper hits, RBG and WON'T YOU BE MY NEIGHBOR?. It's a rare summer where one documentary has already crossed the $10 million mark and a second non-fiction film is close behind. It's even possible THREE IDENTICAL STRANGERS could complete the trifecta."
In new theatrical releases, Kevin Macdonald's bio-doc WHITNEY has been copiously written about, but wholly well received. In Rich Juzwiak's feature at The Muse he laments, "The film contains a staggering amount of pain—it's almost unrelenting in the last hour. I left the theater rattled. I won't go as far as to say it left a bad taste in my mouth, as I don't believe the creative decisions behind such a bleak portrait were made in bad faith, but as a nearly lifelong fan of Houston, I've never had a less enjoyable time thinking about her than I did for the two hours I spent screening this film." In The New York Times, Wesley Morris felt much the same, as did Guy Lodge in The Guardian. Michael Schulman also tried to unravel Whitney Houston's complexities in The New Yorker, as Elias Leight listed 10 things they learned from WHITNEY in Rolling Stone.
Denis Côté's body building doc A SKIN SO SOFT also found itself in limited release this past weekend, with Jeannette Catsoulis of The New York Times found respect for it, despite her displeasure. She writes, "Yet his long shots of the men, motionless and alone, express a melancholy and isolation that's oddly touching. There's no apparent joy in these painful exertions, and the occasional signs of a wider life — practicing kinesiology, getting lost inside a virtual-reality headset — fail to banish the movie's disconsolate monotony. Even a neatly arranged shoe closet looks heartbreaking. Mr. Côté, though, knows what he's doing, deliberately calling attention to the defenselessness and uncertainty beneath the men's apparent invincibility." Clayton Dillard came away with more at Slant, "The pleasure of Denis Côté's A SKIN SO SOFT radiates not so much from its storytelling as it does from the meditative force of its formal construction. Surveying the muscular bodies and quotidian lives of six male Canadian bodybuilders through an arrangement of often wordless passages, Côté's camera relishes the silence of daily moments when these physically hardened men put down their weights and become fundamentally human." Additionally, at MUBI's Notebook, Jorge Mourinha spoke with the French Canadian filmmaker about his new film.
Stephen Nomura Schible's Venice debuted RYUICHI SAKAMOTO: CODA is also out in limited release thanks to MUBI, and has garnered some very positive attention from the likes of Ben Kenigsberg, who deemed it a NYT Critics' Pick, and Jonathan Romney, who named it Film Comment's Film of the Week.
Last week I spaced and forgot to mention that the new issue of Senses of Cinema is live and features a whole host of doc festival reports, including my own take on this year's True/False Film Festival, Annie Berke's report from Full Frame, Matt Turner's piece on CPH:DOX and Carmen Gray's globetrotting feature on various doc fests around the globe.
I'll sign off this week with Sophie Brown's excellent piece at Sight & Sound that "considers six recent exemplars of nonfiction outreach and tenderness that might be a model for the worlds of palliative care they explore." Until next week, if you have any tips or recommendations for the Memo, please contact me via email here, or on Twitter, @Rectangular_Eye.