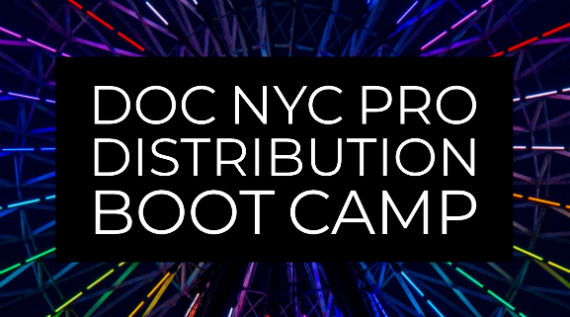 Following our final screening of our 2018 Spring Season, DOC NYC revealed their annual summer professional development program, DOC NYC PRO's Distribution Boot Camp at IFC Center on Thursday, June 28th, 10 am – 5 pm. The full day event features a keynote from Impact Partners' Dan Cogan, a dos and don'ts discussion by directors Amanda Lipitz and Lana Wilson, a talk on navigating contracts with Josh Braun and attorney Adam Beasley, and much more. Tickets are available now and the early bird price through June 12th is $75 for the full day (or $65 for IFC Center members).
On that same wavelength, the Firelight Media Documentary Lab's Open Call for its 18-month fellowship program closed tomorrow at midnight. "The Lab provides filmmakers with customized mentorship from prominent leaders in the documentary world, funding, professional development workshops and networking opportunities."
Working doc filmmakers should also take note that American Documentary has launched a new program called the Artist Emergency Fund, which "will provide one-time awards of up to $1,000 each to professional mediamakers residing in any US State, Territory or Indian Nation" "who are facing financial emergencies due to unforeseen personal calamities such as health issues, eviction, or disasters." In a statement to Chris O'Falt at IndieWire, Justine Nagan, executive producer/executive director of POV/ American Documentary, relayed the new program's importance for career sustainability in the field, "For too many documentary filmmakers, a simple trip to the emergency room can mean years of mounting medical bills. Our aim is to make AmDoc as supportive to filmmakers as possible, while also helping build a more inclusive industry that supports the most vulnerable among us. This type of grant program is common in other artistic disciplines, and it seemed time for filmmakers to have a safety net. It won't solve the field's overall sustainability issues, but we hope it's a step in the right direction."
After inciting countless tears in audiences across its busy post-Sundance festival run, Morgan Neville's WON'T YOU BE MY NEIGHBOR? has finally arrived in theaters to a chorus of critical acclaim. Peter Slattery of Vice summed up succinctly just why the film has instantaneously become so beloved, "With each impeccably selected interview excerpt, bit of Mister Rogers dialogue, and song clip, the film pulses with Rogers's singular message of kindness. It's hard not to let that swelling thrum of compassion wash over you." At Slate, Aisha Harris follows that by declaring that even the most hardened cynics won't be able to resist the film, writing,"…to experience WON'T YOU BE MY NEIGHBOR through to its conclusion is to slowly let one's guard down bit by bit, song by song, until you may find yourself slumped down in your seat, searching for tissues. Spoiler: It turns out Fred Rogers was a wholesome, nice, and generous person. There's no bombshell to be found here, no #MeToo-like revelations or even a sense that there was a totally different man hiding behind the curtain."
It seems as though awards season just wrapped, but at IndieWire, Anne Thompson is already lobbing guesses as to what films will be up for the Best Documentary Oscar next year. Unsurprisingly, her bet is Neville's universally loved Fred Rogers film, writing, "At Sundance, Oscar-winner Neville told me that he hopes this movie about a well-meaning conservative Republican Presbyterian minister will reach a wider swath than the usual liberal moviegoer. Count on it. This zeitgeist-hitter will be hard to beat." The film rode a wave of critical renown to box office success this past weekend. Tom Brueggemann reports at IndieWire that the film made $470,000 after opening in just 29 theaters with a per theater average of $16,168, and he expects that figure to grow considerably as it rolls out across the country in the coming weeks.
The other notable theatrical release this week is Amy Adrion's doc on the inequality of women working in Hollywood, HALF THE PICTURE. Susan Wloszczyna relays the film's importance, despite its formal simplicity over at RogerEbert.com, "Documentaries that rely on a steady stream of talking heads—interspersed here with fleeting film clips—usually are not my favorite. However, when those heads belong to talented and perceptive women who rarely get a chance to speak their minds let alone get hired to make a movie, I can definitely make an exception." The Guardian's Amy Nicholson says, "HALF THE PICTURE plays like a cocktail party where everyone's had a glass of wine and is ready to get real. Adrion bounces between interview clips as though the women are having a conversation. It's not a screed – it's fun and surprising…"
On the small screen, Jean-Xavier de Lestrade's newly expanded crime series THE STAIRCASE has arrived on Netflix. In Vanity Fair, Sonia Saraiya gives a rundown of its new iteration, " Now Netflix has added the original eight-episode Staircase to its library, along with five more episodes that were not part of the original 2005 run: two episodes filmed in 2011, which formed the first "sequel" to the The Staircase (originally titled Last Chance and released in 2013), and three new episodes, filmed starting in 2016 through Michael Peterson's final trial. The story doesn't end, which is a testament both to the cruelty of the justice system and its possible mercies…". And at The Ringer, Andrew Gruttadaro spoke with de Lestrade about returning to the project, the true crime wave and beyond.
I'll leave you this week with a pair of unrelated pieces worth reading: Callum Costello's account in Little White Lies about his time in a filmmaking workshop in Peru, hosted by Werner Herzog, and the European Documentary Network's official backing of an open letter in which more than 48 human rights, cultural and film organizations condemn the prosecution of Turkish documentary filmmakers Çayan Demirel and Ertuğrul Mavioğlu (for background context, head over to their page at Artists At Risk Connection). As always, if you have any tips or recommendations for the Memo, please contact me via email here, or on Twitter, @Rectangular_Eye.