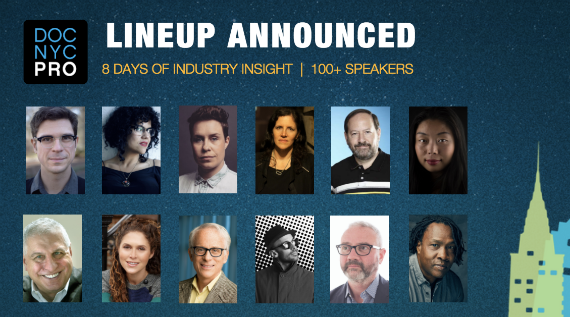 Those working in the field of nonfiction filmmaking have much to look forward in this year's newly announced lineup for the 2017 DOC NYC PRO conference, which announced features "100+ speakers including acclaimed filmmakers and industry leaders across eight days of panels, case studies, master classes and happy hours." The conference runs November 9-16 at Cinepolis Chelsea concurrent with the festival's public film screenings. Passes for this must attend industry event can be purchased here.
Last Wednesday, DOK Leipzig revealed that David Spaeth's BETRAYAL will open the festival, which runs October 30 through November 5. The festival is also honoring the doc filmmaker Jay Rosenblatt with a special program titled "Visual Electrics. The Cinema of Jay Rosenblatt" and a master class in which Jay Rosenblatt will give insights into his working methods. Meanwhile at What (not) To Doc, Basil Tsiokos previewed of new nonfiction offerings at both the Hamptons International Film Festival, which concludes today, and the BFI London Film Festival, noting that "among the more than 200 new feature offerings of the respected UK event are nearly 60 documentaries."
The most written about happening this past week was the theatrical release of Agnès Varda and JR's L'Œil d'or winner FACES PLACES, "A magnificent work that reckons with art as a global force, a local curiosity, and an individual act of expression, writes David Sims in The Atlantic. Eric Kohn penned a feature at IndieWire in which Varda hints at retirement from filmmaking: "I'm not sure I'll make another film. It's like boxing — they do an additional match they shouldn't do. I'm not sure I should do another one. But I also do exhibitions, installations. I'm not going to bed." In The New York Times, A.O. Scott dubbed it a NYT Critics' Pick and claimed, "Despite its unassuming, conversational ethos — which is also to say by means of Ms. Varda's staunchly democratic understanding of her job as a filmmaker — "Faces Places" reveals itself as a powerful, complex and radical work." Additional rave reviews came in from Peter Travers of Rolling Stone, Alissa Wilkinson at Vox, Glenn Kenny at RogerEbert.com, as NPR published a pair from Howie Movshovitz and Andrew Lapin.
Antonio Santini and Dan Sickles's Sundance Grand Jury Prize winner DINA, a self proclaimed "real-life romantic comedy," also arrived in limited release last week, garnering generally positive reviews from the likes of Glenn Kenny in The New York Times, Slant's Christopher Gray, Scott Tobias at NPR, and The Playlist's Gary Garrison. "The film doesn't feel or look like a documentary. It's a character-based piece, but the structure is carefully considered with a clear narrative thrust and an unusual style," warmly explained Sheila O'Malley at RogerEbert.com.
The final big release of the week was the Netflix original THE DEATH AND LIFE OF MARSHA P. JOHNSON by Oscar nominated filmmaker David France. With similar thoughts on the film, Sesali Bowen discussed at Refinery29 how the film manages to hold the LGBT community accountable, as The Root's Michael Arceneaux deemed the film "compelling in its ability to highlight the hierarchy among even marginalized groups and, unfortunately, in how it pinpoints exactly how, in many cases, the more things change, the more they remain the same." At Vulture, David Edelstein called the film "shattering," while at Vanity Fair, Yohana Desta wrote an extensive profile about Victoria Cruz, a queer trans woman and former activist who knew Johnson and appears in the film. Though the film has garnered considerable positive press, Jenna Marotta published a controversial piece at IndieWire titled "Did Director David France Steal a Filmmaker's Research?," in which she reports that filmmaker Reina Gossett called out David France via social media, claiming that he "appropriated her idea and research for the project." Gossett has not yet respond to IndieWire's emails for more further details.
Susan Lacy's NYFF-premiered SPIELBERG debuted on HBO Saturday evening, gleaning warm reviews from James Poniewozik in The New York Times and Brian Tallerico at RogerEbert.com, but it Liz Shannon Miller's feature on Lacy at IndieWire that deserves the most attention. Two "this is what we learned" lists also appeared from Chris O'Falt and Jenna Marotta of IndieWire and Noel Murray at Rolling Stone.
A whole host of other notable doc coverage came in, including Richard Brody's take on THE RAPE OF RECY TAYLOR in The New Yorker, Jean Bentley of IndieWire on IDA's screening of JANE, Helen de Witt in Sight & Sound on TONSLER PARK, Joseph Perry of Nonfics on MANSFIELD 66/67, David Jenkins on THE REAGAN SHOW at Little White Lies, Jeff Unay on the making of THE CAGE FIGHTER at IndieWire, and Jordan Cronk in conversation with Ben Russell in Film Comment.
If you're in need of something to watch, POV has made all of its Emmy nominees available to stream here, as well as Lara Stolman's DOC NYC alum SWIM TEAM. And at Short of the Week, both 3,000 Miles by Sean Wang and DICKS: DO YOU NEED TO BE ONE TO BE A SUCCESSFUL LEADER? by Max Joseph have been made available.
I'll leave you this week with Realscreen's announcement that Sheila Nevins will receive its Legacy Award at the 2018 Realscreen Summit, which takes place from January 28-31 at the Marriott Marquis in Washington DC. Until next week, if you have any tips or recommendations for the Memo, please contact me via email here, or on Twitter, @Rectangular_Eye.