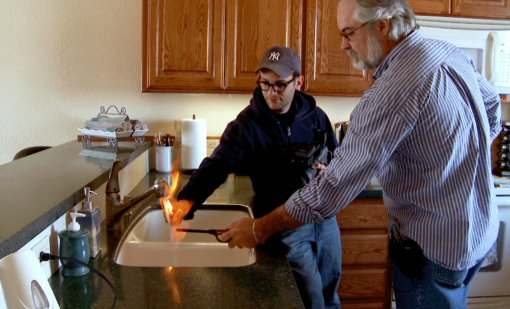 Documentary news this week was dominated by the arrest of Oscar-nominated director Josh Fox at a House subcommittee meeting on Wednesday. Fox was reportedly shooting the meeting as part of his work on the sequel to GASLAND, his investigation of the environmentally destructive practice of hydraulic fracturing, or "fracking," used to extract natural gas. The congressional hearing was held to discuss an Environmental Protection Agency report on the effect of fracking practices in Pavillion, Wyoming. According to media reports, Fox has had increasing trouble attending congressional meetings on the controversial practice of fracking ever since the Republicans seized control of the House in the 2010 elections. Raw footage of his arrest is below.
Fox, who was charged with unlawful entry, and was processed and released later that day. He subsequently released a statement to the press which read, in part:
As a filmmaker and journalist I have covered hundreds of public hearings, including Congressional hearings. It is my understanding that public speech is allowed to be filmed. Congress should be no exception. No one on Capitol Hill should regard themselves exempt from the Constitution. The First Amendment to the Constitution states explicitly "Congress shall make no law…that infringes on the Freedom of the Press". Which means that no subcommittee rule or regulation should prohibit a respectful journalist or citizen from recording a public hearing.
Fox next faces a February 15 hearing in the case.
Elsewhere, criticism of the Oscar documentary nomination process continued unabated, with Jacob Bernstein at The Daily Beast the latest to take aim at the perceived shortcomings in the awards process. Bernstein says the process favors films that focus on problematic social issues over those on pop culture figures, "It's hard not to feel bad for all the movies that get excluded simply because there is not enough pain and suffering in them to warrant their receiving awards," he writes.
Those in New York City interested in taking a historical view of Bernstein's analysis will have an opportunity to do so at the Museum of Modern Art film series Oscar's Docs, 1950-87: Creative Expression. The program is a compilation of doc features and shorts that were either won or was nominated for an Oscar, focusing in films that explore the arts and humanities. Among those films to keep an eye out for are PAUL ROBESON: TRIBUTE TO AN ARTIST (1979) by Saul J. Turell and Michael Wadleigh's legendary WOODSTOCK (1970). The series began February 1, but is set to run until February 13, so there's still time to catch some films.
On January 29, James Marsh picked up the Outstanding Directorial Acheivement in Documentary Award from the Director's Guild of America for PROJECT NIM. Although the accolades for PROJECT NIM continue to pile up, Marsh took a break from doc work for his recent fictional narrative film SHADOW DANCER, a political thriller about a woman attempting to navigate her allegiances to both her family and the Irish Republican Army.
After it's initial release of Final Cut Pro X earned the scorn and derision of professional editors the world over, Apple has taken steps to address a number of the concerns of film cutters who see the software's new incarnation as "iMovie light." On January 29 Apple released its second major update for FCP X, adding multicam editing options, advanced chroma keying and improved XML functions. It remains to be seen if professional editors will continue fleeing to Avid and Adobe systems, or if Apple can ever get back in their good graces. Ars Technica has a more in-depth look at the changes resulting from the update.
The folks in charge of the International Documentary Association's YouTube channel were busy the past week uploading videos taken of their Doc U programs. Recent videos have featured their Focus on Funding and Writing for the Nonfiction Screen classes. IDA on January 30 also kicked off its 2012 Doc U season with the class Understanding Fair Use. You can find a recap of the event here.
The International Documentary Challenge has opened up registration for its 2012 competition. For those unfamiliar with the competition, it challenges filmmakers to make a four- to seven-minute film in five days. The top 12 films selected by the judging panel secure not only bragging rights, but the opportunity to premiere at Hot Docs in Toronto.
The DocGeeks had a sit-down and chat (and maybe even a cuppa) with BAFTA-winner Brian Woods to get his opinion on the status of documentary filmmaking. Feel confident that the word "bollocks" was used at some point.
Christopher Campbell at the Documentary Channel Blog has a roundup of this week's theatrical releases, which includes WINDFALL, Laura Israel's look at the complications surrounding wind farming. The film snagged the DOC NYC grand jury prize in the Viewfinders category back in 2010.
This week Stranger Than Fiction will be hosting UNFINISHED SPACES by Alysa Nahmias and Benjamin Murray. The film takes a look at three architects tapped to help design Cuba's National Art Schools, a project that was abruptly halted as the country's political winds changed. Nahmias and Murray will be in attendance following the film for a Q&A. For more info and tickets, click here.
As always, we encourage you to send tips and suggestions to .(JavaScript must be enabled to view this email address). Have a great week!