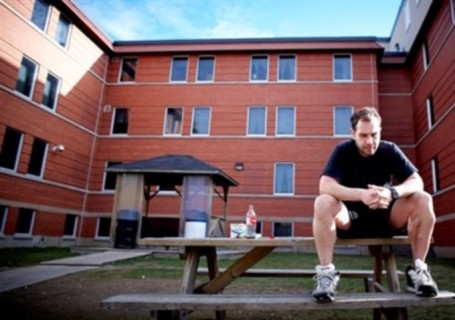 The Hot Docs festival finished out its 2014 incarnation on Sunday. At Indiewire, Paula Bernstein reported that OUT OF MIND, OUT OF SIGHT from John Kastner had won the award for best Canadian feature at the festival, and had details on other award winners. The Toronto Star's Peter Howell wrote on the trend of festival docs that blurred the line between fact and fiction. In a piece for the Huffington Post, director Kevin McMahon wrote on the changes to the doc landscape currently being wrought. Writing for Realscreen, Manori Ravindran profiled the film MEET THE PATELS from directors Ravi and Geeta Patel. Paula Bernstein also had a piece for Indiewire  that culled advice from Hot Docs filmmakers on finding a directorial voice. Back at Realscreen, Manori Ravindran profiled the film CASE AGAINST 8.
At Ion Cinema, Jordan M. Smith reviewed FED UP. Smith also reviewed EVERYTHING WILL BE and JOY OF MAN'S DESIRING. Back at Indiewire, Peter Knegt spoke with LOVE HOTEL directors Philip Cox and Hikaru Toda. Indiewire colleague Paula Bernstein wrote a piece on the keys to a successful doc pitch. Bernstein also had a piece that rounded up tips on how to make your first documentary film. Writing for the POV blog, Tom Roston shone a light on the film PINE RIDGE from director Anna Eborn. Canada's POV Magazine thoughtfully put all of their festival coverage on one page for easy access.
In Tribeca Film Festival coverage, Daniel Walber of Nonfics.com issued a piece naming the festival's seven best docs. Kevin Ritchie of Realscreen reported that KEEP ON KEEPIN' ON from director Alan Hicks had won the documentary audience award. Writing for the International Documentary Association (IDA), Patricia Aufderheide recapped the festival's docs. In a separate post at the CMSi blog, Aufderheide wrote about cinema verite at Tribeca and South by Southwest. At Indiewire, John Anderson recapped a work-in-progress screening of the latest Alex Gibney doc, this one about James Brown. In a post at the POV blog, Liz Nord interviewed CLOUDS creators Jonathan Minard and James George. Patricia Aufderheide recapped the interactive exhibits at Tribeca this year in a post at the CMSi site. And in a separate post, Aufderheide considered the way work was represented in Tribeca films.
Stranger Than Fiction (STF) kicks off its Spring Season on Tuesday, May 6 at 8 p.m. at the IFC Center in Manhattan with a screening of Chris Marker's seminal cinematic essay SANS SOLEIL. Filmmaker Jem Cohen (INSTRUMENT, MUSEUM HOURS) will be in attendance following the screening for a discussion about the film. STF's Spring Season features a stellar lineup, including Joe Berlinger's WHITEY: THE UNITED STATES OF AMERICA V. JAMES J. BULGER (May 13); Doug Block's 112 WEDDINGS (June 3), and Marina Zenovich's ROMAN POLANSKI: WANTED AND DESIRED (June 17). Tickets are available for individual shows, and season passes that include a free Docurama DVD, free popcorn and guaranteed admission are available for $99.
In a piece for Film Comment, Dan Sullivan explored the history of the hybrid film and the Art of the Real, the recent program hosted by the Film Society at Lincoln Center. In a separate piece for Film Comment, Irina Leimbacher wrote about the films coming out of Harvard's Sensory Ethnography Lab.
Back at Nonfics.com, Christopher Campbell penned a piece listing the docs in theaters to take note of. Campbell also noted that an online retrospective of Chris Marker's work on SundanceNOW topped his home picks list. In a piece for Blogwax, Herbert Gambill reviewed the Marker retrospective.
In yet another post, Campbell named five environmental docs that viewers were likely to find surprising. And Nonfics.com writer Daniel Walber named SHOWFOLK the leading candidate to win an Oscar for best documentary short.
Back at Realscreen, Manori Ravindran reported that Alex Gibney had been named the AFI Docs Charles Guggenheim honoree by the American Film Institute. And Realscreen colleague Etan Vlessing reported on Canada's National Film Board celebrating its 75th birthday.
The POV blog this week named the five projects slated to participate in its next Hackathon. POV is also set to host its next #docchat, this one on documentary engagement strategies, set to take place Tuesday, May 6 at 12:30 p.m. on POV's Google+ Hangouts page.
At Realscreen, Adam Benzine reported that Basil Tsiokos had been named director of programming for DOC NYC.
New York City-based documentary arts center UnionDocs announced it was accepting applications for its new summer intensive program, intended to help emerging filmmakers develop their projects. UnionDocs is also accepting applications for its 10-month long Collaborative Studio program.
Writing for Colorlines, Jamilah King took note of a new documentary about Los Angeles Times reporter Ruben Salazar. Robert Lloyd of the Los Angeles Times also reviewed the film.
In a piece at Sight and Sound Magazine, filmmaker Robert Greene wrote about the respective relationships of film and wrestling to reality.
At Filmmaker Magazine, Michael Murie shared some tips from filmmakers on how to interview subjects.
Over at Bomb Magazine, Pamela Cohn interviewed filmmaker Iva Radivojevic about her new film EVAPORATING BORDERS.
The Documentary Organization of Canada (DOC) released a new report titled, "Growing the Pie" about finding new ways to fund doc films.
At his What (Not) to Doc blog, Basil Tsiokos provided an overview of the DOXA festival.
Back at the POV blog, Fernanda Rossi detailed the film anatomy of the doc THE NEEDLE.
Julia Longoria of the Future of Storytelling blog reviewed the LIVING LOS SURES documentary project out of UnionDocs.
At TakePart, Sarah Beston interviewed director Brian Knappenberger about his film THE INTERNET'S OWN BOY: THE STORY OF AARON SWARTZ
Finally, Eric Kohn publicly shared some tips for improving 6, the sequel to Oscar-winner THE COVE.
Please send any tips for the Memo via e-mail here, or by Twitter to @GuerrillaFace. Thanks and have a great week!