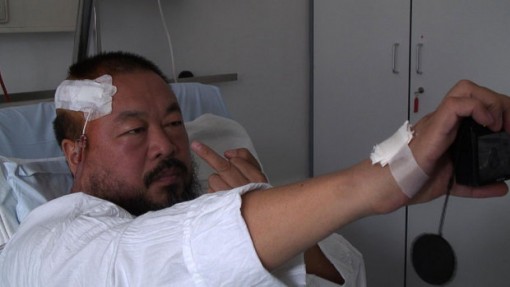 The Hot Docs Canadian International Documentary Festival on March 20 announced the lineup for its 19th iteration, with 189 films from 51 different countries. Alison Klayman's AI WEIWEI: NEVER SORRY is set to open the festival, which runs from April 26 – May 6 in Toronto, Canada. In honor of the festival, the folks at the D-Word will be hosting a five-day discussion with Hot Docs programmer Charlotte Cook, along with festival staffers Elizabeth Radshaw and Sarah Lancaster (D-Word registration required).
The Full Frame Documentary Festival, set to run April 12-15 in Durham, North Carolina, on March 20 also made several announcements. The two recipients of the Garrett Scott Documentary Development Grant are Jason Osder, for his film LET THE FIRE BURN, and Ben Powell for BARGE. The festival also announced additional programming celebrating the 40th anniversary of groundbreaking distro company New Day Films, as well as films celebrating the festival's own 15th anniversary.
A campaign led by the revered distro/production house Kartemquin Films scored a win this week, after PBS on March 22 agreed to change the scheduling of the well-regarded independent doc series "Independent Lens" and "POV." Kartemquin launched its crusade after news broke that the ratings for the new season for "Independent Lens" had dropped about 40%, after the show was moved from Tuesday to Thursday nights. The campaign to have the shows moved received a huge boost after esteemed journalist Bill Moyers gave it his backing. However, it still remains to be seen where, exactly, PBS will place the shows in its new schedule.
In somewhat related news, "POV" announced the schedule for its 25th season, set to begin June 21. Among those films included in the new season are Jennifer Fox's MY REINCARNATION, Ian Cheney's THE CITY DARK, and Patricio Guzman's NOSTALGIA FOR THE LIGHT. In an interview with Realscreen, POV Executive Director Simon Kilmurry said the season featured "real stylistic diversity."
Cable news channel CNN on March 22 said it had laid off dozens of employees from its two documentary units. "We are transitioning to an acquisition model for documentary production, in addition to continuing to produce some original long-form programming, such as CNN's In America series," CNN said in a statement. The channel added that much of its documentary programming would now come from outside production companies.
At the What (Not) to Doc blog, Basil Tsiokos gave us an overview of the docs screening at the upcoming New Directors/New Films series, which started on Wednesday and will run until April 1. Tsiokos does us the favor of picking out a few movies he describes as representing "some of the strongest, most provocative non-fiction work of the past few months."
The Center for Social Media at American University published its Documentary Filmmakers' guide to fair use best practices way back in 2005, but the information is still relevant today. You can download the guide for free here. The center's Patricia Aufderheide last week also posted a recap of her experiences at transmedia and cross-platform panels at South by Southwest.
MIT last week launched its own Open Documentary Lab, an effort to bring filmmakers, academics and technologists together to develop new forms of non-fiction storytelling. The lab kicked off on March 20 with a day-long summit, The New Arts of Documentary. Following the summit, Andrew Phelps of the Nieman lab sat down to have a talk with Open Documentary Lab staffers Sarah Wolozin and William Uricchio.
Christopher Campbell at the Documentary Channel Blog has this week's theatrical releases, which include Jon Shenk's THE ISLAND PRESIDENT, opening at Film Forum on March 28, and Douglas Tirola's ALL IN: THE POKER MOVIE. Also being released on Friday, March 30 at Cinema Village is Blue Hadaegh and Grover Babcock's SCENES OF A CRIME.
We're still on the hunt for your suggestions for the best documentary Twitter accounts to follow. Got suggestions? Tweet them @GuerrillaFace or e-mail them .(JavaScript must be enabled to view this email address).
This week, Stranger Than Fiction is hosting a special Spring pre-season screening of ORDINARY MIRACLES: THE PHOTO LEAGUE'S NEW YORK on Thursday, March 29 at the IFC Center. The film tells the story of The Photo League, which was born out of the hopeful political ferment of the thirties and expired fifteen years later, a victim of Truman-era loyalty purges and the McCarren Act. For more info or to buy tickets, go here.
As always, please send your tips and suggestions for the Monday Memo .(JavaScript must be enabled to view this email address). Have a great week everybody!