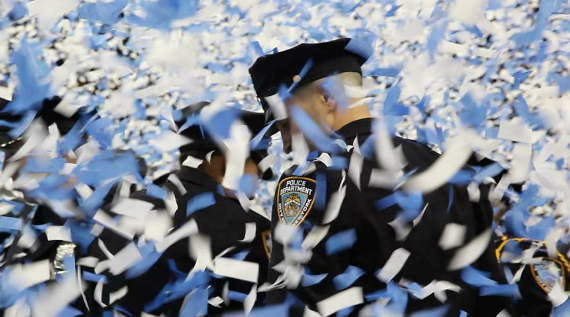 Festival season is now in full swing and as further confirmation the New York Film Festival revealed its 13 film lineup for its Spotlight on Documentary. Highlights include world premieres of Mark Bozek's THE TIMES OF BILL CUNNINGHAM and Tom Surgal's FIRE MUSIC, as well as a new restoration of William Wyler's THE MEMPHIS BELLE: A STORY OF A FLYING FORTRESS. Following the close of this year's Locarno Festival, the festival announced "Lili Hinstin will be the new Artistic director of the Locarno Festival, replacing Carlo Chatrian who is leaving Locarno to take over the artistic direction of the Berlinale. Hinstin will take up her appointment from December 1st 2018, while already devoting part of her time to the preparation of the next edition of the Locarno Festival." And while it is more a doc professional conference than a film festival, IDA's Getting Real '18 also listed its full schedule and boasts of a keynote from Michèle Stephenson, a masterclass with Frederick Wiseman, and a closing night screening of a newly restored SALESMAN on 35mm. The event will take place in Los Angeles from September 25-27.
A few festival hits reached audiences this past weekend, most notably CRIME + PUNISHMENT, another big Hulu release following the success of MINDING THE GAP. The film was selected by our own Raphaela Neihausen and Thom Powers as WNYC's Documentary of the Week, noting that it "plays like a modern day SERPICO" as it "follows the case of the NYPD 12, who spoke out against biased policing." In The New York Times, A.O. Scott deemed it a NYT Critics' Pick, while in Vogue, Julia Falsenthal called it "a blood-boiling look at systemically racist policing" in her feature on the project in which she spoke at length with the film's director, Stephen Maing. It should be noted that over at Nonfics, Christopher Campbell has acknowledged Hulu as a new documentary powerhouse with a list of 50 of the best films currently streaming on the service, with CRIME + PUNISHMENT sitting at #2.
Next up was Steve James's new Starz doc series AMERICA TO ME, which also has a connection with MINDING THE GAP, as the film's director Bing Liu worked as a cinematographer on the series. Sam Adams called the project a "panoramic portrait of racial inequality at one Illinois high school" and a "worthy follow-up to HOOP DREAMS" at Slate, as Jake Nevins joyously unpacks the series in-depth in a lengthy feature that appeared in The Guardian. He comprehensively regales, "Like many of James's films, AMERICA TO ME is about one thing, a high school, and so much more: those tumultuous, formative years of pubescence; the intersections between race, class and sexuality; the rich but often fraught relations of teachers and students; cafeteria banter; spoken word class; administrative oversight; homecoming and the football team; the amorphous politics of the high school food chain; and one relatively progressive school's failure to adequately address the achievement gap between its white students and those of color."
The only big theatrical release of the week was Julien Faraut's JOHN MCENROE: IN THE REALM OF PERFECTION, which Chris Campbell attempts to explain at Nonfics, "This is a film about the making of a film — or, really, two films. One is a 1985 work by France's national director of tennis, Gil de Kermadec, focused on the techniques of McEnroe for the Institut National du Sport et de l'Education Physique (aka the French Sports Institute or INSEP). The other is this very feature. Director Julien Faraut, formerly of INSEP, went back into the 16mm footage shot for the earlier work and has made a meta-textual experimental sports doc partly inspired by Jean-Luc Godard." Though he goes on, "I admit I don't entirely get all of In the Realm of Perfection. Nor do I love all the parts that I do understand. It definitely seems, at times, a little too experimental just for the sake of being experimental for the love of Godard. But it's also exhilarating in its alternative approach to sports profile and biographical documentary, even if it's not meant to be." Despite its experimental nature, Wesley Morris named it a NYT Critics' Pick in his review and IndieWire's David Ehrlich dubbed it "a sports documentary unlike any other, a beguiling and delightful piece of visionary non-fiction that uses its namesake to investigate the ontological nature of watching tennis."
Other notable release coverage included Michael Sicinski's interview with Hugh Gibson about THE STAIRS at MUBI's Notebook, Matt Fagerholm's conversation with Bing Liu about MINDING THE GAP for RogerEbert.com, Glenn Kenny's take on MAISON DU BONHEUR in The New York Times, Simran Hans's review of THE EYES OF ORSON WELLES for The Guardian, Richard Brody's praise of THE REST I MAKE UP in The New Yorker, and Kevin Crust's review of CIELO in The Los Angeles Times.
A few worthy longer reads also popped in Stephanie Zacharek's take in Time on how documentaries became the hottest genre of the summer, Alissa Wilkinson's outline at Vox of five great social issues documentaries that help explain America in 2018, and Dean Fleischer-Camp's thoughts on making a fictional documentary in the era of fake news for The Talk House.
In doc development, Realscreen's Frederick Blichert reported, "Jennifer Maytorena Taylor's THE GUT (w/t), Ljubo Stefanov and Tamara Kotevska's HONEYLAND are among the documentaries that have been awarded funding through the SFFILM Documentary Film Fund. The fund, backed by Jennifer Battat and the Jenerosity Foundation, totals US$125,000 in support of projects already in post-production to push them towards completion. Each film was awarded $25,000." Meanwhile, ITVS's Diversity Development Fund is currently accepting applications through September 14th. The fund "gives producers of color up to $25,000 in research and development funding so you can develop your documentary for public media. Pre-production nonfiction projects only."
I'd like to sign off this week with a big open hearted thank you and congratulations to Catherine Grant, whose incredible online resource Film Studies For Free just celebrated its 10th anniversary last week. Catherine and her website were one of just a few resources that initially helped guide and nurture my own cinephilia shortly after the site's launch. To celebrate, Catherine wrote a heartfelt open letter about he site's development over the last decade and linked to a 100 incredible online film resources worthy of your attention. Until next week, if you have any tips or recommendations for the Memo, please contact me via email here, or on Twitter, @Rectangular_Eye.