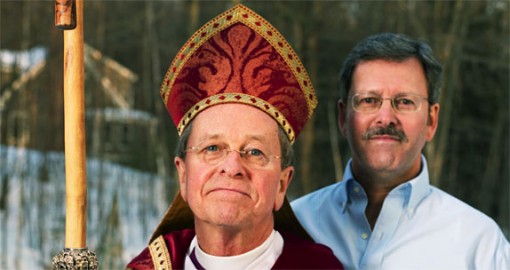 PBS documentary show Independent Lens on Tuesday, August 14 announced a partial lineup for its 2012-13 season, set to begin on October 29. The new season also marks the show's move to Mondays, following a Thursday timeslot that filmmakers had protested as partially responsible for a sharp drop in viewership for both Independent Lens and POV.
The new season will kick off with LOVE FREE OR DIE, director Macky Alston's portrait of Episcopal Bishop Gene Robinson, the first openly gay person in that church to become a bishop. Also in the fall season will be Brad Lichtenstein's AS GOES JANESVILLE, about a Wisconsin town struggling to adapt to the closure of a GM plant and SOLAR MAMAS, Jehane Noujaim and Mona Eldaief's look at India's Barefoot College, which gives impoverished women the education and skills they need to succeed. The show's second half of the season will contain several festival heavies, including Eugene Jarecki's THE HOUSE I LIVE IN; DETROPIA by Heidi Ewing and Rachel Grady; and AI WEIWEI: NEVER SORRY by Alison Klayman.
The New York Film Festival on Friday, August 17 revealed the main slate lineup for its 50th edition, set to run September 28 – October 14. A fair number of docs were included in the list, including Paolo and Vittorio Taviani's CAESAR MUST DIE, which won the Golden Bear prize at this year's Berlinale. Making its world premiere at the festival will be a new film from Alan Berliner, FIRST COUSIN ONCE REMOVED, about poet and translator Edwin Honig's battle with Alzheimer's disease.
Christopher Campbell of the Documentary Channel blog rounded up his thoughts on the films screening during the third week of the International Documentary Association's bicoastal DocuWeeks program. The program is in its third and final week in New York City, but is just starting its second week in Los Angeles, meaning West Coasters have some more time to catch many of these films.
Efforts continue to help director John Maringouin (RUNNING STUMBLED) raise much needed cash to fund an urgent lung cancer operation. But only 71% of the target has been reached. You can find out more about the effort and make a donation here.
This week Kim Severson, writing for the New York Times, caught up with the West Memphis Three, the group of three men released from prison after the PARADISE LOST doc trilogy by Bruce Sinofsky and Joe Berlinger raised serious doubts about their murder convictions.
Some folks over at the Sundance Institute spoke with INDIE GAME: THE MOVIE directors James Swirsky and Lisanne Pajot on both their approach to fundraising, and unusual distribution strategy, which relied in part on a DIY theater strategy.
POV this week hosted a twitter chat with Mike Rauch, one-half of the animation filmmaking duo the Rauch Brothers, about their work creating animated counterparts for the oral history show StoryCorps. Mike noted that their process involves selecting stories that reflect the depth and breadth of StoryCorps' archives, but that are largely character-driven. Rauch also said the brothers were currently working on a longer, half-hour StoryCorps special.
Chris Kennealy's doc SIDE BY SIDE, about the film industry's inexorable shift from celluloid film to digital media, got a fair bit of attention this week in advance of its theatrical release. Billy Brennan of Filmmaker Magazine spoke with Kennealy, as did Christopher Campbell writing for the Documentary Channel blog. Campbell, this time writing for Movies.com, also spoke with actor Keanu Reeves, who served as a producer, interviewer and narrator for the film.
The Toronto International Film Festival came with some doc news this week, announcing that it was adding to its lineup Spike Lee's new Michael Jackson Doc BAD 25, which takes a look at Jackson's 1987 album Bad on the 25th anniversary of its release.
Distributor Icarus Films on August 13 announced that it had acquired North American distribution rights for six of French documentarian and ethnographer Jean Rouch's films. Among those films included in the group were the short LES MAÎTRES FOUS (1955) and the feature MOI, UN NOIR (1958). In other distro news, Cinema Libre Studio picked up all North American rights, with the exception of broadcast, for Laura Brownson and Beth Levison's documentary LEMON, about New York City poet and playwright Lemon Andersen that screened at DOC NYC last fall.
Actor, radio show host and potential mayoral candidate Alec Baldwin on the August 13 edition of his WYNC show Here's The Thing spoke with director Anthony Baxter, whose film YOU'VE BEEN TRUMPED screened at Stranger Than Fiction back in October 2011. Also on the program was Dylan Avery, the director of LOOSE CHANGE, the film that spawned a thousand 9/11 conspiracy theories.
Robin Pogrebin, writing for the Times, profiled 18-year-old Inocente Izucar, a formerly homeless artist who serves as the subject for a short doc directed by Sean Fine and Andrea Nix Fine that recently screened on MTV.
At the Huffington Post, Vanessa Erazo provided an interesting window into her duties as a programmer of docs for the New York International Latino Film Festival, and highlighted some fo the film's screened at this year's event, which concluded yesterday.
Canada's POV Magazine posted a piece about Jennifer Baichwal's new film, PAYBACK: DEBT AND THE SHADOW SIDE OF WEALTH, which centered on an interview conducted with writer and activist Margaret Atwood. (Atwood in 2008 delivered a lecture and wrote a book about debt that inspired the film.)
Filmmaker Liz Nord shared with the POV blog audience a list of three things that filmmakers should consider before even attempting to hire members of a transmedia team. She suggests that filmmakers first have a grip on what they need from a designer or coder, what they can do on their own, and what inspired them to create transmedia in the first place.
In other transmedia/POV news, Filmmaker Magazine's Randy Astle wrote up a report on the POV hackathon and the five projects that it yielded. Also, POV Digital Director Adnaan Wasey shared five insights that were gleaned from the Hackathon's team members and mentors.
Just in time for Eid-ul-fitr, ITVS's Beyond the Box blog took note of the 30 Days Ramadan project that grew out of the 30 Mosques documentary project overseen by comedian Aman Ali and photographer Bassam Tariq. The 30 Days Ramadan project asked participants to contribute tweets and photos of their observance of Ramadan that were then collected and published on one site.
Christopher Campbell has this week's theatrical releases, which include SIDE BY SIDE, and TRUE WOLF, a film by Rob Whitehair about a Montana couple who adopt a wolf. Writing for the New York Times, Jeannette Catsoulis reviewed the film, finding it to feature "spotty storytelling, awkward re-enactments and a soundtrack larded with yips and howls."
That's it for this week. If you have tips or suggestions for the Memo, please e-mail them .(JavaScript must be enabled to view this email address), or tweet them to @GuerrillaFace. Thanks, and have a great week all!