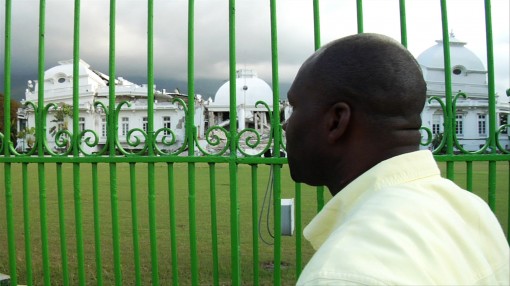 The Los Angeles component of DocuWeeks, the theatrical documentary showcase overseen by the International Documentary Association (IDA) began on Friday, August 10, and is set to run through August 30. Susan King of the Los Angeles Times profiled the film program, taking a closer look at Patrick Shen's film LA SOURCE, about a Haitian hoping to provide his village clean water. Christopher Campbell of the Documentary Channel blog also noted the launch of the LA portion of the DocuWeeks program, but took a closer look at the New York City DocuWeeks program, which is set to run through August 23.
The film world this week lost director Mel Stuart, a filmmaker perhaps best known for directing the 1971 version of the film WILLY WONKA & THE CHOCOLATE FACTORY, but who also won awards for his work as a documentary producer and editor. Adam Benzine of Realscreen provided a rundown of Benzine's impressive body of doc work, and he was also remembered on the IDA blog by Thomas White.
The friends of director John Maringouin (BIG RIVER MAN, RUNNING STUMBLED) have rallied to raise funds to help pay for desperately needed cancer treatment. While almost $36,000 has been raised thus far, Maringouin needs at least almost $60,000 as a down payment just to get the surgery scheduled. If interested in making a contribution, or to learn more about Maringouin, please click here.
The Independent Filmmaker Project (IFP) on August 10 announced that the 34th Independent Film Week would take place in New York City September 16-20. The IFP also named the films selected to its Project Forum, which includes 10 docs by first-time filmmakers supported by the Independent Filmmakers Lab, as well as 50 films bolstered by the Documentary Spotlight program.
The Bay Area Video Coalition (BAVC) on August 6 named the six social documentary projects selected to take part in its producers institute for new media technologies. The week-long program, produced in partnership with ITVS and Mozilla, pairs filmmaking teams with technologists and other mentors to help them develop transmedia content, such as web apps and games.
POV hosted its first hackathon over the weekend, pairing five teams of content creators with developers and designers in order to reimagine their content for the web. Covering the event for the POV blog, I wrote a piece about the events of the first day.
Writing for Movies.com, Christopher Campbell wondered why some of the year's most highly-regarded docs had seen paltry returns at the box office. His conclusion? Many docs suffer from a stigma of "second-class cinema" among moviegoers. And in his duties at the Documentary Channel Blog, Campbell pointed to a Doc Talk video on Malik Bendjelloul's SEARCHING FOR SUGAR MAN.
In his weekly Docutopia blog post, Anthony Kaufman examines the technique of using animation in documentaries, and whether the approach is ultimately an asset or a flashy hindrance that serves to distract viewers.
The New York International Latino Film Festival, which begins today and runs through August 19, has a number of docs included in its selections. Both Jennifer Merin of About.com and Basil Tsiokos of the What Not to Doc blog took a look at the festival's offerings. Tsiokos also provided an overview of Latinbeat 2012, running August 10-23, at which recent Latin American cinema is shown at Lincoln Center.
The IDA has posted links to the content from its magazine, Documentary. In addition to profiling several films, the magazine's writers also interviewed a number of filmmakers showing work at DocuWeeks, among them animators Mike and Tim Rauch. POV, which hosts the Rauch brothers' short animated films on both its television show and website, also scheduled a Twitter chat with the pair for Tuesday, August 14 at 8 p.m. EST. Those interested in participating can use the #docchat hashtag.
At IndieWire, Cinematographer Cybel Martin provided some very useful advice to first time doc directors on how to work with a crew and take their work seriously. Martin suggests directors take the time to establish their online presence, work up a social media strategy, and—perhaps most importantly—pay and feed their crew.
Director Steve James penned a piece for IndieWire on his crowdfunding approach for his new project, GENERATION FOOD, which will develop media for a number of platforms—film, books, the web and mobile apps. James said one of the lessons he has already learned is that crowdfunding may seem like free money, but in reality it requires a lot of labor.
Back at IDA's site, fiscal sponsorship program manager Amy Halpin assessed the pros and cons of spending the money to hire a grant writer, and then provided some tips on how to work with one.
At the ITVS Beyond the Box blog, Rebecca Huval shared some advice on how filmmakers can keep core, passionate viewers of their projects engaged for the long-haul.
In this week's distro news, Oscilloscope Laboratories picked up North American rights for the Jason Tippet and Elizabeth Mims-helmed doc ONLY THE YOUNG, about skater kids in a small California desert town. The film won the best U.S. feature prize at the SilverDocs festival back in June. Also, IFC Midnight snagged both North American and UK rights for Chris James Thompson's film THE JEFFREY DAHMER FILES about the serial killer. (The film premiered at South by Southwest earlier this year under the title JEFF)
The Tribeca Film Institute on August 7 announced that the 2013 Tribeca Film Festival would, for the first time, feature transmedia film projects. Ingrid Kopp, the institute's newly named director of digital initiatives, is set to join the festival's programming team in support of the move.
For those on the hunt for a job, the Maysles Institute is looking to hire a part-time education program associate. The institute's education initiatives include a Teen Producers Academy, which has the goal of helping Harlem youth learn how to produce digital media.
Realscreen's Danielle Ng-See-Quan reported that the National Film Board of Canada (NFB) had joined with Telefilm Canada and the Rogers Group of Funds to restore government cuts to its Theatrical Documentary Program fund. The new contributions restored the fund to its pre-cut level of C$1.5 million per year.
ESPN this week announced an October premiere for the second season of its well-regarded 30 for 30 documentary show. The program is set to kick off with the film 9.79* about Canadian sprinter Ben Johnson by director Daniel Gordon; the film is also a Toronto International Film Festival selection.
New details about the MTV show based on the controversial doc CATFISH by directors Yaniv Schulman and Max Joseph trickled out this week. The 12-episode series will debut on November 12 and focus on online relationships. Cristina Radish, writing for Collider.com, interviewed Schulman and Joseph about their new show.
Sam Dolnick of the New York Times Lens blog on August 10 took a look at photojournalist-turned-filmmaker David Turnley's project SHENANDOAH, about the 2008 murder of a Mexican immigrant in a struggling Pennsylvania coal town.
Zacharty Mandinach of the Film Society of Lincoln Center's blog interviewed directors Alysa Nahmias and Benjamin Murray about their film UNFINISHED SPACES, about three architects' long delayed dream to finish building the Cuban National Art Schools.
The interactive doc BEAR 71 is still drawing media attention, although now from some less-trafficked corners of the web. Canada's Mountain Equipment Co-op blog this week interviewed director Leanne Allison about the project.
Back in July, filmmakers Christine Walley and Chris Boebel were interviewed by MIT's Open Documentary Lab, speaking on their new project EXIT ZERO, which considers the U.S.'s increasing class stratification through the lens of deindustrialization.
Rachel Saltz of the New York Times reviewed IT IS NO DREAM: THE LIFE OF THEODOR HERZL by Richard Trank, but found the film to fall short of expectations, saying it satisfied "neither as a movie nor as a history lesson" about Herzl, a journalist considered to be the father of Zionism. Also at the Times, Nicolas Rapold wrote about the holocaust documentary THE LION OF JUDAH, by director Mat Mindell. Rapold concluded that the film "offers little insight and employs a bewilderingly breezy, travel-show pace," but that it also "addresses an unimpeachable, moving subject and is undertaken with decency." And Manohla Dargis took a look at MEET THE FOKKENS by directors Gabrielle Provaas and Rob Schroder, a profile of twin sisters closing in on their 70's who work as prostitutes.
Christopher Campbell has this week's theatrical releases, which include THE GREEN WAVE by Ali Samadi Ahadi and IT IS NO DREAM.
Please send your tips and recommendations for the memo .(JavaScript must be enabled to view this email address), or tweet them to @GuerrillaFace. Thanks, and have a great week!