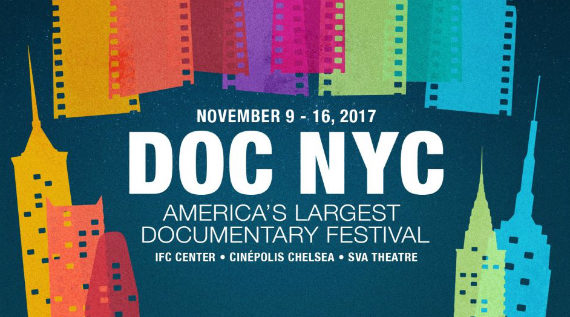 As it happens, I am currently in Stockholm visiting my doc loving co-workers at Influence Film Club, but I would be remiss to share a mini memo that spreads the good word that DOC NYC has announced its complete 2017 lineup! Among the 111 feature length documentaries on offer this year, Guy Fiorita's MOLE MAN and Julia Bacha's NAILA AND THE UPRISING will have their world premieres as part of this year's Viewfinders competition, while David Wexler's VIGILANTE: THE INCREDIBLE TRUE STORY OF CURTIS SLIWA AND THE GUARDIAN ANGELS and Prudence Katze and William Lehman's THE IRON TRIANGLE will world premiere in the Metropolis competition. Jessica Mach reported on the announcement for Realscreen, noting, "Over 350 filmmakers and special guests are scheduled to participate in panels or present their films." Festival passes and individual screening tickets are now available for purchase.
Last week also saw the unveiling of IDFA's 2017 lineup, containing a mind-boggling "312 titles (from 3,886 submissions), of which 90 documentaries will have their world premieres during the festival." The 30th edition of the festival will take place in Amsterdam from November 15 to 26. A boat load of brand new doc trailers are available at the festival's YouTube page.
As reported by Anne Thompson at IndieWire, "The Broadcast Film Critics Association and the Broadcast Television Journalists Association announced nominees for the second annual Critics' Choice Documentary Awards, along with a major change in the categories that reflects the evolving world of documentaries…the Best Documentary category, which last year was separated into Theatrical Releases and TV/Streaming releases, has been merged into a single category, and the same is also true for the Best Director and Best First Documentary categories." The complete list of nominations can be viewed over at the Critics' Choice Documentary Awards website.
And I can't end this condensed memo without mentioning the immensely disturbing revelations regarding Harvey Weinstein's history sexual misconduct within the filmmaking community. Several responses to the news by important voices from the doc community have surfaced, including from filmmakers Amy Ziering (at Vanity Fair and KPCC), Alex Gibney (via The Daily Beast), Michael Moore (on Facebook) and Sarah Polley (in The New York Times). In light of these revelations, doc director Tara Wood is has moved to cut ties with The Weinstein Company who currently holds the release rights to her upcoming film 21 YEARS: QUENTIN TARANTINO, reported Rebecca Ford of The Hollywood Reporter. Harvey Weinstein has since been fired from The Weinstein Company by its board of directors and stripped of his membership of the Academy of Motion Picture Arts and Sciences.
Signing off this week, I absolutely must share Jamilah King's thorough update at Mother Jones regarding last week's troubling accusations of theft against filmmaker David France for material contained within his award winning doc THE DEATH AND LIFE OF MARSHA P. JOHNSON. See you back stateside next week. In the meantime, if you have any tips or recommendations for the Memo, please contact me via email here, or on Twitter, @Rectangular_Eye.