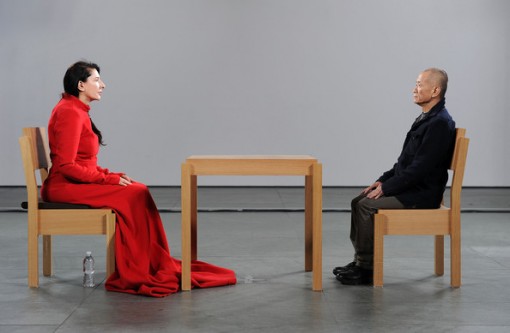 The Sheffield Doc/Fest's jury on Sunday, June 17 named Matthew Akers' MARINA ABRAMOVIC: THE ARTIST IS PRESENT the winner of its special jury award. But the festival earlier in the week was drew more attention after a Chinese delegation of commissioning editors pulled out after their demands that the films AI WEIWEI: NEVER SORRY by Alison Klayman and Steve Maing's HIGH TECH, LOW LIFE be pulled from the festival were rejected. The Chinese delegation had ostensibly taken offense to the political content of the films (AI WEIWEI follows the dissident Chinese artist of the same name, while HIGH TECH, LOW LIFE examines citizen journalists in China sometimes operating without the blessing of the state. film programmer Hussein Currimbhoy told Realscreen, "Allowing any delegation of any kind to have influence on the film program is an idea that we could never contemplate." Indiewire reported that news of the delegation's pullout was reported by BBC Storyville editor Nick Fraser on Wednesday afternoon.
Before the news of the Chinese pullout broke, the folks at DocGeeks spoke to Currimbhoy about his programming approach. Indiewire also culled some crowdfunding tips taken from a Sheffield Doc/Fest panel that filmmakers might find useful.
The Gucci Tribeca Documentary Fund on Monday, June 11 announced its 2012 grant recipients. Those films making the cut were E-TEAM by Katy Chevigny & Ross Kauffman; GOD LOVES UGANDA by Roger Ross Williams; FIRST TO FALL by Rachel Anderson; MERCY MERCY by Katrine W Kjær; TWO CHILDREN OF THE RED MOSQUE by Hemal Trivedi; ALIAS RUBY BLADE by Alexander Meillier; STARGAZING by Berit Madsen; and THE SUPREME PRICE by Joanna Lipper. The fund focuses on giving feature length films finishing funds. Christopher Campbell at the Documentary Channel blog took a closer look at the grants recipients.
Plaudits for POV started coming in from all corners this week, as the PBS show prepped for the start of its 25th season on June 21, with the airing of Jennifer Fox's MY REINCARNATION. Series creator Marc Weiss shared some of his memories of the origin of the show with the POV blog. And a the International Documentary Association (IDA) blog, Shelley Gabert took a look back at the impact the show has had over its quarter-century run. And at Documentary Television, Peter Hamilton had a breakdown of the show's relevant stats (380 films!).
The American Academy of Motion Picture Arts and Sciences on Saturday, June 9 handed out its Student Academy Awards. This year's winners in the doc category were Ellen Tripler, director of DYING GREEN; Keiko Wright, director of HIRO: A STORY OF JAPANESE INTERNMENT; and Heather Burky, director of LOST COUNTRY. Christopher Campbell has a closer examination on the winners and their films. The regular Oscars remain months away, but that didn't stop Guy Lodge with making some early projections on strong candidates for a little gold man over at Hitfix.
Basil Tsiokos of What Not to Doc wrote up an overview of Silverdocs, which starts today in Silver Spring, Md., and runs through June 24. On Tsiokos' hit list were DON'T STOP BELIEVIN': EVERYMAN'S JOURNEY by Ramona Diaz and David France's HOW TO SURVIVE A PLAGUE. And Christopher Campbell, this time writing for Movies.com, drew up a list of five must-see films at the Human Rights Watch Film Festival, which started June 14 and runs until June 28. Campbell's list includes CALL ME KUCHU by Katherine Fairfax Wright and Malika Zouhali-Worrall, about Ugandan gay rights activist David Kato, as well as Kirby Dick's THE INVISIBLE WAR.
At Filmmaker Magazine, Leopoldine Huyghues Despointes spoke with director Nisha Pahuja, whose film THE WORLD BEFORE HER took home the Tribeca Film Festival's top documentary award back in April. Pahuja said the idea behind the film was "to make a film about the "Miss India," the beauty contest, and use the pageant as a prism through which we explore a country that's going through major cultural changes."
Anthony Kaufman's Docutopia post this week has the writer ruminating on docs that take on the death of the American city. Kaufman says some of the films present the case that "a larger tragedy that's been unfolding across America's mid-sized cities for the last several decades."
Ines Hofmann Kanna of ITVS's Beyond the Box blog shared some tips for filmmakers thinking about crowdfunding, but wondering what effect that might have on their attempts to get their film broadcast on public television. Kanna suggests that filmmakers keep public broadcasting's transparency rules in mind when raising funds.
Is there a new British doc invasion? The Independent seems to think so, taking note of a crop of British docs that have been well received both critically and at the box office.
Indiewire covered the Producers Guild of America conference panel on how to get your movie made, which included director Joe Berlinger (PARADISE LOST, UNDER AFRICAN SKIES). Berlinger said the characteristics that got movies made included old-fashioned tenacity and salesmanship, along with an inventiveness in getting funding from unusual sources.
And the BBC this week reported that relations between Pakistani filmmaker Sharmeen Obaid-Chinoy and some of the subjects of her film SAVING FACE, about victims of acid attacks, had taken a sour turn. According to the BBC, some subjects were attempting to prevent the film, which won an Oscar for best short documentary, from being shown in Pakistan.
Christopher Campbell has this week's theatrical releases (let's just go ahead and call this the Campbell edition of the Memo), which include Vikram Gandhi's KUMARE and SOMETHING FROM NOTHING: THE ART OF RAP by first time documentary filmmaker Ice T. (You may be more familiar with other elements of T's oeuvre—his music, or his stint as a police detective on one of the Law & Order franchises.)
As always, please feel free to email tips and recommendations .(JavaScript must be enabled to view this email address), or tweet them to @GuerrillaFace. Have a great week everyone.