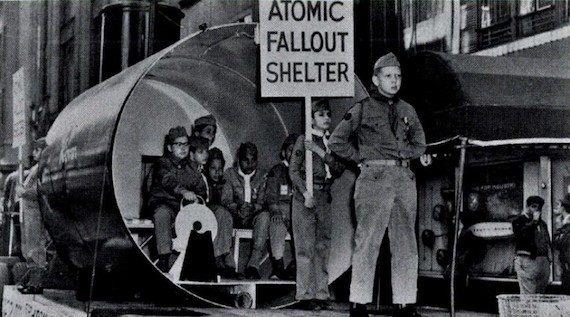 Following the grand ball that is the Cannes Film Festival and a double header week for us here at Stranger Than Fiction, it feels like just about everyone was in need of a breather. The long holiday weekend likely contributed to this unusually light week for documentary news. It's almost unheard of to go a week without some kind of festival announcement, grants are awarded, or some prize is being given to someone. Outside Charlie Phillips's preview of the Sheffield Doc/Fest in The Guardian, there has been nothing of the sort for the past seven days.
Tomorrow, we continue our 2018 Spring Season of Stranger Than Fiction at the IFC Center with a special screening of Pierce Rafferty & Kevin Rafferty's doc classic ATOMIC CAFE in a new, beautiful 4K restoration. Both of the directors will be on hand for a live Q&A following the screening. Tickets are still available here.
We are nearing the summer months, so the folks at Vogue listed the 13 docs they think you need to see over the next few months. One of the docs mentioned is Julie Cohen and Betsy West's RBG, a profile of feminist-icon Supreme Court Justice Ruth Bader Ginsburg, which Vanity Fair's Nicole Sperling reports "has become an unlikely box-office hit". She continues, "Since its limited release on May 4, the film has grossed over $4 million on 375 screens. By Friday it will hit $4.5 million. (Only the 25 top-grossing docs of all time have crossed into double-digit numbers, with most staying under $1 million.)"
Outside of RBG's box-office success, it was a pair of newly available STF alums that turned up in the press this week. After Tre'vell Anderson of the Los Angeles Times and Jon Caramanica reviewed THE GOSPEL ACCORDING TO ANDRÉ in The New York Times, Vanessa Friedman wrote a lengthy profile on the film's subject André Leon Talley. Meanwhile, THE FOURTH ESTATE arrived on Showtime last night and appeared in print via Maureen Ryan of The New York Times, Hank Stuever of The Washington Post, and the Los Angeles Times's Lorraine Ali, each of whom gave praise to the film. And at Refinery 29, Elena Nicolaou spoke with the film's director, Liz Garbus, about "about the changing state of journalistm, and why those in the profession should be excited, not simply horrified, by the challenges of the Trump administration."
Beyond this dynamic doc duo, the only notable coverage that cropped up were reviews of THAT SUMMER by Jessica Baxter of Hammer To Nail and Owen Gleiberman of Variety, Lorraine Ali of the Los Angeles Times and Jen Chaney of Vulture's take on the HBO doc JOHN MCCAIN: FOR WHOM THE BELL TOLLS, and Christopher Llewellyn Reed's thoughts on FILMWORKER at Hammer To Nail. Outside of new releases, Katherine McLaughlin made a guide on where to begin with the work of Agnès Varda for the BFI.
If you're in need of a new short to watch online, The New York Times published a new Op Docs short in Paul Szynol's THE PULL, about a man named John Bixby and addiction, while The Atlantic shared Alix Lambert's EDGE OF DAYBREAK: THE REAL JAILHOUSE ROCK, about an incredible soul-funk record that was recorded live in prison by incarcerated musicians back in 1979.
Lastly, our own Thom Powers shared the latest episode of Pure Nonfiction, featuring a conversation with Wim Wenders about POPE FRANCIS – A MAN OF HIS WORD, as the new episode of The Fog of Truth centers around Hervé Cohen's interactive and transmedia documentary LIFE UNDERGROUND – check out the project here – and the latest episode of The Documentary Life sees filmmaker and host Chris Parkhurst speak to his wife about the filmmaking lifestyle and how it has effected their relationship and their family as a whole.
That's it for this week! As always, if you have any tips or recommendations for the Memo, please contact me via email here, or on Twitter, @Rectangular_Eye.