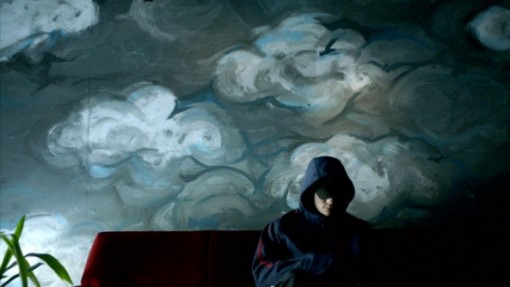 The 29th annual Miami International Film Festival on Saturday announced its award winners. The Knight Documentary Competition winner was THE IMPOSTER, directed by Bart Layton and funded by A&E IndieFilms and Film 4. The film is being released theatrically by distributor Indomina. The jury also recognized two films with Honorable Mentions: UNFINISHED SPACES, directed by by Alysa Nahmias and Benjamin Murray; and Simone Rapisarda Casanova's THE STRAWBERRY TREE, which made its US premiere at the festival. Serving on the documentary jury were Nelson George (director of THE ANNOUNCEMENT and BROOKLYN BOHEME); Carmen Guarini (director of the DocBUENOSAIRES film festival); and Alfred Spellman (producer of COCAINE COWBOYS and BROKE). Also, Sports Illustrated writer Michael Bamberger shared his take on MIFF film YOU'VE BEEN TRUMPED, Anthony Baxter's look at the efforts by Donald Trump to build a golf course in Scotland, over the objection of nearby residents.
The Tribeca Film Festival, set to take place April 18-29, this week released its lineup of films over the past week. Nisha Pahuja's THE WORLD BEFORE HER, about two girls' efforts to win the Miss India contest, is set to open the world documentary competition. Also set to screen are the prolific Morgan Spurlock's MANSOME and SEARCHING FOR SUGARMAN, Malik Bendjelloul's Sundance Film Fest crowd favorite. This year's festival is the first to be programmed by new artistic director Frederic Boyer.
Also this week, the short advocacy doc KONY 2012 dominated talk on the web after going viral and racking up some 66 million views on YouTube. The film, about Ugandan warlord and alleged war criminal Joseph Kony, was produced by the nongovernmental group Invisible Children in an attempt to draw attention to Kony's alleged crimes. However, a backlash against Invisible Children by those who criticized the group's approach to helping Ugandans soon followed. People also took issue the film for presenting an oversimplification of a complex political situation. Heather McIntosh analyzed the Kony film phenomenon for the POV blog, weighing it in the context of advocacy and propagandistic docs, such as those made by Frank Capra during World War II. Randy Astle at Filmmaker Magazine also wrote a pretty detailed analysis of the situation.
Director Davis Guggenheim of AN INCONVENIENT TRUTH and WAITING FOR SUPERMAN fame was also in the news this week for his own advocacy doc, THE ROAD WE'VE TRAVELED, about the first term of the Obama presidency. The 17-minute film was commissioned by the Obama campaign, and has been described by some as treading the line between documentary and extended campaign commercial. The film is set to be released by the campaign this week.
The New York Times drew fire this week for its failure to review Jared Alterman's well-regarded 54-minute doc CONVENTO, ostensibly because it fell short of the feature-length standard that the Times uses to decide whether to review a film. Alterman reportedly shot more footage that could have been used to pad the film's length, but had declined to do so, instead leaving CONVENTO in that programming purgatory between short and feature length. Hammer to Nail got Alterman's take on the mini-kerfuffle in an interview with the filmmaker. If you live in New York City, you can check out CONVENTO in a week-long run at the reRun Gastropub Theater in DUMBO, Brooklyn.
The Motion Picture Association of America on Friday said it would host a screening of Lee Hirsch's film BULLY, followed by a panel discussion about the film. The MPAA has continued to feel heat for its R-rating for the film, which is part of a effort to end the bullying of young students. The 17-year-old bullying victim Katy Butler on Wednesday delivered a petition signed by 200,000 people to the MPAA, asking it to revise the film's rating to PG-13 so it could be more easily shown to middle and high school students. Hirsch also spoke with Tom Roston at POV's doc soup blog about the MPAA's decision and the ongoing effort to get it overturned.
Sundance Now put together a great little series of video interviews with directors showing work at the True/False Film Fest. You can check out the interviews, which include Victor Kossakovsky (VIVAN LAS ANTIPODAS!), Racheal Leah Jones (GYPSY DAVY) and Anghad Bhalla (HERMAN'S HOUSE), among others, at the Sundance Now YouTube channel. Sundance Now has also just launched its new Doc Club with a monthly selection of docs curated by our own Thom Powers. For March, Doc Club is featuring a Spotlight on Errol Morris, including several episodes of his TV series First Person that are hard to find elsewhere. You can watch them all for only a $3.99 monthly charge here. In other T/F news, Tom Roston also drew up a list of his favorite films from the festival for the POV blog.
Tech junkies were no doubt excited by the release this week of news about Canon's new EOS 5D Mark III HDSLR. High Definition SLR's have clearly had an impact on doc filmmaking since Canon first gave them the ability to shoot video several years ago. But the cameras, intended first and foremost for still pictures, have also frustrated filmmakers at times with a lack of functionality. Edward J. Delaney took a look at some of the changes and updates that come with the Mark III for POV's blog, ultimately imploring prospective buyers to ask themselves if the new camera was four times better than the one it would be replacing. Michael Murie at Filmmaker Magazine also shared a detailed take on the new camera.
Programmer Basil Tsiokos has a comprehensive overview of the docs at the Thessaloniki Documentary Festival in Athens, Greece. The festival runs March 9-18, and features an incredible 185 films. Look for Tsiokos' coverage of the festival on Indiewire.
Tribeca's Future of Film blog provided a useful investigation of the YouTube analytics available to filmmakers to help them gather information on data about videos hosted on the site. One of the new features available to users is access to a breakdown of audience retention rates.
Director David Gelb had a nice chat with The Hollywood Reporter about his doc JIRO DREAMS OF SUSHI, a portrait of 85-year-old sushi master Sukiyabashi Jiro, who operates his 10-seat restaurant out of a Tokyo subway station.
The Asia Society's Japanese doc program, Extreme Private Ethos, started on Saturday, but will last until March 31. The series features "films made from the 1970s to the present, focuses on the most intimate acts by filmmakers and documentary subjects as they probe into extremely private experiences concerning family, birth, death, loss, and heartbreak." You can check out the schedule at the Asia Society website.
The Karen Schmeer editing fellowship recipient was named this week, with honors going to BULLY editor Lindsay Utz. The fellowship was established to honor the memory of Schmeer, an editor who was killed in a hit-and-run accident in 2010.
Christopher Campbell of the Documentary Channel has this week's theatrical releases, which includes Marie Loser's fascinating flick THE BALLAD OF GENESIS AND LADY JAYE, about industrial music pioneer Genesis P-Orridge and his partner, Lady Jaye, and the pair's efforts to turn their lives into an ongoing art project.
We at Stranger Than Fiction are still hard at work on our list of favorite doc Twitter accounts to follow, so please tweet your suggestions to @GuerrillaFace or email them .(JavaScript must be enabled to view this email address).
This week, Stranger Than Fiction is hosting THE MAN NOBODY KNEW: IN SEARCH OF MY FATHER, CIA SPYMASTER WILLIAM COLBY, Carl Coby's personal doc about his father. Colby will be in attendance for a Q&A following the screening. You can find more information and tickets here.
Anyone with tips or recommendations for the Memo is encouraged to send them .(JavaScript must be enabled to view this email address). And as always, have a great week!