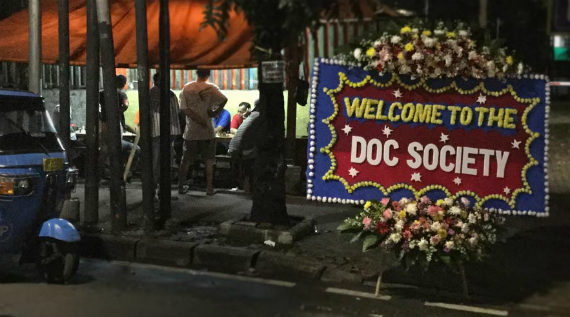 In a light week, the lights are shining back at the previous seventeen years. Following a string of fascinating lists naming the best films of the 21st century thus far, the IndieWire team has put together their choices for the Top 25 Best Documentaries of the 21st Century, which, while arguing for some surprising recent releases (ALL THESE SLEEPLESS NIGHTS, KEDI) and not so surprising choices (THE ACT OF KILLING, STORIES WE TELL), importantly notes how technology has shifted our perception of what is possible from the form. Astutely put, "On one hand, digital technology has infinitely expanded our range of vision, and some of the modern era's most essential docs have been shot on consumer-grade equipment like iPhones and GoPro cameras. On the other hand, these tools haven't just granted us new ways of seeing, they've also galvanized our desire to look, which in turn has stoked an unprecedented degree of interest in the documentary format on the whole."
As far as festivals go, we are in the mid-summer doldrums, post-Karlovy Vary, pre-Locarno. That said, a bit of coverage of this year's AFI Docs came in from Christopher Llewellyn Reed over at Hammer to Nail. Reed interviewed Stefan Avalos, the director of STRAD STYLE, a film about a man trying to replicate Giuseppe Guarneri's "Il Cannone" violin, which had its debut earlier this year at Slamdance. He also reviewed Reuben Atlas and Samuel D. Pollard's ACORN AND THE FIRESTORM, and Amanda Lipitz's much loved STEP, which heads into wide release thanks to Fox Searchlight in the coming weeks.
Theatrically, in addition to NPR's piece on what's changed inside a projection booth since the digital revolution, there were a handful of warmly reviewed films released this week, including Dave Adams and Josie Swantek's THE WRONG LIGHT, Andrew Becker and Daniel Mehrer's SANTOALLA, and Catherine Bainbridge's RUMBLE: THE INDIANS WHO ROCKED THE WORLD.
IndieWire's Chris O'Falt ran a piece with producer Susan MacLaury on the lessons she learned on the confounding production of THE WRONG LIGHT and the hoax that unfolded along the way. Meanwhile in The New York Times, Daniel M. Gold signed off his review of the film by stating that "THE WRONG LIGHT is an engrossing cautionary tale teaching one of philanthropy's oldest lessons: Caveat emptor." Emily Jordan also had a thorough take on the film at Salon – It "ultimately emerges as a fascinating testament to the power of story and the way that people glom on to pretty female faces as buoys in in a dark sea."
As THE WRONG LIGHT was forced to deal with serious material devolving into a hoax, SANTOALLA had RogerEbert.com's Godfrey Cheshire "wondering if it was a real or faux doc until the very end. Turns out it's real, but the suspicion that it might be otherwise is a tribute both to the debuting filmmakers' skills in shaping their story and that story's innate dramatic power." Glenn Kenny called it a "peculiar story of paradise lost with a tragic resonance" in The New York Times, while Alan Scherstuhl coolly dubbed it a "quiet, immersive true-crime mystery doc."
RUMBLE: THE INDIANS WHO ROCKED THE WORLD unearths the influence of Native Americans on popular music history says Jim Farber in his elegant feature on the film for The Guardian. At Slant, Chuck Bowen praised the film for being "joyous and celebratory without whitewashing the cruelty that suppressed and inadvertently inspired Native American music."
Other doc reviews appeared from Courteney Tan of Little White Lies on WATER AND SUGAR: CARLO DI PALMA, THE COLOURS OF LIFE, Kayla Cobb of Decider on CAMERAPERSON, Tom Roston at Salon covering BIRTHRIGHT: A WAR STORY, Trevor Johnston at Little White Lies on CITY OF GHOSTS, and Pooja Sivaraman on MEMORIES OF A PENITENT HEART at POV, as well as The New York Times' Ben Kenigsberg and The Hollywood Reporter's John DeFore on THE PULITZER AT 100.
Looking toward the future, the CBC published a list of 17 filmmakers to look out for in the coming years, including doc helmers Sofia Bohdanowicz, Karen Chapman, Stephen Dunn, and Michelle Latimer.
I leave you this week with word that BRITDOC, a major supporter of European documentary production, has changed its name to Doc Society, explaining that, "We still have a lotta love for our old name, BRITDOC but it just didn't fit what we do anymore…We will continue to serve the documentary community everywhere. You can find out about all our on-going programmes and funds on our website www.docsociety.org."
Until next week, if you have any tips or recommendations for the Memo, please contact me via email here, or on Twitter, @Rectangular_Eye.