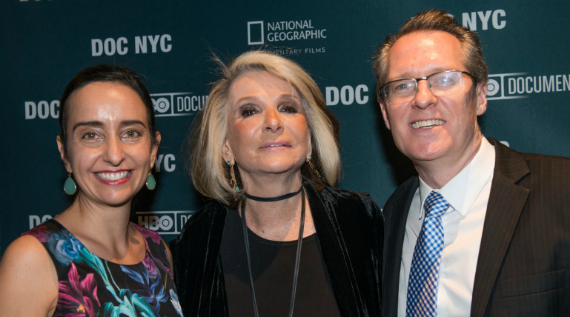 After a week off, I've returned to a short stack of doc news that packed quite a punch over the last few days. Most notably, Sheila Nevins, the 78-year-old president of HBO Documentary Films, has revealed that after 38 years of devout service she has decided to leave HBO, reflecting, "I have deprived my life of a life. All I did was work. I was, like, born at HBO and I don't have to die there. If I stayed any longer, I probably would have died at my desk. I just regret that there's so little time left." In Maureen Dowd's revelatory feature in The New York Times, she notes, "With a storytelling style that grabs viewers by the throat, Ms. Nevins helped change the image of documentaries from stodgy to provocative. And she helped HBO amass such a pile of Emmys, Peabodys and Oscars that there's a roomful of glittering laurels at headquarters that's known as the Holy Shrine of Sheila. She received the first Emmy Lifetime Achievement Award given to a documentarian." In a separate piece, Dowd played Confirm or Deny with Nevins.
Another sudden departure came as a surprise when filmmaker Morgan Spurlock published a confessional piece titled "I am Part of the Problem," in which he reveals that in his past a women he had a one night stand with believed that she had been raped, and a former coworker was paid a settlement to keep silent about his history of verbal sexual harassment toward her. Christine Hauser reported the news in The New York Times, while at Realscreen, Daniele Alcinii followed the aftermath of the revelations, seeing Spurlock exit Warrior Poets, the New York-based studio he founded with producing partner Jeremy Chilnick, and NBA superstar LeBron James and Maverick Carter's SpringHill Entertainment cutting ties with the filmmaker on a planned docuseries focusing on the opening of James' "I Promise School" — a new public school dedicated to supporting at-risk children in his hometown of Akron, Ohio.
In more heartening news, the Library of Congress announced the 2017 selections to the National Film Registry. "The documentaries and shorts named to the registry include 4 LITTLE GIRLS, Spike Lee's sensitive account of the deaths of four young children in the 1963 church firebombing in Alabama; THELONIOUS MONK: STRAIGHT, NO CHASER, an insightful 1988 film about the famed jazz pianist-composer, directed by Charlotte Zwerin; WITH THE ABRAHAM LINCOLN BRIGADE IN SPAIN (1937-1938), an advocacy documentary shot during the Spanish Civil War; and TIME AND DREAMS (1976), a student film by Mort Jordan, who documents the two racially divided societies in his Alabama hometown."
Last Sunday the British Independent Film Awards named Carol Salter's ALMOST HEAVEN the Best Documentary of 2017, while at Nonfics, Christopher Campbell contemplated what might have been the Golden Globe nominees for Best Documentary, had the category existed. Following that Best Of vein, Film Comment, Sight & Sound, and POV Magazine listed their favorite films of the year with plenty of docs among their ranks.
Looking back at a year of European doc festival experiences, Carmen Gray runs down the highlights from Dokufest, Doclisboa, DOK Leipzig, Porto/Post/Doc, and Play-Doc in the latest issue of Senses of Cinema. And while on the subject of Euro doc fests, "IDA, working in concert with Israeli Documentary Filmmakers Forum and International Documentary Film Festival Amsterdam (IDFA), spearheaded a summit of 40 leaders to start the conversation about the issues that the global community is grappling with. The summit, entitled Building Networks Across Borders, took place at the Compagnietheater in Amsterdam, during the festival," reports Tom White over at IDA's homepage. Meanwhile, according to Sam Warner of Screen Daily, reports that "the BFI has announced that Doc Society [formally known as BRITDOC] are the delivery partner for its Documentary Fund, which will award up to £1m of National Lottery money a year to filmmakers across the UK."
Undoubtedly one of the most exciting doc releases of the year, Errol Morris's CIA conspiracy miniseries WORMWOOD was released via Netflix and theatrically as a two part feature on Friday. Matt Zoller Seitz perfectly summarized the project at Vulture, writing "WORMWOOD is about Eric Olson, an eloquent, edgy man in his early 70s. He is haunted by the death of his father, biochemist Frank Olson, who jumped out of a 13th-floor window of the Statler Hotel during a trip to New York on November 28, 1953. Or maybe he was pushed. Or forced to jump. By the CIA. Which made him take LSD." It was named the Film of the Week by Jonathan Romney at Film Comment, A.O. Scott dubbed it a NYT Critics' Pick, and Vanity Fair published a pair of lengthy pieces by Jordan Hoffman and Lisa Liebman, both celebrating the project. Leshu Torchin's piece for The Conversation may be the most rigorous analysis, while Ron Deutsch's thorough take at the IDA homepage might be a close second. Morris himself spoke about the project with Ted Johnson over at Variety.
The other notable release this week was Thomas A. Morgan's SOUFRA, about Mariam Shaar, a Palestinian refugee who attempts to expand her humble catering company into a food truck business. Andy Webster deemed it a NYT Critics' Pick, while Mayukh Sen of Reverse Shot and TOP CHEF host Padma Lakshmi, writing at The Hollywood Reporter, both gave the film warm reviews.
I'm signing off this week with POV Founder Marc Weiss writing about the origins of the iconic documentary series, now nearing its 30th year and a new episode of Pure Nonfiction featuring Alex Gibney and Blair Foster discussing their latest film, ROLLING STONE: STORIES FROM THE EDGE. As always, if you have any tips or recommendations for the Memo, please contact me via email here, or on Twitter, @Rectangular_Eye.