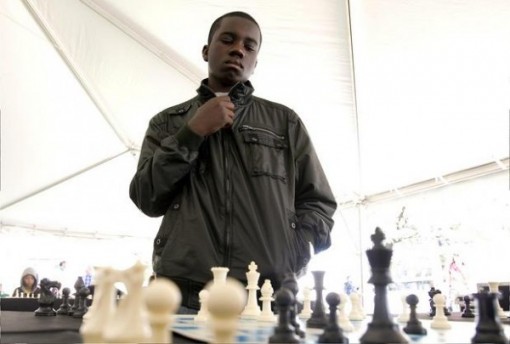 Stranger Than Fiction this week announced the lineup for its Fall 2012 season, which kicks off with a special Thursday, Sept. 27 screening of Katie Dellamaggiore's BROOKLYN CASTLE, which premiered at South by Southwest this year and earned the festival's doc audience award. Also in the lineup is Matthew Heineman and Susan Fromke's ESCAPE FIRE: THE FIGHT TO RESCUE AMERICAN HEALTHCARE; Don Argott & Sheena M. Joyce's THE ATOMIC STATES OF AMERICA; Gary Conklin's GORE VIDAL: THE MAN WHO SAID NO; and several other films. The season's closing night, Nov. 20, will feature Jonathan Caouette's latest feature, WALK AWAY RENEE. Season passes for STF are available for $99—$75 if you're already an IFC member—which will get you free popcorn at each screening, a DVD from distributor Docurama Films, the ability to share your pass with a friend if you can't make a show, and a guaranteed-seat at the often sold-out screenings, as long as you show up at least 15 minutes before showtime.
News about programming at the Toronto International Film Festival, which runs Sept. 6-16, is still trickling out. The festival released the full list of its Mavericks program, which features on-stage dialogues with film industry figures. The festival also released additional details on its Docs Conference, specifically that HBO Documentary Films President Sheila Nevins would be delivering the event's keynote address.
The Los Angeles Times Saturday, Aug. 25 reported that Syrian documentary filmmaker Orwa Nairabiya, 35, had been missing since Thursday, Aug. 23, and that his friends and family feared that he had been detained by security forces with the regime of Syrian President Bashar Assad. Nairabiya is a founder of the annual DOX BOX International Documentary Film Festival, which this past March was canceled by organizers in protest of the government's violent suppression of political dissidents. Observers said Nairabiya's disappearance was likely tied to the government's crackdown on pro-democracy artists.
Efforts to help raise funds for director John Maringouin's much-needed cancer surgery continue, with the page at GiveForward reporting that the tally so far represents 78% of the goal of $64,000. For those in New York City interested in helping out, UnionDocs in Brooklyn is hosting a benefit screening of Maringouin's film RUNNING STUMBLED on Sept. 22 with a $10-$20 sliding donation scale.
Tom Roston kicked up a debate with legs this week with a piece for the New York Times that questioned the growing appearance of writing credits for documentary films. The piece noted that films lacking narration but registered with the Writers Guild require that someone on the film be credited as a writer, and that some directors felt that the growing use of writing credits in documentaries detracted from the important role played by editors.
This week, the New York Times' Op-Docs section featured a short film from Laura Poitras (THE OATH) titled THE PROGRAM about an NSA-backed domestic surveillance program that can gather data on pretty much anyone in the U.S. The film's main subject, former NSA cryptographer William Binney, argues in the film that members of the administration of former President George W. Bush approved the program, despite the fact that it violated citizen's Fourth Amendment protections from illegal search and seizure. Christopher Campbell recapped Poitras' own troubles with U.S. government surveillance in a post.
The anti-President Obama documentary 2016: OBAMA'S AMERICA this past weekend made a strong showing at the box office after it expanded from 169 locations to about 1,100, and pulled in about $2.2 million on Friday. The film, co-directed by author Dinesh D'Souza and John Sullivan, is based on a book by D'Souza titled "The Roots of Obama's Rage," and attempts to make the case that Obama is a socialist who hates America, or something. As of Aug. 26, Box Office Mojo reported that the film had a cumulative $9.1 million box office total. Writing for Indiewire, Anthony Kaufman argued that the film's strong box office showing was not representative of some growth in anti-Obama sentiment, as much as a reflection of the number of people who already disliked him.
CNN on Aug. 23 announced that director Morgan Spurlock (SUPER SIZE ME, THE GREATEST MOVIE EVER SOLD) would host and produce a new show on the cable channel titled Inside Man that would focus on different aspects of U.S. culture each week, such as "gun lovers, marijuana growers, migrant farm workers and end-of-life caregivers," according to the press release. The show is scheduled to start airing in April 2013.
Christopher Campbell at the Documentary Channel blog this week interviewed SAMSARA director Ron Fricke and producer Mark Magidson (both of whom are also credited as the film's editors) about their new non-narrative film, and its predecessor BARAKA. And writing for the Times, A.O. Scott described the film as "a visual argument for slow looking, for careful, meditative attention to what is seen," adding that it contained "a spool of arresting, beautifully composed shots without narration or dialogue."
On the technical side of things, Edward Delany of Documentary Tech shared a short review of Sony's NEX-EA50 at the POV blog, finding that the camera brought camcorders a a step closer to retaking control of the indie filmmaker market from HDSLRs like Canon's 5D Mark III. Michael Murie at Filmmaker Magazine also reviewed the Sony, and examined a controversy surrounding the latest Zacuto Shootout.
Chicken and Egg Pictures on Aug. 23 shared some insights gleaned from their first editing mentorship weekend of the season. Tips included advice on transitioning from a rough to a fine cut, as well as on planning out a festival strategy.
SnagFilms this week announced the creation of a free online documentary film festival titled Snag the Vote intended to help the citizenry educate themselves on political issues in advance of November's elections. The festival features ten films each in ten categories of public policy areas such as education and health care, and is available for online viewing at www.snagthevote.com.
In this week's Docutopia blog post, Anthony Kaufman trained his attention on SOMEWHERE BETWEEN, director Linda Goldstein Knowlton's examination of Chinese-born girls adopted by people in the U.S. Kaufman draws parallels between the film and Gail Dolgin and Vincent Franco's excellent DAUGHTER FROM DANANG in terms of subject matter, but ultimately concludes that the film uses too soft a touch in exposing the seamier side of the Chinese adoption industry.
The Tribeca Film Institute on Aug. 22 announced the six recipients of its second New Media Fund, which backs interactive, non-fiction projects. Those projects selected as grant recipients were ALMA, A TALE OF VIOLENCE; IMMIGRANT NATION; LAIKA'S ADVENTURE; NEW DAY NEW STANDARD; HOLLOW; and QUESTION BRIDGE.
Basil Tsiokos of the What Not to Doc blog provided a recap of some selections from the DocuWeeks 2012 program, put on in New York City and Los Angeles by the Independent Documentary Association.
POV this week hosted a twitter chat with Theo Rigby, the director of the short film SIN PAIS about immigration issues. You can check out a recap of the chat here.
Indiewire's Edward Davis Aug. 21 reported that director Stacey Peralta (DOGTOWN AND THE Z BOYS) was self-releasing his latest film, THE BONES BRIGADE: AN AUTO BIOGRAPHY, on his website. The film examines the Bones Brigade, the 80s skateboarding team that included several skate legends such as Tony Hawk, Steve Caballero, Tommy Guerero and Mike McGill.
Indiewire this week also reported that the Producers Guild of America had added films screened at South by Southwest, the Full Frame Documentary Film Festival and the Silverdocs Documentary Festival to those films eligible to be considered for PGA awards.
Independent Lens Aug. 20 named the winners of its audience award, with viewers granting the honors to both STRONG! by Julie Wyman and HAVE YOU HEARD FROM JOHANNESBURG by director Connie Field.
In distro news this week, SnagFilms said it had purchased U.S. distribution rights for Eugene Jarecki's film THE HOUSE I LIVE IN, as well as the Jay Bulger film BEWARE OF MR. BAKER.
Christopher Campbell has this week's theatrical releases, which include SAMSARA and SOMEWHERE BETWEEN.
Please remember to email tips and suggestions for the memo .(JavaScript must be enabled to view this email address), or tweet them to @GuerrillaFace. Thanks and have a great week!