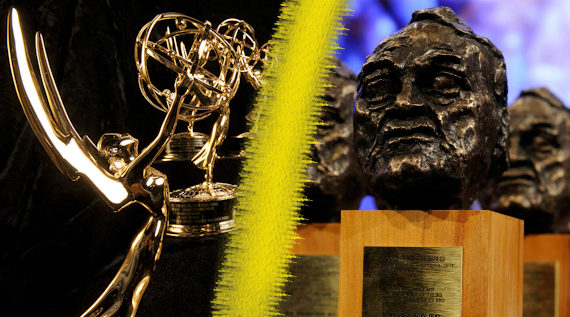 Just two weeks after the Television Academy revealed its nominations for the 69th Emmy Awards, the National Academy of Television Arts & Sciences (NATAS) announced the nominees for the 38th Annual News and Documentary Emmy Awards. Films up for Best Documentary include Marcel Mettelsiefen's CHILDREN OF SYRIA, Sharmeen Obaid-Chinoy's A GIRL IN THE RIVER: THE PRICE OF FORGIVENESS, Michael Beach Nichols and Christopher K. Walker's WELCOME TO LEITH, David Osit and Malika Zouhali-Worrall's THANK YOU FOR PLAYING, and Joshua Oppenheimer's THE LOOK OF SILENCE.
The always comprehensive Grierson Trust Awards also revealed their 2017 Shortlist. Covering the announcement for Realscreen, Daniele Alcinii noted that Raoul Peck's I AM NOT YOUR NEGRO is up for two awards in the Best Historical and Best Cinema categories.
While Michael Moore's Traverse City Film Festival and the Asian American International Film Festival ran through last week (both of which were previewed by Basil Tsiokos over at What (not) To Doc), the Venice Film Festival announced its 2017 lineup. As noted by the fine folks at MUBI, a handful of docs are interspersed among the festival's various programs and include William Friedkin's THE DEVIL AND FATHER AMORTH, Jon Alpert's CUBA AND THE CAMERAMAN, and Abel Ferrara's PIAZZA VITTORIO. The Toronto International Film Festival also released their first wave of titles in their Gala and Special Presentations programs, with the sole doc included thus far being Jennifer Baichwal and Nicholas de Pencier's Tragically Hip doc LONG TIME RUNNING, reports Regan Reid at Realscreen. On that same festival wavelength, Elena Lazic reported on IndieLisboa 2017 for MUBI and included coverage of the Jem Cohen retrospective and several recent festival favorites.
Maybe not the most notable, though certainly the most written about doc this past week was Ashley Gething's HBO doc DIANA, OUR MOTHER: HER LIFE AND LEGACY. Vanity Fair's Katie Nicholl called it "an emotional and deeply touching film, featuring interviews with Prince William and Prince Harry as they reflect on their late mother, Princess Diana," while in The New York Times, Roslyn Sulcas points out what makes this doc something special: "It is the first to feature Diana's two sons with Prince Charles, William and Harry, speaking about their mother as they look through family photographs, reminisce about their childhood and revisit the scenes of her charitable activities." Georg Szalai wrote about how the princes were convinced to participate in the film for The Hollywood Reporter, while both Orla Pentelow of Vogue and Cleve R. Wootson Jr. of The Washington Post wrote features on the production.
With the theatrical release of AN INCONVENIENT SEQUEL: TRUTH TO POWER, Bruce Fretts half jokes in his New York Times feature on the film that in sequel-mad Hollywood, even documentaries have follow-ups. Selecting the film as a NYT Critics' Pick, Ben Kenigsberg jokes not, writing that it is "a reboot that justifies its existence…AN INCONVENIENT SEQUEL delves deeper into the arcane details of compromise than its predecessor." At Hammer To Nail, Christopher Llewellyn Reed agrees, "I admired AN INCONVENIENT TRUTH, and find its sequel even more powerful (and necessary)." Reed also interviewed directors Bonni Cohen and Jon Shenk about their latest film. In The New Yorker, Michelle Nijhuis admired the film but wrote what we are all beginning to feel when it comes to climate change docs: "No matter how climate change is framed—no matter how sunny or doleful the vision—it's what happens off the screen, and off the page, that will decide whether the planet remains habitable."
Two other notable films dropped this week – Michael Almereyda's ESCAPES (well-liked by Manohla Dargis in The New York Times and David Ehrlich at IndieWire) and Corbett Redford's TURN IT AROUND: THE STORY OF EAST BAY PUNK (warm reviews in from Glenn Kenny at RogerEbert.com and Monica Castillo in The New York Times).
As Kate Erbland suggests at IndieWire, doc filmmakers may want to take note that The Paley Center for Media is now accepting submissions for its 14th Annual Paley DocPitch Competition. "The program was initially launched to engage and promote emerging nonfiction filmmakers seeking support for their unfinished feature-length films, and it promises a sizable prize: the winning submission will receive a $5,000 grant from A & E IndieFilms."
I'll leave you with a trio of new doc shorts and a newly available oldie: PLASTIC GIRLS by Nils Clauss, MEN by Dane Mainella, BABE, I HATE TO GO by Andrew Moir, and Jean Jacques Flori and Stephen Tchal-Gadjieff's 1982 mid-length doc on the afrobeat pioneer Fela Kuti, MUSIC IS THE WEAPON. As always, until next week, if you have any tips or recommendations for the Memo, please contact me via email here, or on Twitter, @Rectangular_Eye.