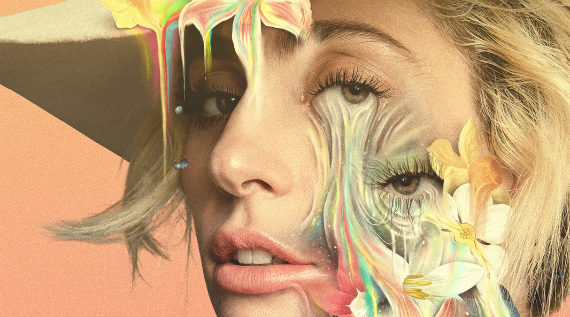 With no major theatrical releases and a slew of major festivals on the verge of kicking off, it's a rather quiet on the nonfiction front. That said, the New York Film Festival did reveal its Spotlight on Documentary lineup, which includes Travis Wilkerson's True/False alum DID YOU WONDER WHO FIRED THE GUN?, TIFF selections JANE, A SKIN SO SOFT, and BOOM FOR REAL, as well as world premieres of Alison McAlpine's CIELO, Ena Talakic and Ines Talakic's HALL OF MIRRORS, and Alex Gibney's NO STONE UNTURNED, which was previously slated to screen at Tribeca and Hot Docs before it was pulled for undisclosed legal reasons.
After revealing its full program schedule on Tuesday, the Toronto International Film Festival added a handful of last minute special events, including the world premiere of GAGA: FIVE FOOT TWO by Emmy-nominated filmmaker Chris Moukarbel, "a rare snapshot of the raucously public music icon Lady Gaga and the offstage woman that is Stefani Joanne Germanotta," as well as the world premiere of Brandon and Skyler Gross' ON MY WAY OUT: THE SECRET LIFE OF NANI AND POPI – the program notes read, "Roman (Popi) and Ruth (Nani) Blank have been married for 65 years, but at age 95, Roman reveals a secret that tests their seemingly invincible union, in Brandon and Skyler Gross' touching portrait of their grandparents."
Though the Locarno International Film Festival wrapped up a couple weeks back, at the fest IndieWire's Irina Trocan discovered a handful of films that represent modern domestic life in new ways, including a trio of films to soon screen at TIFF – Xu Bing's DRAGONFLY EYES, Ben Russell's GOOD LUCK, and Wang Bing's MRS. FANG. On a similar wavelength, Cara Buckley thoroughly examined the many current docs that are exploring the pain of racism for The New York Times, noting "A burst of new films, many of them documentaries, are taking a deep look beyond the headlines at the lasting impact that racial schisms and racism have on Americans' everyday lives."
On September 9th at the 2017 Creative Arts Emmys, "San Fransico-based documentary film funder and distributor ITVS will receive the 2017 Governors Award from the Academy of Television Arts and Sciences," reports Selina Chignall at Realscreen. "In May, ITVS was recognized by the Peabody Awards Board of Jurors with the 2017 Peabody Institutional Award for its 'broad transformative impact on the media landscape.'"
Our own Thom Powers and Raphaela Neihausen selected Susan Froemke and John Hoffman's RANCHER, FARMER, FISHERMAN as WNYC's Documentary of the Week, while Kenneth Turan wrote a warm review of the film in Los Angeles Times prior to its primetime premiere on Discovery this coming Thursday at 9 pm. In his take on Sompot Chidgasornpongse's RAILWAY SLEEPERS at 4:3, Nicholas Godfrey compares and contrasts the film's similarities to J.P. Sniadecki's narratively identical THE IRON MINISTRY, "Sniadecki works with a handheld camera and a subdued visual palette, and occasionally interacts with his subjects. Chidgasornpongse remains stoic, by contrast, never questioning the railway passengers. His locked-off camera watches on, capturing all of the colour and movement of Thai society." At MUBI's Notebook, Barry Levitt parses the varying usage of archival footage in recent releases DAWSON CITY: FROZEN TIME and BECOMING CARY GRANT. Looking at streaming docs, Jason Bailey listed 10 worthy films to check out on Amazon Prime in The New York Times. Additionally, Steve Greene looked at the latest addition to ESPN's 30 For 30 catalog in Adam Hootnick's WHAT CARTER LOST for IndieWire.
Discussing the new restoration of MONTEREY POP and beyond, Daniel Eagan spoke with D.A. Pennebaker in an extensive interview for Film Comment. Filmmaker Bryan Fogel appeared as a guest on Episode 812 of Slate's The Gist, talking about his wild experiences filming ICARUS.
Doc filmmakers should be heading over to the International Documentary Association's homepage this week, as they've posted a slew of helpful production related articles, including Adam Irving's step-by-step guide to shooting documentary interviews, and Tom Giankopoulos' examination of how doc helmers have been utilizing animation to solve various production issues. IDA is also hosting a workshop on "Tax Incentives to Fund Your Doc" on Thursday, September 7th at the IDA Offices in Los Angeles. "Filmmakers will get an overview of state and municipal incentive programs, understand the policies and best practices in the field for navigating film tax incentives, and how to work with your local government officials to expand your state's offerings." RSVP for the event here.
I want to sign off this week with a special congratulatory shout-out to Doug Block and The D-Word, which celebrates 18 years as an online community and invaluable resource for doc filmmakers tomorrow at the Bohemian Hall & Beer Garden in Astoria at 6 pm! D-Worders and doc professionals are encouraged to attend (plus, its it's pay as you go). Until next week, if you have any tips or recommendations for the Memo as we wait for the impending apocalypse, please contact me via email here, or on Twitter, @Rectangular_Eye.