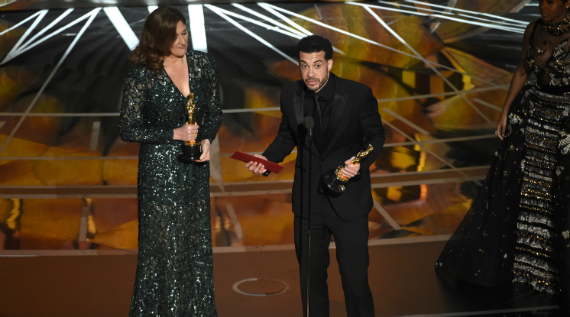 Before last night's best picture debacle cemented the 2017 Oscars as one of the wildest on record, Ezra Edelman's eight hour American epic O.J.: MADE IN AMERICA made history as the longest film to ever win an Oscar, regardless of category, just after taking Best Documentary Feature at the Independent Spirit Awards the night before.. Shortly thereafter, Orlando von Einsiedel took home the award for Best Doc Short Subject for THE WHITE HELMETS. The full list of Oscar winners can be found here. Leading up to the ceremony, Joel Bocko made a video essay for Fandor on the many merits of Edelman's film, titled NOT JUST O.J., Mandalit Del Barco looked at the trio of docs up for Oscars that dealt directly with Syria's civil war at NPR, while at ABC News, Taylor Maple outlined in detail how the Student Academy Awards may open doors to the film industry for its young honorees. And over at IDA's blog, Caty Borum Chattoo shared a telling study of race and gender in Oscar-shortlisted documentaries from 2008-2017.
Tomorrow night at the IFC Center, we will be hosting a very special 25th anniversary screening of Joe Berlinger and Bruce Sinofsky's landmark documentary BROTHER'S KEEPER. To help mark the occasion, Berlinger will be on hand for a live Q&A moderated by Morgan Spurlock! This show is now sold out.
Outside of award shows, it's been a bit of a slow news week for docs. The Toronto International Film Festival announced that this coming edition of the fest would be more acutely curated, after last year it was widely criticized for its unruly large lineup, reports Kate Erbland at IndieWire. Joshua Brunsting reported on MoMa's Doc Fortnight for Criterion Cast, while Basil Tsiokos highlighted new offerings at ZagrebDox, Croatia's premiere documentary fest, which began on Saturday. On the other side of the States, LA's Film Forum is screening seven of Sergei Loznitsa's docs in the coming days, and Justin Chang lovingly covered the event for The Los Angeles Times.
A pair of solid interviews turned up this past week in Michael Guarneri and Jin Wang's Film Comment conversation with Chinese documentarian Wang Bing, and Conor Bateman's interview with CAMERAPERSON director Kirsten Johnson at 4:3. Bateman also wrote at length on video essays in the age of social media. Meanwhile, in an exploration of lying film subjects, director Penny Lane turned up on the topic of her most recent work, NUTS!, over at IndieWire via Steve Greene. For Little White Lies, David Jenkins covered the Glasgow debut of Alethea Arnaquq-Baril's seal hunting doc ANGRY INUK. Lastly, Nonfics published a pair of features on the racially prescient docs I AM NOT YOUR NEGRO and A TIME FOR BURNING, via Jamie Righetti and Daniel Walber, respectively.
This week you can stream Bob Hercules and Rita Coburn Whack's MAYA ANGELOU: AND STILL I RISE over at PBS American Masters for free. Ronda Racha Penrice of The Root spoke with Maya Angelou's son Guy Johnson and grandson Colin Johnson about the film's release, as Variety's Maureen Ryan praised the film, noting that it "should serve as a bracing introduction, and as an inducement to dive into her prose, poetry and speeches."
Before signing off and heading for to Columbia, MO for this year's True/False Film Festival, I'll leave you with this: Martin Scorsese's 1990 short doc about fashion designer Giorgio Armani, MADE IN MILAN – now streaming for the first time. As always, if you have any tips or recommendations for the Memo, please contact me via email here, or on Twitter, @Rectangular_Eye.