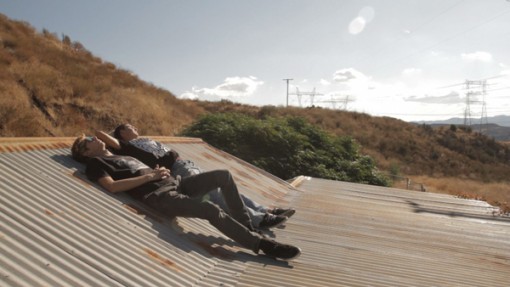 Directors Jason Tippet and Elizabeth Mims on Saturday June 23 were named the winners of the Silverdocs Documentary Festival's Sterling Award for best U.S. feature for their film ONLY THE YOUNG, about a pair of young Christian skateboarders navigating the complications of life. The award for best world feature went to Seungiun Yi's PLANET OF SNAIL, a portrait of a the deaf and blind poet Young-Chan, and his relationship with his wife, Soon-Ho. Silverdocs this year also played host to its own hack event, aptly titled Silverhacks, intended to pair filmmakers with coders in order to envision a new way to tell stories.
Some news related to the Sheffield Doc/Fest, which concluded on June 17, continued to trickle in over the past week. On Monday, June 18 came the announcement that Emad Burnat and Guy Davidi's film 5 BROKEN CAMERAS, about a Palestinian farm laborer's opposition to Jewish settlements, had won the festival's audience award. Sophie Brown, writing for Dazed Digital, had a slew of capsule reviews of some of the festival's offerings. And at the Shooting People blog, Helen Jack provided a more diaristic take on her Doc/Fest experience. Nigel Smith at Indiewire kindly underscored the highlights of a panel discussion on how to become a better documentary editor.
Also, the Los Angeles Film Festival June 24 named its award winners, with DROUGHT by Everardo González taking home the honors for best documentary. The audience award for best documentary feature went to BIRTH STORY: INA MAY GASKIN AND THE FARM MIDWIVES, directed by Sara Lamm and Mary Wigmore. SEARCHING FOR SUGAR MAN by Malik Bendjelloul was also named the best international feature at the festival.
The Sundance Institute back on June 15 named a record 24 people as Documentary Film Fellows, representing nine film projects. The fellows will get to take advantage of Sundance's Documentary and Edit Story Labs, hosted in Sundance, Utah. The films that will represented at the story labs are THE GENIUS OF MARIAN by Banker White and Anna Fitch; SEMBENE by Samba Gadjigo and Jason Silverman; THE KILL TEAM by Dan Krauss; MATCH +: LOVE IN A TIME OF HIV by Ann Kim and Priya Desai; STUDIO H by Patrick Creadon; GIDEON'S ARMY by Dawn Porter; GOD LOVES UGANDA by Roger Ross Williams; NOCES ROUGES (RED WEDDINGS) by Lida Chan and Guillaume P. Suon; and WHOSE COUNTRY? by Mohamed Siam.
The 2012 Flaherty Seminar, programmed this year by Josexto Cerdán, ran from June 16-22 at Colgate University in Hamilton, N.Y. This year the seminar's theme was "Open Wounds." Writing for the Pullquote blog, Cinetrix issued two dispatches from the seminar. You can read part one here, and part two here.
Director Josh Fox (GASLAND) earlier this week released a new short film titled THE SKY IS PINK online. The film takes on New York Gov. Andrew Cuomo for considering to lift the state ban on hydraulic fracturing (also known as fracking), a destructive practice used to harvest natural gas. Rolling Stone reported that Fox is currently at work on a sequel to GASLAND.
Anthony Kaufman wrote up his weekly Docutopia blog post for SundanceNOW, this time focusing on the ages old questions of documentary films' relationship to "reality," and in particular on Vikram Gandhi's film KUMARE. Gandhi in the film poses as a spiritual leader and manages to gather his own flock of followers, raising a host of interesting ethical questions in the process. Gandhi recently related some of his experiences in making the film to MovieMaker Magazine.
POV launched its 25th season on June 21 with a screening of Jennifer Fox's MY REINCARNATION. (If you missed the Thursday screening, no worries. You can watch the film in its entirety online at POV's website until September 20.) Fox also took some time to speak with POV on her record-setting Kickstarter funding campaign, which netted her about $150,000. Filmmaker Magazine on June 18 also posted an interview with Fox and fellow director Cristina Ibarra, director of THE LAST CONQUISTADOR, about documentary filmmaking.
Also at the POV blog, filmmaker Liz Nord continued to document her efforts to build out an interactive component to her latest project. This last post focused on Nord's attempts to find a capable user interface designer/developer.
The folks at HotDocs launched the latest project on their new doc-specific crowdsourcing platform, Docignite. The new project, BETWEEN THE LINES, is about a group of Toronto street artists, and is being directed by Jake Chirico.
Also this week, we'd like to take a minute to wish documentary filmmaker, producer and legend Gordon Quinn a belated Happy Birthday. Quinn, one of the founding forces behind the nonprofit documentary organization Kartemquin Films, and has an astounding 30 producer or director credits under his belt. Quinn celebrated his 70th birthday on June 11. Here's to many more celebrations.
Back in May the Documentary Tech blog took a look at the anticipation building for the Lightworks non-linear editing (NLE) system, which was released on May 28 and works on PCs. Professional editors still seem to be smarting from the release last year of Apple's Final Cut Pro X, which many complained had reduced functionality needed by pros. It remains to be seen if a wide switch to other editing programs is underway. The blog recently reported that Lightworks was gaining market share.
The online video hosting platform/distribution system VHX secured $1.25 million in funding, Techcruch reported on June 19. VHX's model allows users to stream content they have purchased at any time, or download them in a number of DRM-free formats. The platform notably released INDIE GAME: THE MOVIE online on June 12.
Realscreen on June 12 reported that Canada's National Film Board had established a branded channel in China, underscoring how important the Chinese market is becoming. China's government still exerts tremendous control over the material that can be broadcast for public consumption. But people in China had demonstrated a demand for documentary, as evidenced by the recent popularity of the film A BITE OF CHINA about food in the country, broadcast on a state-run television channel.
The Corporation for Public Broadcasting on June 14 approved the expansion of the so-called Online Video Engagement Experience (OVEE) operated by ITVS. The program is intended to stoke online and social media discussions of programming while it is airing on television, a practice that is more commonly being described as social TV.
Christopher Campbell at the Documentary Channel has this week's theatrical releases, which include Kirby Dick's stirring film THE INVISIBLE WAR, about the problem of sexual assualts in the U.S. military. Campbell on his blog also highlighted a Doc Talk that Dick and producer Amy Ziering had on their film. The film has already reportedly resulted in a change in military policy regarding the report and investigation of rape and other sexual assaults, but Dick and Ziering at a recent screening of the film in New York City said they were still advocating for more substantial changes to the military justice process in such cases.
That's it for this week. Please remember to email any tips or recommendations for the Memo .(JavaScript must be enabled to view this email address), or tweet them to @GuerrillaFace. Have a great week everyone!