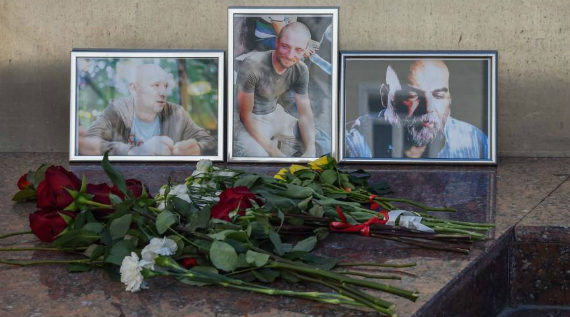 After last week's copiously populated memo this week's feels a wee bit sparse, but by no means is that fact meant to minimize the loss of documentary filmmaker Alexander Rastorguyev and his colleagues cameraman Kirill Radchenko and journalist Orkhan Dzhemal, who, according to Deadline's Nancy Tartaglione, were found dead about 300 kilometers from the capital of Bangui in the Central African Republic late Monday. She notes, "The trio's driver has told Reuters they were ambushed by armed men outside the town of Sibut. Rastorguyev's films have played at the Karlovy Vary and Cinéma du Réel festivals, among others. His credits include the 2014 award-winning doc SROK (THE TERM), about the opposition movement in Vladimir Putin's Russia."
In festival news, the Toronto International Film Festival revealed its Canadian film premieres, including Jennifer Baichwal, Nicholas de Pencier and Edward Burtynsky's ANTHROPOCENE, which "provides a cinematic meditation on humanity's reengineering of the planet by following the research of the Anthropocene Working Group, an international body of scientists," notes Daniele Alcinii and Selina Chignall at Realscreen. Other films announced include Rob Stewart's final work, SHARKWATER: EXTINCTION, Ron Mann's CARMINE STREET GUITARS, Barry Avrich's PROSECUTING EVIL: THE EXTRAORDINARY WORLD OF BEN FERENCZ, Astra Taylor's WHAT IS DEMOCRACY?, Thom Fitzgerald's SPLINTERS and Igor Drljača's THE STONE SPEAKERS.
The ever diligent Basil Tsiokos pieced together previews of a handful of festivals at What (not) To Doc, including Kosovo's Dokufest, the Melbourne International Film Festival, Philadelphia's BlackStar Film Festival, and the Locarno Film Festival. The latter of these fests Daniel Kasman covered for MUBI's Notebook, writing, "I've already found my favorite film, though it may be one others know about: Manfred Blank and Wolf-Eckart Bühler's LEUCHTTURM DES CHAOS (PHAROS OF CHAOS), a happenstance documentary made in 1983 when Bühler tried to find Hollywood actor Sterling Hayden to get permission to adapt one of his books."
The most covered release of the week was Jenner Furst and Julia Willoughby Nason's Jay-Z produced six-part REST IN POWER, which began its run on BET and the Paramount Network last Monday. The Guardian published both a preview of the series by Steve Rose and a warm review by Caleb Gayle, who concludes, "The series succeeds. It compels the viewer to contend with the micro- as well as macro-level impact of injustice along the dimensions of race. It treats carefully the impact of history on the present experiences of racial disparities, placing the victimized and marginalized at the center of the series' narrative." Sonaiya Kelley of the Los Angeles Times and Steve Greene of IndieWire both seem to agree, as did Aisha Harris in her interview with Jay-Z for The New York Times.
Other notable doc coverage included Kurt Soller's lavish feature in The New York Times on GENERATION WEALTH director Lauren Greenfield, Christopher Llewellyn Reed's review of THE SILENCE OF OTHERS at Hammer To Nail, Christopher Campbell's take on NOVEMBER 13: ATTACK ON PARIS for Nonfics, and Ann Hornaday's piece on FAR FROM THE TREE in The Washington Post. Plus, Little White Lies published two great pieces from Manuela Lazic on THE STAIRS and Glenn Heath Jr. on EL MAR LA MAR, as Ann-Derrick Gaillot celebrated MINDING THE GAP at The Outline, and Anne Thompson contemplated the possibility of JANE winning an Emmy this year for IndieWire.
That's it for this week! As always, if you have any tips or recommendations for the Memo, please contact me via email here, or on Twitter, @Rectangular_Eye.